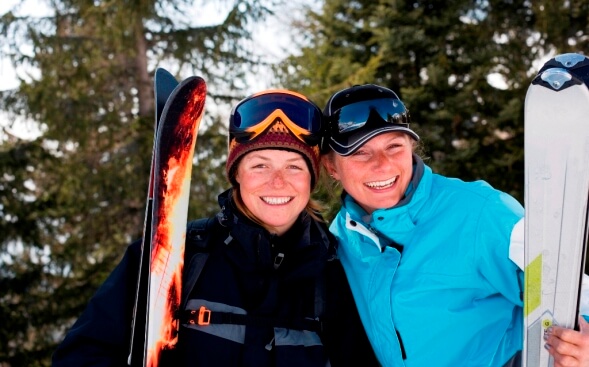 Top 5 Travel Nursing Ski Destinations
Hot Spots for Skiing, Nightlife and More
One of the many benefits of travel nursing is choosing when and where you go on assignment. Traveling nurses have the flexibility to relocate to desirable areas, like in or near top ski destinations, and work there for a season or more. If you're thinking about your next assignment or considering relocating for the holiday season, now is the time to search and explore.
If you are a traveling RN who wants to ski on your days off, we've broken out top destinations for you to consider:
1. Vail, Colorado
Considered one of the best winter resorts around, Vail also offers one of the largest ski areas in all of the United States. There is also free transportation throughout the town, heated walkways and nonstop nightlife action. As the locals like to say, "Ski hard; play hard." With the after-hours scene centered at the Bavarian-themed town centers of Vail Village and Lionshead Village, après ski options can include a laid-back brewery, or a live music venue featuring cocktails and dancing. Just an hour and a half west of Denver, Vail is a perfect Colorado travel nursing destination!
Search travel nursing jobs in Colorado.
2. Park City, Utah
Aside from the town's Deer Valley Ski Resort, Park City has recently added a new gondola that connects the equally amazing Park City Mountain Resort with the Canyons Ski Resort, resulting in one of the country's largest ski destinations. At 7,300 acres of skiable terrain, the numerous slopes feature 330 trails for varying abilities, including efficient chairlifts; some can even take you to a super-pipe or a mini-pipe if you're game! The free bus system will easily whisk you to and from any ski/snowboard destination. The cosmopolitan nightlife scene features over 200 restaurants/bars/nightclubs on Main Street, providing endless opportunities for you to feel and live like a local while on a traveling nurse assignment.
Search travel nursing jobs in Utah.
3. Killington, Vermont
Located in southern Vermont's Green Mountains range, this ski/snowboard spot is ideal if you are a single nurse looking to meet others who are upbeat, fun, and ready to ski! Killington's Bear Mountain Resort, also known as "The Beast of the East," covers six mountains, with a 4,241-feet peak elevation. It has slopes for beginners up to expert runs featuring moguls galore. But it's the after-hours scene that bustles with bars, live music spots, and more. The Pickle Barrel venue has four bars and multiple live show stages. The Wobbly Barn is another awesome live music hot spot where everyone is welcoming and friendly.
Search travel nursing jobs in Vermont.
4. Aspen, Colorado
Not only is the skiing/snowboarding in Aspen astounding, the nightlife is too. With four different mountains to choose from (Aspen Mountain, Highlands, Snow Mass and Buttermilk), there is no shortage of awesome options to explore on your days off. Aspen Mountain (aka Ajax Mountain) and Highlands offer up the more challenging runs, but Snowmass has very cool terrain parks. Buttermilk is considered the least challenging mountain but does provide awesome pipes. With more than 100 bars/nightclubs to choose from, Aspen is great for single travel nurses, or those traveling with a significant other, who are looking to enjoy themselves during their assignment. For live music, try Belly Up, Limelight Lounge, or Chair 9, and if you want to really dance, check out Escobar. For a laid-back but lively meal and cocktail, look into Ajax Tavern or Nest Public House.
Search travel nursing jobs in Colorado.
5. Lake Tahoe, California/Nevada
If you are based in California or Nevada and you want beginners or intermediate-to-expert runs, don't overlook Lake Tahoe's Heavenly resort, which features 4,800 skiable acres. You also have views of the glorious lake itself as you're skiing or snowboarding down the hills. When it's after hours, you'll appreciate the fact that part of Lake Tahoe is in Nevada, including Stateline, which has legalized gambling. This allows for fun casinos to dot the town, including Harvey's (located right next to Heavenly), Harrah's and Hard Rock. Also check out Stateline's party-scene dance clubs, including Vex and Peek, or head into Himmel Haus for delicious German beers and grub. With the numerous bars/clubs, you might even want to book the official "Tahoe Club Crawl," and hit up the most popular ones.
Search travel nursing jobs in California or Nevada.
What will your winter fun look like? Find opportunities in your nursing specialty, where your talents are most in demand. Contact the experts at American Mobile to get started!
© 2016. AMN Healthcare, Inc. All Rights Reserved.