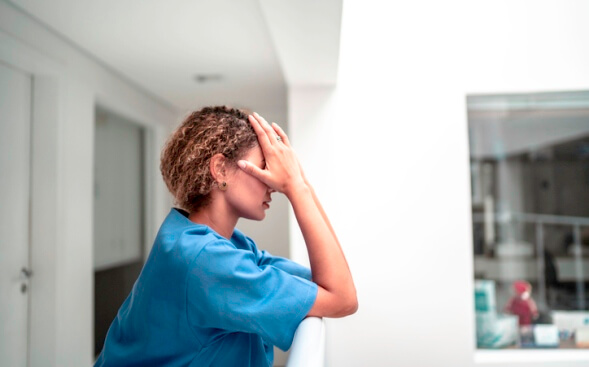 The Toll of Infant Loss on L&D RNs
Involuntary perinatal loss weighs on nurses caring for the patient and family experiencing grief for an unborn infant, yet this tragedy remains a possibility with any pregnancy.
"This is not just a labor and delivery nurse dilemma; it affects nurses all over," said Marianne H. Hutti, PhD, WHNP-BC, FAANP, FAAN at the University of Kentucky College of Nursing in Lexington. "People don't know what to say or what to do."
Hutti and colleagues looked at the effect infant loss had on nurses, not only those in labor and delivery but also those working in the emergency department, surgery and post-anesthesia care unit.
"I get concerned about whether it is recognized outside OB how difficult these cases are," she said.
Increasing awareness of infant loss and its effects can benefit the families who are going through this, and the nurses who care for them.
Hutti reports one in four pregnancies end in loss, including miscarriages and stillbirths, which occur more frequently than sudden infant death.
"You do not hear about neonatal death," Hutti said. "This public health crisis is being totally ignored in our society."
Nurses must develop the skills to care for a range of patients, moving from happy rooms to sad rooms, from someone coming out of a coma to the next patient dying. For labor and delivery nurses, dealing with infant loss is part of the job.
"It's difficult to compartmentalize," Hutti said. "But we have to learn to do it to survive as nurses."
Taking Care of the Team
Infant loss and L&D RNs go hand in hand.
"Most of my colleagues in labor and delivery are good at it, because it does not happen all of the time," Hutti says. "They have the emotional reserves to bring forward and give of themselves to help families."
The impact of infant loss on labor and delivery nurses and other clinicians often leads to compassion fatigue, Hutti found.
Hutti's research found that affected nurses often turn to alcohol to help them cope. She expects it may even be more common during the COVID-19 pandemic because people cannot go out and decompress with colleagues after work.
"We deal with stuff all of the time that is difficult, and our usual way of coping has changed dramatically," she said. "We do not have a lot of things to substitute."
Nurses cannot really talk with family members or friends about infant loss due to patient privacy issues.
Healthy self-care measures, such as nutritious eating and exercising, are good ways to reduce stress.
Since many nurses have not received training in how to manage perinatal loss, perinatal bereavement training, such as Resolve Through Sharing, could prove helpful to nurses dealing with these sad occurrences. That training includes what to expect, how to talk to patients, and what to do or not do.
Caring for the Family
While nurses might be aching inside, they still need to take care of the family.
"The literature says professional support is critical," Hutti said. "If they get good professional support in the hospital and afterward, they are more likely to end up doing as well as can be expected following a loss."
Gestational date does not equate to the depth of the loss. If the parents have already started to think of the fetus as a baby or a son or a daughter, they experience a profound loss.
"You have to individualize care and base it on what they need," Hutti said. "The key is to ask the parents what they want and follow that lead."
That may include cleaning up the baby and letting the parents hold him or her. At one time this was a frequent practice, but some parents developed post-traumatic stress disorder following the intervention. Currently, best practice is to ask what the parents want and respect and honor their request.
"Most people who see and hold their babies are glad they did that," Hutti said. "It's never as bad as they think it is going to be."
Some families will want photos of the dead baby, but others will not. Some hospitals take photos and save them for a period of time, in case the parents change their minds. Hutti recommends determining how the parents are perceiving the loss before recommending anything.
"Nurses and health care professionals, we are all are trying to fight the fight to get these families the recognition and help they need," Hutti concluded.
AMERICAN MOBILE is hiring compassionate and skilled nurses for travel nursing assignments across the country.
FIND L&D RN JOBS to start working with a recruiter.