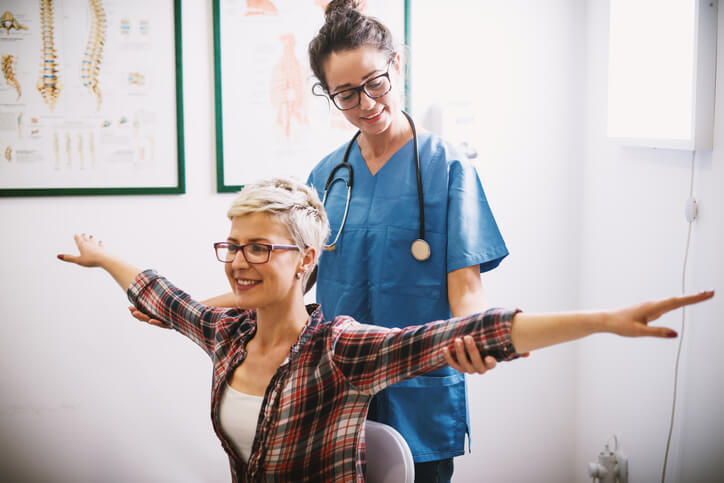 The Breast Cancer Journey Nurse and patient perspectives
In 2017, the American Cancer Society estimates that among U.S. women there will be more than 250,000 new cases of invasive breast cancer and 63,000 new cases of in situ breast cancer. Each one of those patients will encounter nurses who are there to help them through the breast cancer journey.
Here are two stories with different perspectives of how the nurse-patient relationship can make a difference.
A Patient and Her Nurse
Carolyn Jones was in her mid-40s when she received her breast cancer diagnosis. Reflecting on the experience, what stands out to her is her nurse.
"Out of everybody, Joanne was the one who got me through when it was really scary," remarked Jones, who went on to become the author and photographer for The American Nurse Project. "I was so scared about getting chemotherapy, but seeing her walk through that door was immediately a great comfort—she was so human and real and this beautiful young woman who was funny and made me feel safe."
"When you are going through breast cancer, you've got your surgeon who is going to cut and the oncologist who is prescribing and it is all very black and white," she continued. "But then you get your nurse and she isn't going to prescribe or cut anything, she is just going to help you get through it. It is so much more emotional. It is like an embrace."
Jones noted that there was no one except for her favorite nurse who could have offered humor along the way: "Her ability to normalize the moment by being funny was huge for me—I hadn't felt normal in a while. "
"I often wonder if nurses have any idea what a huge difference they actually make," Jones remarked. "The nurse is the one person you can connect with emotionally on the medical side and it is the most critical relationship."
Jones's nurse, Joanne Staha, RN, OCN, was working as a travel nurse at the time they met, and is now an infusion nurse in the Cancer Center at New York University's Langone Medical Center. Staha first worked with breast cancer patients as a medical assistant for a plastic surgeon.
"Working with cancer patients is my calling. I took to taking care of these women who came into our office to find out about reconstructive surgery, often straight after hearing they had breast cancer. I liked working with them and helping them," Staha stated.
"I've been at the Cancer Center for nine years and I've always worked in oncology. I work with patients who have different kinds of cancer, but it was the breast cancer patients who got me into wanting to be a nurse and working in oncology."
One of the things Staha likes about working with breast cancer patients is that they often have hopeful prognoses. "You can tell them, 'You are going to do this treatment and you are going to be fine. You can go on and live your life and not have to worry about breast cancer.' With the advances that have been made in medications and treatments, you know that you are really and truly going to cure them."
Interestingly, what Jones said made Staha a great nurse for her are exactly the things Staha says she wants to offer a patient.
"My typical patient, like Carolyn, is so afraid and nervous, which is understandable. I feel like I have a way of making them feel at ease and making them feel like everything is going to be okay," Staha said. "I use a lot of humor, whether they appreciate it or not, to get them out of their shell and get them to relax."
"I had one patient who, no matter what I did, wouldn't smile—she was very nervous and tearful," Staha continued. "But I just kept at her and eventually she would always smile when she saw me. I love taking care of patients, even when they are difficult. It is a satisfying thing to know that you really helped somebody."
A Breast Cancer Nurse Navigator
"One of the hardest parts of a breast cancer diagnosis is how many treatment options there are," began Terri Leschunk, RN, BSN, the Breast Center coordinator and certified nurse navigator at Via Christi Clinic in Witchita, Kan. "My job as a navigator is to build trust with the patient and family and assure them that they can lean on me and ask questions."
Leschunk attends the treatment planning meeting with patients and takes copious notes so that when patients later want to readdress something or have a question, she can offer the information they need. She also arranges to have medical records and screens sent to any providers the patient might be seeing and will work to address insurance concerns.
Going above and beyond the call of duty, Leschunk makes herself available to answer patient questions on evenings and weekends and has organized a committee of employee volunteers who make useful items such as ice pack holders, to put in a post-op kit for her patients. She takes the kits to patients after surgery and goes over the post-op instructions to make sure the family and patient don't have any questions.
"After working in management, I am happy to be back to working with patients," Leschunk said. "Cancer patients have such a need for guidance, but many don't have access to a navigator. I feel fortunate to be in that role. There is so much focus in health care these days on generating revenue. I get paid, but I don't generate revenue. Administrators need to look at the big picture—having a navigator reduces phone calls, helps to ensure that patients know how to care for themselves and minimizes re-hospitalizations."
When it comes to naming her favorite aspect of her job, Leschunk says it is simple: being able to help those in need.
"Dealing with breast cancer is a very personal journey and I get to be involved in that journey―to be with patients at some of their lowest times in life. They share their personal stories and their fears. It is a priceless experience to be that involved with an individual and to hopefully make a difference in the journey they walk," she concluded.
READY for a change? Explore travel nursing options with American Mobile to start building your dream career.
Story originally published in 2013 on NurseZone.com. Statistics updated in 2017.