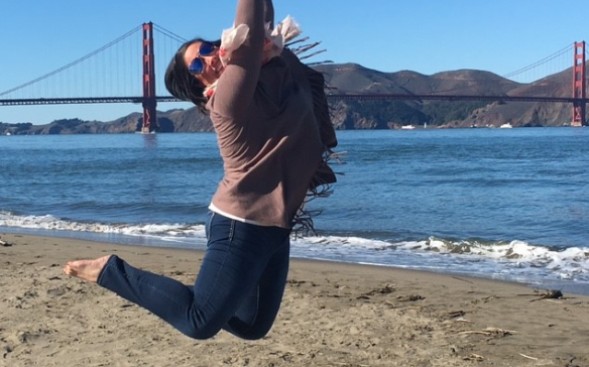 PICU Nurse Wins Award for Her Commitment to Excellence
Brianne Carruthers Is The Winner for AMN Healthcare's Commitment to Excellence Award
We want to extend a heartfelt congratulations to American Mobile PICU Cardiology RN, Brianne Carruthers, for winning the Commitment to Excellence Award, which was presented by AMN Healthcare and the Center for the Advancement of Healthcare Professionals. Brianne won the Overall Winner category for her passion, customer focus and innovation in the nursing profession.
Read Brianne's story to get the inside scoop on how top nurses avoid burn out, while providing excellent patient care.
Meet Brianne Carruthers, PICU cardiology nurse who was passionate about her profession, yet, after seven years in a Denver hospital, couldn't shake a feeling of dissatisfaction and burn out.
"I went into healthcare because I love children and medicine," Brianne explains, "but just seven or eight years after leaving my nursing program, I felt stagnant. I loved my team in Denver; the doctors and nurses who work so well together, but I needed to find my best self again."
Brianne had worked with travel nurses and was intrigued by their stories of adventure. She approached her nurse manager about doing a 13-week trial travel nursing assignment. The hospital made it work. Using personal time off and unpaid leave, Brianne was able to keep her position at the Denver hospital.
In the fall of 2015, she and a friend set up assignments in Oakland, California. While she was concerned about missing family and friends in Colorado, her fellow traveler and an acquaintance waiting for her in Oakland would create the beginning of a network.
In Oakland, Brianne not only enjoyed the new atmosphere and hospital, but met another nurse who enjoyed similar hobbies. Together, they made their next plan to travel to San Diego, where Brianne started a job at Rady Children's Hospital, helping strengthen their developing Acute Cardiac Unit department. She keeps her position in Denver by traveling there one weekend each month to perform two shifts.
32-year-old Brianne admits to having a desire to bring nurses up when they struggle after a rough interaction with a patient or a frightening emergency experience. She says her devotion to her faith and her positive attitude give her the strength to help patients through their darkest hours.
Brianne's Approach to Nursing

The colleagues who nominated Brianne explain that not only does she have a wealth of knowledge about cardiac patients in the pediatric ward, she's also always willing to take the time to carefully explain complex concepts to new nurses and the families of patients.
Surprised to hear this compliment, Brianne laughs self-consciously, saying, "Really? I'm still learning about cardiac! I've always been fascinated by medicine. For me, the information is so clear, black and white even. Sure, you struggle hard with it for a long time in the beginning when you are learning, but once it clicks, you have it down. Going through my training, I was overwhelmed at times. Not only is care of the cardiac patient complex, you think about the responsibility you have in getting it right. Nurses have so much they need to anticipate. And then one day during my cardiac training, the light turned on and I just got it. I understood how blood moves through the heart when compromised by congenital defects.
Nursing school gave me the basics, but I learn every day at the bedside from other nurses, intensivists, and the different surgeons I work with. I really try to use new knowledge in my work at the bedside. I keep a mindset of learning from others as much as I can AND to learn as much as possible from my mistakes. I really enjoy discussing cardiac with colleagues and new nurses."
Mission Work in Nicaragua
Another factor that made Brianne stand out was her yearly work in Nicaragua. She started with a program through her church that sends volunteers to provide love and support to children living in orphanages. One trip and she was hooked. After several years serving at orphanages, she transformed her service to medical mission trips facilitated by organizations she connected with during her orphanage work. She's worked in pop-up clinics in underserved rural neighborhoods as well as crowded urban areas plagued by medical issues.
Brianne claims her time in Nicaragua restores her every year.
Restores? Staying in third world conditions with no clean water on dirt floors? For five weeks at a time?
"Yes. It's the most simple, joyous place I've ever been in my life. Their form of a great night is sitting on the porch talking and sharing a meal. Families are quick to offer what they don't have because entertaining guest is high in the culture, something I have come to respect. They're lucky to get 2 meals a day and we're talking rice and beans at both, maybe an egg or avocado if they're lucky. I love turning everything off and being so present with people."
Eight years ago, during her orphanage visit, Brianne met then-nine-year-old Vanessa, who she now considers a daughter. Due to circumstances beyond her control, Brianne cannot officially adopt Vanessa, but the two connect via Facebook and email weekly. Now 17, Vanessa has yet to choose whether to find a way to live in the United States or stay in Nicaragua.
"She's a strong, independent girl," Brianne explains. "She'll make her own decisions. She knows I love her and am always here for her."
Brianne is both grateful and amazed that, at every hospital where she's interviewed, the hiring manager has accommodated her yearly five weeks in Nicaragua.
The Attitude That Gets Her Through
Nursing is a tough job, but those nominating Brianne bring up her positivity and ever-present smile. She has been characterized as, "a lifesaver to work beside…a beautiful spirit, a talented RN and someone I strive to emulate." Brianne explains that her attitude comes naturally when she's enjoying her job. Her goal was always to regard the job as a hobby with the money aspect simply being what was needed to live. Clearly, despite great circumstances in Denver, Brianne has the self-awareness to do what she must to keep that smile on her face, even if that means branching out and exploring.
She explains, "Travel nursing has made me my best self. I have to rely on the knowledge base I've developed when I walk into a new hospital. I've had to learn on the fly, when to trust my instincts and when to let others lead. Challenges have made me the best nurse I've ever been."
Brianne's Best Ideas
Drawn to medicine since the age of five, Brianne's first inclination was to become a doctor. She started college on the pre-med track. During her time as a certified nurse's assistant, however, she witnessed how little time doctors actually spent with patients. She felt that, as a nurse, she could work where she could develop more meaningful relationships with those she tended. Despite the higher pay and status of being a physician, Brianne felt it best to work in a field more suited to her personality.
As much as she loves it, Brianne admits that the job can get stressful, inevitable when working with parents frantic about the health of their newborns and children. She's found that giving parents any task to do for their baby (that's safe and supports health) goes a long way in helping them calm their emotions. "When they're in a world of chaos and uncertainty, even changing a diaper means so much to them," she explains. Brianne looks for opportunities to get the parent involved in care at all times.
Brianne has her near-term future nailed down: apply to nurse practitioner programs and wait to hear while traveling the United States taking one nursing assignment after another. Considered "selfless and brilliant," Brianne has a wonderful future ahead.
To find out how you can become your best self and the best nurse you can be through travel nursing, enter your discipline, specialty, experience and preferred locations into American Mobile's current travel nursing jobs page. What will a quick exploration reveal about your future?
© 2016. AMN Healthcare, Inc. All Rights Reserved.