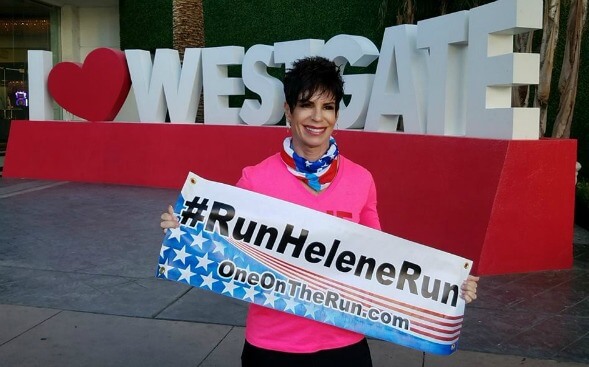 Nurse Helene Neville Finishing Historic Run Across U.S.
Nurse Health Advocate and Cancer Survivor Completes Run Through Lower 48 States
Nurses are known for their dedication and tenacity, but this one just might take the cake.
Helene Neville, RN, BSN, has already run around the perimeter of the United States and is currently completing her run through all of the lower 48 states. She will be the second person and the first woman ever to do so.
This inspirational nurse is also a five-time cancer survivor and grandmother who is over the age of 55. Along with inspiring hope and unity, one of her central goals is to promote nurse health.
On Monday, May 1, 2017, Neville headed out on a 5-month run that will cross 12 states—the only 12 states she hasn't yet run across. She began doing epic runs in 2010 when she ran from Ocean Beach in San Diego, California, to Atlantic Beach, Florida, near Jacksonville. She was the first person to complete this run during the summer months, often running in extreme heat.
After that first coast-to-coast run, she ran from the Canadian border to the Mexican border along the West Coast in 2013. She has since completed running the entire perimeter of the United States, in two additional legs. She is only the fifth person in the world to have completed this feat and the first person over the age of 32.
Neville was 55 when she completed the 9,700-mile perimeter run.
Extreme Running Highlights Extreme Need to Improve Nurse Health
"Nurses are perfectly positioned to change the world, and we should be doing just that. We need to improve the health of the nation. Somebody had to step up, and I thought, 'I can do that!'" began Neville.
It seems that nothing can stop this inspirational nurse. Neville steps up again and again to complete these extreme challenges, in spite of receiving her fifth cancer diagnosis just last year. Her first diagnosis was in the 1990s.
And Neville isn't running only for her own good health. She is running for the health of nurses and the health of the nation.
Her slogan and challenge to others: "Rethink impossible."
She is living that slogan day in and day out, including at the start of this run, when she came down with severe altitude sickness. After a short rest, she got back on the road, determined to finish.
Nurses who would like follow her progress and offer her some encouragement can do so on her One on the Run Facebook page.
Teaching Nurses Healthy Practices Along The Way
"The whole mission for me is that I believe if we are going to change the picture of health, we should start with the people providing the care," she explained.
Educating and encouraging her fellow nurses and others to make healthy changes is always on Neville's agenda. On her first run, she stopped at 40 hospitals and schools. This year's run began with a presentation to a group of women at a hospital in Evanston, Wyoming.
In 2010, Neville published Nurses in Shape, a motivational book filled with tips to promote nurse fitness, nutrition, proper sleep habits and more. The second edition of this book, Nurses in Shape, Nation in Shape, is due to hit bookshelves this summer.
"The new edition includes a couple of guest contributors with specialties in topics such as mindset and nutrition," she noted. "This edition focuses on being goal-oriented, with attainable goals, and can be used like a workbook."
How Does She Do it?
When asked how she can run a marathon or more, day after day, Neville responded, "It is all about the training. We are all capable of doing amazing things. We have to teach our bodies to be efficient and work for us. It is all about good nutrition, but also proper alignment and good positioning and posture. It really matters and I prove it every time I'm out there."
She was planning to write a book about her experience of running the perimeter of the United States, but a nurse friend in Missouri challenged her by asking how she could say she'd experienced all of the country if she hadn't run through all the states. So Neville decided to complete the final 12 states in the lower 48: Wyoming, Nebraska, Missouri, Kentucky, West Virginia, Tennessee, Arkansas, Oklahoma, Kansas, Colorado, Utah and Nevada.
She half-joked that she may have to do the Iditarod sometime in the future, since there are no interstates running from one side of Alaska to the other.
In addition to running, writing and speaking, Neville has aspirations to run for a seat in Congress during the 2018 election. And why not? It seems like this determined nurse can do anything she sets her mind to.
"Prior to my first run, people said that nurses wouldn't take an interest in their health. But I still hear from a lot of nurses from my first run, and I'm doing it one mile, one person at a time," stated Neville.
"Nursing is about giving and never giving up and I stick to that. When I'm out there, I can't give up."
"I run to acknowledge nurses and to thank them for helping me when I found myself on the other side of the bed," she continued. "Nursing is a wonderful profession that is nurturing and self-sacrificing, but we have to take care of ourselves and take our health back, and then we can inspire others."
TAKE CARE OF YOURSELF and your career by working with the travel nursing experts at American Mobile.