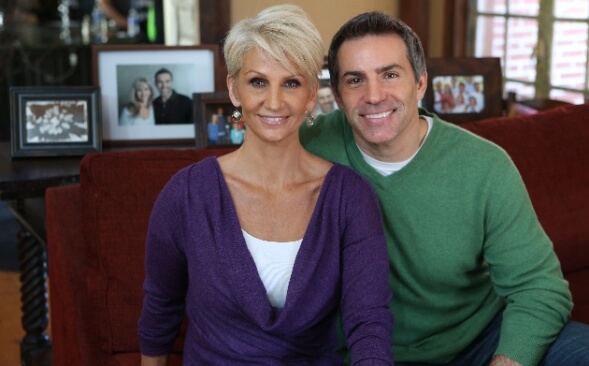 Nurse Brenda Warner: Overcomer, Advocate & Leader
A child requiring lifelong nursing care led Brenda Warner to the nursing profession. Today she often draws on her knowledge to educate people about heart-healthy habits, and works with her husband, former NFL quarterback Kurt Warner, to provide better opportunities for others, including the intellectually and developmentally disabled.
Warner joined the U.S. Marine Corps soon after graduating from high school in a small town in Iowa, and then served in Japan. Why the Marines? She knew her parents were struggling to pay for her sister's college education, and her father had served in the Marines.
"It taught me honor, courage and integrity," Warner said. "It was a challenge I wanted to be part of."
Her son's traumatic brain injury prompted an honorable discharge so Warner could care for him. Knowing he would need nursing care for the rest of his life, she went to nursing school.
"The body is so interesting," Warner said. "I loved learning about it as a nurse."
A True Survivor
Warner's fortitude and survival instinct never wavered as life became more challenging for her after a divorce, raising two children on her own, one with a head injury. She also buried her parents after a tornado struck their community.
"I've been on food stamps and [lived] in low-income housing," Warner said. "I've had an interesting life."
Warner credits her Marine Corps experience and God with helping her through the rough patches.
"[The Marines] taught me that 'You are a survivor and have to fight,'" she said. "A lot of it was standing on what I knew was true, and I knew that God loved me and had a plan for me. I did what had to be done."
Brenda Warner met her future husband, Kurt Warner, line dancing at a country bar while a nursing student. That night she told him she was divorced with two kids and never expected to see him again. He showed up the next day with a rose and wanted to meet the children. He fell in love with them and then her.
"I married an incredible man of character," she said. Today, the Warners have seven children; Kurt adopted Brenda's two children from her first marriage.
After nursing school, Warner worked as a registered nurse in long-term care for two years and then worked in an obstetrics-gynecology practice. "I can still remember the residents in long-term care and miss it in many ways," said Warner, adding that while practicing as a nurse she remembers the challenges of balancing work and family and time for self.
"Nurses are amazing people, because they are always giving. I hope they are taking time to take care of themselves," Warner said.
A Personal Introduction to Heart Health
While Kurt was still playing professional football, he learned he had high cholesterol. He first tried diet and exercise and then several mediations, before starting on the statin Livalo, which has proven successful.
"When we were trying to figure out the best way to deal with his high cholesterol, we latched onto the heart health campaign and, hopefully, it will make a difference in other people's lives," she said. "Seventy-one million Americans live with high cholesterol. My husband and I are trying to get the word out to have a healthy life."
Her marriage to a Super Bowl-winning quarterback opened opportunities for Warner to advocate for heart-healthy life choices on a national stage, and she and her husband serve as role models. The family eats healthy at home, and she uses television commercial breaks as an opportunity to exercise and get everyone in the family's heart rate up.
The Warners recently wound up their informational campaign called First and Goal Heart Health, and she continues to share the message about the importance of healthy eating and caring for one's body. She has appeared on Rachel Ray's cooking show and shared her recipes.
Dedicated to Others
Brenda now dedicates her time to her family and to causes that are close to her heart, including the First Things First Foundation and Treasure House, both of which she helped establish along with her husband.
"This foundation gives me a chance to walk into people's lives who are going through things and inspire them, hear their story and give them a little hope," Warner said.
Treasure House is a Christian-based supportive living community for young adults with intellectual and developmental disabilities, with the first location planned for the Phoenix area. The vision for it was inspired by the Warners' son, Zachary.
Originally published on NurseZone.com
© 2016. AMN Healthcare, Inc. All Rights Reserved.