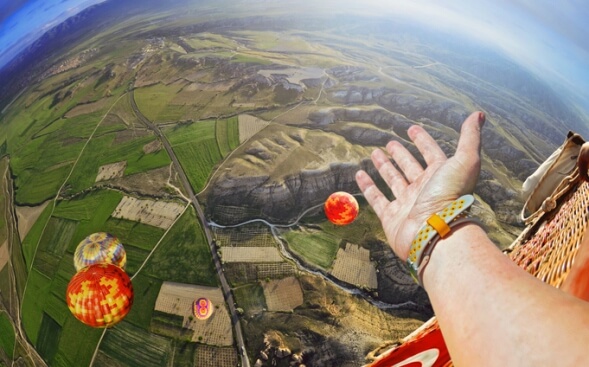 Meet Travel Nurse Kori Duda
Current and future travel nurses, Kori Duda, RN, has some advice for you: bring a slow cooker with you on your next travel nursing assignment.
After a long day in the emergency department--or a long series of shifts in the ED--Kori enjoys coming home to a delicious meal cooked in her slow cooker. She combs Pinterest for recipes and has a few favorite that she'll recommend, like a recipe for a shredded barbecue chicken dish that will make your mouth water.
That's only one of the strategies (although it's probably the tastiest!) that Kori has embraced for making the most of a travel nursing lifestyle. She's an emergency department nurse who hails from North Dakota, but her travel nursing career has taken her all the way to Arizona. 
The chance to visit new unfamiliar places (while still having a job) was what spurred her to try travel nursing to begin with.
"I figured this would be another step to leaving home because I never imagined myself leaving home--leaving North Dakota that is," Kori said. "I never saw myself leaving North Dakota." 
New to New Mexico…and Travel Nursing
Her first travel nursing job took her to Albuquerque, New Mexico, a place far from home where she'd never been. "But I figured, I'd give it a try," she said. 
Embracing new things quickly became a theme. Kori learned that the city in the high desert of New Mexico bills itself as the hot air ballooning capital of the world. (In fact, it's also home to the Albuquerque International Balloon Fiesta each autumn.) When her cousin came to visit her during her assignment, she booked a hot air balloon flight for them, despite her own fear of heights.
"I was freaking out, but I wanted to get out of my comfort zone and try something new," she said. "And it was amazing. You're so high up there that you can see everything. It was really pretty."  
Emboldened by her hot air ballooning adventure, Kori continued to look for opportunities to expand her horizons. Eventually, she wrapped up her first travel assignment but went ahead and signed on the dotted line for a second one. After spending a few weeks at home in North Dakota, she headed out to Sioux City, Iowa. 
"I was looking for something closer to home because it was going to be hunting season," she explained
Kori and her dad and brother always enjoy hunting deer together during the fall. Kori was enjoying her travel nursing work, but she didn't want to miss out on this longstanding family tradition. Fortunately, she was able to land an assignment within easy driving distance of her hometown, so she could make weekend trips home. 
As she transitioned to yet another medical facility, she realized how much she was learning, just by virtue of being in a new place around new people.  "You learn how to do different things, or you learn how to do things differently," she said.
Off to Arizona!
Next, Kori was off to a hospital in Lake Havasu City in western Arizona for a 19-week assignment. Lake Havasu is a mecca for people looking for some serious recreation, and Kori knew that the emergency department could be a very busy place. In fact, she's already gearing up for the busy spring break season, just around the corner. 
In the meantime, she's keeping busy with all the regular traffic in the ED--enjoying her time off to explore and looking for new recipes to try in her slow cooker. And she's been thinking about her future and where her travels might take her next. 
"My plan was to do it for at least a year," she said. "And then I thought, well, maybe I'll do it for two years."
Yes, it's a little nerve-wracking to be the new girl. But just at first. "Everyone's always really helpful and shows you were things are," Kori. "I always have a lot of questions for a while, but people never seem to mind answering them." 
So, for now, Kori's content to work in Arizona, while looking forward to spending some more time at home again after she completes her assignment. After that, she could go anywhere!
"I've been enjoying it so far, so it's definitely something I could do again," she said.