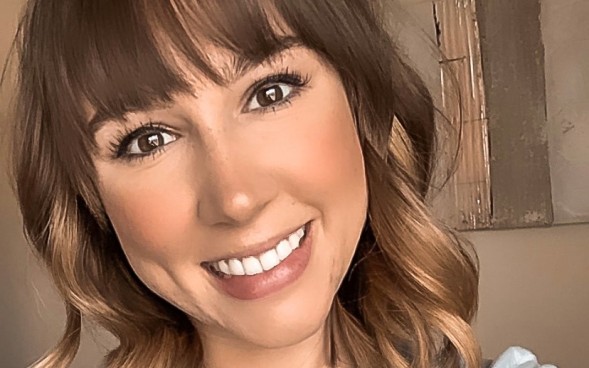 Loving The Little Ones: NICU Travel Nurse Earns DAISY Award
Hannah Quirk, BSN, RN, leans over her tiny patient and begins to speak. She's talking to the baby, but she's also talking to the exhausted, anxious parents hovering nearby.
As an American Mobile travel nurse specializing in the neonatal intensive care unit (NICU), Hannah works in various NICUs around the country. She knows that she's there to care for very tiny or sick babies, but she's also there to comfort and educate their parents.
One set of parents was so touched by Hannah's care and attention to detail that they nominated her for the prestigious DAISY Award, an honor bestowed upon nurses who have demonstrated outstanding clinical excellence and compassion to their patients and families.
They complimented her passion and commitment to their son. "Her empathy was exceptional," they wrote. "Not only did she tend to him with a gentle vice and reassuring touch but she also did her best to help us as tired, stressed parents."
Hannah was also touched to receive the recognition. "It's really nice," she says. "It was so unexpected."
A Traveler at Heart
Hannah has always loved to travel. She even spent a semester abroad, studying in Rome, while she was in college.
"I just knew that travel nursing would be the perfect fit for me," she says.
She spent a couple of years as a NICU nurse in a full-time staff position, gaining some critical experience. Then, she was ready to pack her suitcases and hit the road. She and her dad packed her Honda Fit to the brim and drove across the country, from her home state of New Jersey to San Diego, California, so she could take her first travel nursing job.
Hannah has been traveling now for about two and a half years. It's been both fun and a tremendous learning experience.
"From the NICU, hospital and job point of view, I love getting to go to different units and see the different ways that people do things," she says. "The more places I go, I feel like the more knowledge I have."
Plus, Hannah enjoys exploring when she's not at work. She is a big hiker, and there are a lot of national parks and other great hiking trails out there she'd like to see. Her travel assignments have already enabled her to hike in amazing places like the Tolmie Peak Trail in Mount Rainier National Park in Washington State. "It was just spectacular," she remembers.
"I love all the babies so much."
The precious babies in her care keep Hannah coming back to work each day (or night).
"I love all the babies so much," she says. "I always talk to them. And when the parents are there, I include everybody in the conversation."
It's her way to show the parents that she wants to get them involved, too. If a baby is stable enough to be held, Hannah makes it possible for the parents to get some precious snuggle time.
"And if the baby needs a bath, I try to do it when the parents are there so they can be involved with that, too," she says.
She knows that she's preparing the parents to eventually take their baby home. She helps them gain confidence in knowing how to care for their child. And when she sends them home, it's a little bittersweet to say goodbye, but it's also a happy time.
"It's so rewarding that day that they go home," she says.
Hannah keeps in touch with the parents of one little boy for whom she cared during his four-month stay in the NICU. "He just turned three, and he's healthy," she says happily.
That kinds of caring exemplifies Hannah's nursing practice, and what the parents who nominated her for the DAISY Award called "everything you want in a nurse taking care of your infant in ICU."
Read more about how The DAISY Foundation and AMN Healthcare have partnered to honor exceptional travel nurses like Hannah.
AMERICAN MOBILE, an AMN Healthcare company, has hundreds of opportunities for travel nurses around the U.S.
FIND TRAVEL RN JOBS in your specialty.