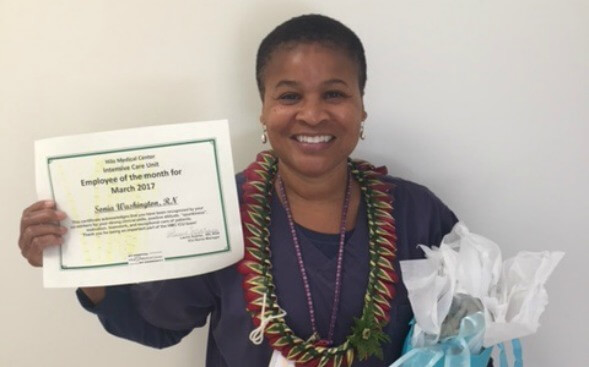 ICU Nurse Traveler Honored in Hawaii
A Dream Nursing Job in Hawaii Provides Unexpected Recognition
Dreams do come true. Just ask ICU nurse Sonia Washington, RN.
What started out as a childhood fantasy to live on a faraway island has turned into reality: she is currently living an island lifestyle working a travel nursing job in Hawaii via American Mobile Healthcare.
This vivacious nurse has over 30 years of experience, and has been traveling off and on for many of those years. She has alternated between permanent staff positions, travel nursing jobs, and international medical missions—with some personal travel sprinkled in wherever possible.
Her travels have taken her to Florida, California, The Virgin Islands, Latin America, India and many other locations.
"When I am not working in the hospital as a traveler, I am able to take extended breaks and travel to other places. Because the travel assignments are 13 weeks, I can take off as much time as I need to in between contracts. Travel nursing has afforded me these opportunities," she said.
Washington has also worked at some of the nation's most prestigious facilities including Johns Hopkins Hospital, UCLA Medical Center and Sinai Hospital in Baltimore, prior to her current nursing job in Hawaii.
DON'T MISS your dream assignment; sign up for nursing job alerts with American Mobile.
Achieving a First-of-its-Kind Award
Her extensive experience and her affable demeanor recently caught the attention of her fellow staff and supervisors at her assignment facility. She was named ICU Employee of the Month at Hilo Medical Center in Hawaii.
This wasn't your average award, either. Washington is the first travel nurse to ever be recognized as an employee of the month at this hospital, and her nomination was unanimous across all voters!
"They have never chosen a traveler before," she said. "I was very surprised and honored. This award is a big deal. They did a nice ceremony during the morning huddle and presented me with a beautiful, traditional lei and a photo session."
Washington's travel nursing job in Hawaii is set to finally end in October, after the facility has extended her contract several times. They even offered her a permanent nursing position.
"It's been a great experience. The nursing staff are friendly, professional and very knowledgeable, and they've really embraced me. The hospital is very family-oriented, and it is highly respected in the community."
"The staff uses the term 'Ohana,' which means family, and everyone knows each other," she continued. "There's a respect for nurses here."
Yet, the travel bug prevails.
Traveling for Personal and Professional fFulfillment
Washington will soon be off to Japan for some personal travel, then to Thailand for a medical mission, and then on to Georgia for her next travel nurse assignment. She hopes to continue traveling well into the future in order to share her skills and experience with other ICU nurses and health care professionals around the world.
"I like to show, not tell, when it comes to sharing the best practices I've learned over the years. It's not what you say, it's not where you used to work—it's what you do. Don't say it, just demonstrate it. And then you can be nurse of the month," she added with a laugh.
Her travels have also helped her learn some important life lessons.
At her current nursing job in Hawaii, for instance, she's noted that it is vital to conserve precious resources that are harder to come by when living on an Island. Even a simple commodity like tape needs to be used wisely since it is expensive to import.
"Food costs a lot of money here too, so we are just more cognizant of waste. It's helped me become better at utilizing my resources."
Washington has also discovered more cultural diversity in Hawaii than she was expecting.
"There are people from all over the world here. We have the Japanese culture, Korean, and people from many other Polynesian islands. Luckily we have MARTI (mobile automatic translator) so we can understand our patients, regardless of the native language."
RELATED: Increasing Cultural Competency in Nursing
Opting for Beachfront Living
Although American Mobile offers free, company-arranged housing, Washington chose to take the company's housing allowance while at her travel nursing job in Hawaii. She quickly found a beautiful penthouse condo right on the beach.
When she's is not working with her fellow ICU nurses at the bedside, you can find her cooking delicious meals for her unit, visiting with the folks that live in her building or dancing in Liliuokalani Park. She has three grandchildren whom she visits frequently, as well.
"It's been my dream to come to Hawaii and live on an island since I was a little girl, and nursing has allowed me to do this. I am a very happy traveler," she concluded.
READY TO DISCOVER travel nursing jobs in Hawaii and other choice locations? Get started today