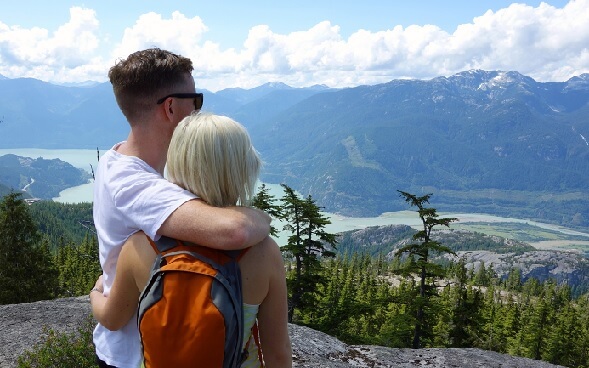 How a Travel Nurse and a Soldier Found Love
Lacy Holevis was doing just fine as a PICU nurse in her hometown of Chicago when her sister called from North Carolina with a proposition.
Could she hook Lacy up with an Army sergeant on Facebook? Her husband's friend seemed like a good guy. Lacy could always "unfriend" him...
The Facebook connection led to phone calls that lasted for hours. Lacy had thought those only happened in corny movies. She'd never realized how compatible she could be with another person.
While, granted, their professions were different, trauma impacted them both. After serving three tours in Iraq and Afghanistan, Michael had worked in extreme circumstances that pushed people to their limits. Both military and nursing professionals must act quickly, remember training and remain calm in chaotic, stressful situations where a misstep can mean the loss of life. Quickly, they recognized the amazing amount they could share.
"Like nurses, deployed soldiers get close to others and may lose them," Lacy explains. "As a PICU nurse, I end up spending lots of time with families and children. A child may be hospitalized for months. During that time, we laugh, hope, cry and despair together. We run the emotional gamut. Soldiers, too, bond in the most meaningful ways. There aren't too many careers that are as intense, and we appreciated how we could understand each other's experiences of loss."
When Michael got assigned to Joint Base Lewis-McChord in Washington state, Lacy considered travel nursing, a career she first learned about from travel nurses who came to her hospital in Chicago. Always drawn to adventure, Lacy had traveled overseas throughout her nursing career with different organizations to many different countries. Once the prospect of travel nursing became a reality, she chose American Mobile as her placement agency because a travel nurse explained that her AMN recruiter, Dana Bluestone, thoroughly understood the travel nurse's needs and would work hard to meet them. Bluestone was also flexible and resourceful in finding ideal placements. After the first phone conversation, Lacy knew she had chosen the right organization and the best recruiter.
Lacy quickly won an ideal PICU position in Tacoma close to where Michael was stationed. Together, they pursued their love of fitness by training in Jiu-jitsu and kickboxing, running, playing roller hockey, and sea kayaking. She loved Washington state because it was easy to get to both the mountains for snowboarding and the coast. Coming from the Chicago area, she relished the fact that she could pick up a new outdoor activity, hiking. Washington is full of National Parks with dense forests, waterfalls and challenging trails. Breath-taking hikes filled their off-hours.
When Michael was reassigned to California, Lacy had no trouble getting a stint at a nearby hospital. Recently promoted to Sergeant First Class, Michael will be able to stay put in California for three years. After that, Lacy thinks they may consider some time overseas in Germany or Korea, where Lacy has traveled and Michael was stationed before. While it could be tough getting a job in a foreign hospital, Lacy thinks there could be opportunities on base.
With the flexibility travel nursing provides, it's clear that the military and the medical life mesh well. Personalities drawn to both tend to enjoy travel, meeting new people and exploration. Lacy loves her new assignment and is excited to explore everything California has to offer...until the next adventure comes along!
Ready to consider your next adventure? Simply enter your dream destination city or state here to get a list of the hospitals that need you! Concerned that you don't have a license for another state? American Mobile pays for your new nursing licenses and facilitates the process. Our recruiters and license specialists know all the tricks for getting licenses all over the United States fast. Check out our clickable map of nursing license information for each state.
© 2016. AMN Healthcare, Inc. All Rights Reserved.