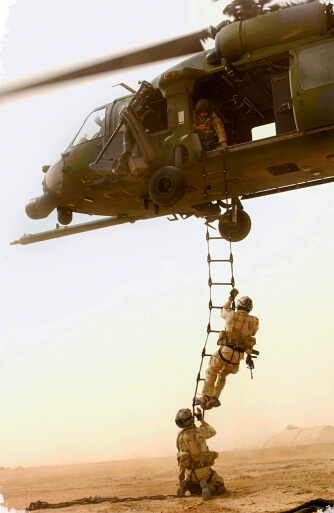 Honoring an Air Evacuation Nurse
Vincent (he asked us to use his last name only) serves in the USAF Reserve as an Air Evacuation flight nurse. In a similar spirit to the travel nursing lifestyle, his assignments have taken him all over the U.S. and to Germany, Puerto Rico and the Virgin Islands. But for Vincent, the personal gratification he feels from his role is too immense to articulate. "Words can't describe the ability to bring back our Wounded Warriors," he says. "They're our heroes."
Working in Air Evacuation, Vincent's specialties are many – ranging from ICU, CCU, SICU, Neuro ICU, Open Heart Unit, Trauma RN, ER, PACU, Civilian HEMS Flight Nurse, Military Fixed Wing Flight Nurse, Registered Respiratory Therapy. But above all else, Vincent feels that he represents patient advocacy, "which makes my entire career a 'defining moment,'" he adds.
He believes that on top of the health benefits, military travel and training, educational reimbursement and retirement, the opportunity for advancement is "unmatched in the civilian world." Vincent recommends a military nurse career path for RNs interested in the field. He points out that because of the high demand of qualified nurses in all branches and specialties of the U.S. military. According to Vincent, becoming an AE Flight Nurse is difficult and time consuming due to its health, medical, mental and physical requirements that are comparable to a pilot's.
Vincent is now working on his Certified Flight RN, Advanced Trauma Combat Casualty Care and is applying for his Master's Degree.