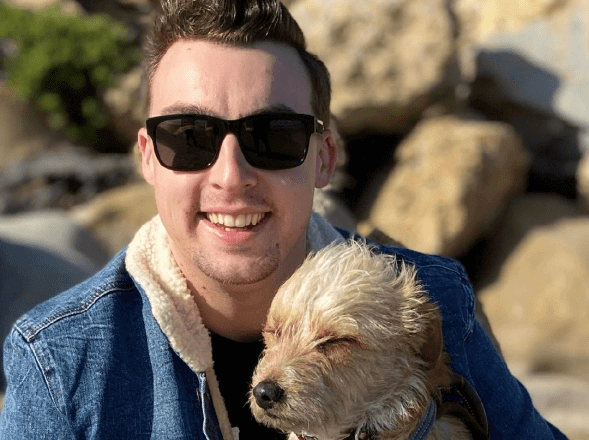 First-time Travel Nurse Earns DAISY Award for COVID Care
Early in 2020, Billy Spencer, RN, took a travel nursing job in the intensive care unit at Kaiser Permanente Downey Medical Center, in Southern California.
They really needed him there. Before he could even catch his breath, he was quickly immersed in the important work of caring for critically ill patients, including some who had contracted the novel coronavirus.
In fact, Billy didn't even realize he'd been featured in an article in the local newspaper for his work. A 34-year-old man who'd been a COVID-19 patient in the ICU had returned home and gratefully credited Billy for the amazing care that he received in the hospital.
That kind of special touch earned Billy, who travels with American Mobile, a DAISY Award this year. Started by The DAISY Foundation, this national award program highlights and thanks nurses who go above and beyond to serve patients and their families.
Surprised to Be Recognized
Nurses like Billy often say they were just working hard, doing the work that they love. And true to form, Billy was surprised (and delighted) to receive a DAISY Award for what he says was "just doing my job."
"I was like, oh wow, this is a really big deal," he says. "I am so honored that I, as a traveler, have been recognized like this."
Kaiser Downey was actually Billy's first travel assignment. He hadn't traveled very far away from his home in Santa Barbara…just about 100 miles or so. He arrived on a short-term contract, prepared to just stay a few weeks. On his second day, he worked a 12-hour shift and had two patients and knew he was meeting a definite need.
By Week 2, he had settled in and was ready to stick around. He agreed to a 13-week contract and then signed an extension.
When someone told him about the Downey Patriot article that mentioned him by name, Billy pulled up the website and was amazed to read the feature story. His patient had returned home and rejoined his family after being very sick with COVID-19.
That was especially rewarding to read about.
"We don't usually find out what happens to the patients," says Billy. "They transfer out of the unit…and that's typically the last time we'll be in touch with them. We don't get a follow-up unless they come back to the ICU."
That patient was just one of countless COVID patients whom Billy and his fellow nurses cared for this year. Every shift, he has donned personal protective equipment and sweated through his scrubs as he repositioned breathing tubes and checked on his patients. He set up iPads so families could talk to their loved ones, many of whom were intubated and unconscious.
"You'd see these patients, night after night," he remembers. "Sometimes they'd get better. Sometimes they'd get worse."
And he'd find himself fretting about the families of the patients who died this year. As he watched a Christmas movie on his own time, he'd think about how the winter holidays would be an especially difficult time for them.
Billy did his best to help each patient, letting the family members know that he was there, taking care of their loved one. And that kind of dedication makes a difference.
Looking Ahead
So what's next for this DAISY Award winner?
Billy says he enjoyed the rest of his assignment at Kaiser Downey, but he's currently happy to have some downtime at his home in Santa Barbara with his family, friends and his dog, a border collie terrier mix named Rufus.
Rufus is going with him to his next travel nursing job, which is scheduled to be at the Desert Regional Trauma Center in Palm Springs, California. Billy is excited about working in a Level 1 trauma center and has already picked out an AirBnB to stay in.
His travel nursing experience has already been meaningful and taught him so much. He knows he will learn even more as he continues.
"I'm so grateful for it," he says.
American Mobile, an AMN Healthcare company, partners with The DAISY Foundation to recognize our outstanding travel nurses for the work they do.