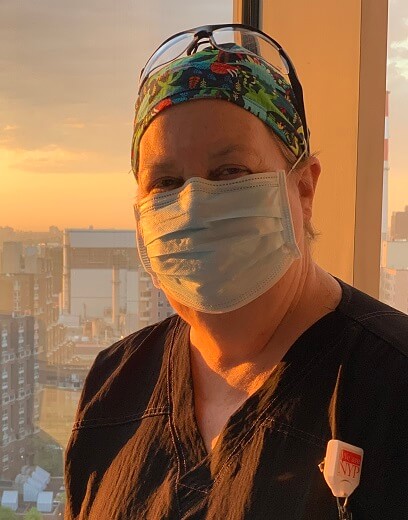 Faith and Fate Place Two Nurses on the COVID-19 Frontlines
Travel nurses Jana Seal (pictured above) and Colleen Clidienst, both from Southern Indiana, answered a professional and very personal call to fight COVID-19 at the New York City epicenter.
Friends since meeting at a weekend women's spiritual retreat about 15 years ago, the two medical surgical nurses, both with American Mobile, were ready to embark on an Indianapolis-based travel assignment. But delays from the COVID-19 pandemic caused Jana's credentialing process to stall.
While waiting for the process, Jana had a dream that there was a plan for her to work in New York. She said the credentialing delay and the vision led her and Colleen to take assignments at Weill Cornell Medicine in Manhattan.
"I told Robyn, our recruiter, that I really felt like we were supposed to go to New York, that I had that dream and to follow where God leads us," Jana said. "It all worked out. We were assigned to New York on a Friday and flew out that Sunday."
When Colleen received a call from Jana about the opportunity to help in New York, Colleen was on board. Not only could she answer her own calling — the assignment gave Colleen a chance to visit her oldest daughter who works in Manhattan. It also became even more personal to her when Colleen's Aunt Ginny, a retired nurse who loved her profession, entered an Indiana hospital just one day after Colleen arrived in New York and tragically, she later died from COVID-19.
"We have an opportunity to serve," said Colleen. "We knew all the details, and we're going to be taken care of because we walk in faith. So, we didn't have any fear or worries. We knew that we were supposed to be where we were going."
Working the COVID-19 Frontlines
After arriving in New York, Jana and Colleen (pictured right) found themselves in a two-day training program that was at times difficult due to the virus's impact on the hospital.
But after getting onboarded and trained, the nurses said that their experiences have been incredible, and the hospital staff has been both welcoming and appreciative.
"Everyone at the hospital has been so kind and helpful," said Colleen. "They're so grateful that people would come from other places just to help them with COVID-19. The staff is willing to help you, and it was such an easy transition."
The duo also gave kudos to their American Mobile recruiter, Robyn Rudge, for being instrumental in getting them to New York.
Travel Nursing During a Pandemic
Once on the hospital floor, Jana and Colleen were assigned to a float pool. When they started on April 6, they said 100 percent of their patients had coronavirus.
"They had converted all of their OR and their PACU into ICU-coded rooms," said Jana. "So essentially when we first got here, it was all COVID-19. Now I might have two or three COVIDs and have a regular or it goes back and forth. It just depends."
Colleen said that she meets many American Mobile nurses while on assignment in New York. Jana's niece, also a nurse, started working for American Mobile in lower Manhattan about two weeks after the duo arrived.
Surviving the Frontlines of a Pandemic
After being at the disease's epicenter since early April, what advice do Colleen and Jana have for other nurses who may take an assignment on the frontlines of a pandemic?
Colleen's advice is to be flexible.
"If you want a challenge, want to learn, and are willing to step out, then you're not going to be disappointed," she said. "If you want your career to move in the right direction, then you want to work at different facilities with different people and disciplines."
Jana agreed that it's essential to have a flexible mindset.
"Don't go into your new assignment and start making demands, because you won't get very far," she said.
Colleen added that success traits during these challenging times include being a team player, staying positive, and being outgoing.
"You can do anything for 12 hours, and it's all about your attitude," Colleen said. "If you have a positive attitude, you can change your whole environment."
Jana said, "Overall, travel nursing does offer the opportunity to make good money, but it can't all be about that, or you're in it for the wrong reason. It'd be like a teacher going out and being a teacher because of the pay. You're there to change lives and to help make it better for people."
Finally, a typical New York City pre-pandemic assignment would mean plenty to do on your off-time, but with stay-at-home orders, leisure activities are restricted. With family in the area, Jana and Colleen do get to see them but also make sure to practice social distancing.
Travel Nurse Careers
Jana's first travel assignment was in September 2019 after doing home hospice work for five years. She chose American Mobile after a referral from a colleague.
"Home hospice was pretty grueling mentally because you got so attached to the patients," Jana said. "So, I wanted to be able to take care of people."
Colleen was a traveler from 2000 to 2005. New York City is her first travel assignment since working full-time.
"I was doing risk management three years before the New York assignment," she said. "I came back to travel nursing to take care of patients. I missed bedside nursing, and it has been a blessing to be at the bedside and take care of patients and not have an office job as a nurse. These patients don't have any family members sitting at their bedside."
READY to start experiencing life-changing assignments like Jana and Colleen?