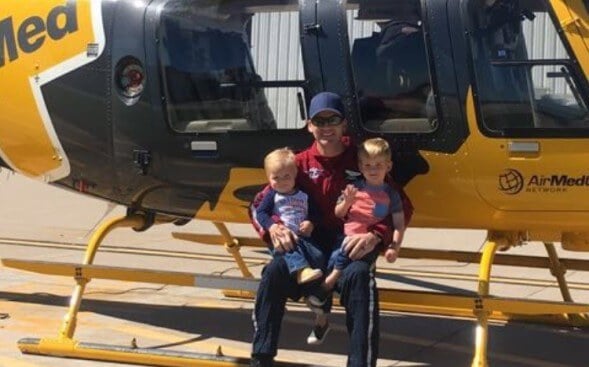 ER Travel Nurse First Responder Experience Earns Daisy Award Honors
Bryan Witham, RN, CFRN, is a certified flight registered nurse who was flying full time before becoming a travel nurse.
His early intention was to become a firefighter in Orange County, California. He served in the army and then became a firefighter. To build up his resume, he also went to paramedic school. But the competition for a full-time firefighter position in Orange County was fierce, so he went to nursing school and started working in a hospital emergency room. From there, he got his CFRN and became a flight nurse.
Since Bryan was dual licensed, he could fly either as a paramedic or a nurse. It just depended on who his partner was during the shift. Bryan would perform hospital-to-hospital patient transfers and fly to accident sites to attend to patients.
"I was flying full-time, and my wife was pregnant with our first kid," Bryan said. "I was talking to a couple of friends that were travelers, and then I decided to do one contract and put that money in the bank for the baby. Once I understood traveling more, I went full-time traveling and then part-time flying."
One of the nurses he flew with was a travel nurse who worked as a flight nurse part-time and traveled for American Mobile. Bryan wanted to do the same thing, so he got his colleague's recruiter information and decided to give her a call.
Bryan has been with recruiter Amanda Solar since he started traveling with American Mobile.
"She's a rock star," he said. "I give her name out to anybody who even thinks about traveling."
Daisy Award Honoree
As an excellent caregiver with emergency and first responder experience, it's easy to see how Bryan's actions led to him winning a Daisy Award, which honors the superhuman work that nurses do every day.
While on assignment in the ER at Wesley Medical Center in Wichita, Kansas, Bryan responded to a situation in which a patient brought in by ambulance lit his room on fire.
"Bryan, with his [former firefighter] training, jumped into action, grabbed the fire extinguisher, and put the fire out as it was climbing up the wall," said the Award nomination. "They are calling him a HERO! All of the patients had to be evacuated out of that pod of the ER. But none of them had any adverse issues related to the fire. Only three ER rooms were affected."
Bryan appreciated receiving the award, but he mentioned that he was sure another nurse was right behind him, ready to do the same thing.
"Any award I receive for working is a reflection of everybody else at work," he said. "It's not a one-man show. It is the very definition of a team effort and collaboration with everybody else. Nothing you do in the ER can be done by yourself. It's almost impossible to be singled out as an individual. It's a team effort for everything."
Why He Chooses Travel Nursing
Bryan's motivation for working as a travel nurse has not changed since his first child was born; he enjoys the great pay. But if he didn't have kids, he said he would choose to travel all over the country.
During the early months of the COVID-19 pandemic, Wesley Medical Center had to cancel many of their travel nurse contracts, so Amanda got Bryan a new assignment at Massachusetts General Hospital in Boston, from April to June 2020.
Bryan said that the hospital had hired sufficient staff for the crisis, which made his eight weeks working there relatively easy. On top of having enough staff, he said non-COVID ailments dropped significantly, and patient volume was very manageable.
After taking about four months off after his assignment in Boston, Bryan returned to Wesley Medical Center in Wichita for another assignment.
Traveling has also afforded Bryan the time to get his bachelor's degree, and now he is looking to further his education and attend a nurse practitioner program.
Ready to check out travel nursing for yourself? AMERICAN MOBILE has thousands of opportunities across the U.S.
FIND TRAVEL NURSING JOBS and get connected with our recruitment team.