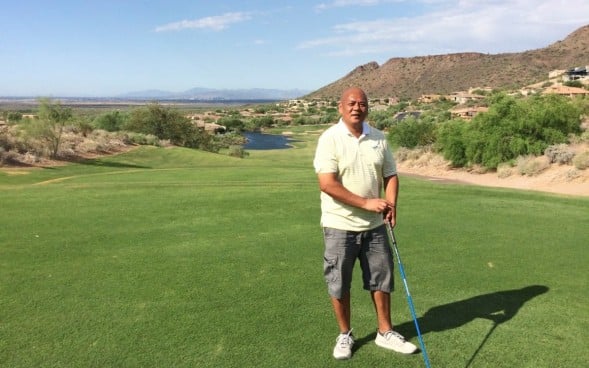 ER Travel Nurse Still Learning After 35 Years
Wilson Tano, RN, has been a registered nurse since 1985. He graduated from St. Mary of Nazareth School of Nursing in Chicago and took his first full-time job at the Advocate Illinois Masonic Orthopedic Center. But he felt completely overwhelmed.
"In nursing school, you learned a lot of new skills, but it never prepared me for real life," he said. "I was given five patients on my first day, and then a full team on my second day while being precepted. A full team was about 12 patients, and I was struggling."
He went to a cardiac telemetry unit in another hospital and enjoyed the work. But then hospitals started closing because there were too many hospitals and not enough patients. He had to relocate to a medical-surgical unit, which was another bad fit.
However, one day while on shift, a nurse manager requested help in the hospital emergency room. Wilson was chosen, and he found his passion.
"The emergency room was fast-paced," he said. "You get a variety of patients — pediatrics, adults, and a lot of challenges. ER patients are not pre-wrapped. They didn't have IVs, labs, or medications yet. In the emergency room, you start from scratch."
At the time, Wilson was working in a high-crime location in Chicago, so patient variety was rife, and the anticipation of what presented next fueled Wilson's drive for emergency room medicine. With that said, a difficult aspect of the job was accompanying doctors to tell loved ones that someone had died.
"I'd dealt with death before, but I'd never dealt with telling the family until working in the ER," he said. "It took a few times for me to get into that mode of empathy and support for the family. And I fumbled my words a few times. You never know what to say when people lose their loved ones, except just to be there."
Starting with his first ER job, Wilson became a shift leader and has always been in a leadership role.
Traveling With American Mobile
In the 90s, Wilson started working on his days off as an agency nurse for local hospitals. In 2004, he took his first travel assignment in Baltimore while still working full-time at a Chicago hospital. It was an eye-opening experience for Wilson.
"I wanted to see other parts of the country," he said. "I'd been in Chicago since 1970, and I'd gone on vacation to different states, but you don't really stay there long. However, taking a travel assignment means you're there for 13 weeks. You get to experience the people, the food, everything the city has to offer. I also wanted to golf in different golf courses."
However, Wilson returned to full-time work after his Baltimore assignment. But the travel urge hit him again six years ago when his grown kids left home. That's when Wilson started traveling full-time.
It wasn't until last year that Wilson received a call from American Mobile recruiter Jessica Vairo. And it was perfect timing: Wilson's current travel company couldn't find him a job.
"Jessica is awesome," he said. "She walked me through the process, and we got to know each other and become friends. She's been very, very helpful, and she listens to me."
With American Mobile, Wilson first went to Tucson, but the assignment was canceled because of COVID and the slowdown in patient traffic to the ER. He then took an assignment in Iowa, where he has worked for the last eight months. He's renewed several times because he enjoys the assignment.
As far as working in the ER during COVID-19, he said the safety protocols make it challenging.
"Before seeing a patient, you've got to put on a fresh new gown, fresh new mask, and a face shield," he said. "It slows down your care. But you don't want to get sick, so you've got to protect yourself. There are many safety issues that we face."
He also said that patients with less critical issues aren't coming to the ER as frequently, so the patients he does see usually have a severe ailment.
What's Next?
Wilson enjoys assignments in warm weather areas so he can golf. He's open to assignments in Hawaii, California, Texas, Montana, Oregon, and Wyoming. Along with visiting new locations, he's excited about what he'll learn next.
"Everywhere you go, you educate yourself," he said. "I'm an efficient nurse, but if I see somebody doing something in a better way, I draw from that. No matter where I go, I just keep trying to learn."
Wilson said he talks to the doctors to improve his skills and enhance his patient knowledge. He said his discussions with physicians are win-win because Wilson learns more about medicine and the doctors learn more about the ER.
To be a successful traveler, Wilson suggested being willing to ask questions and for help.
"Take the initiative," he said. When you've got a new patient, even if you haven't seen him yet but know that the complaint is chest pain, you've got to formulate a plan in your head of what the doctor will order. And try to impress your colleagues. One way to do this is to be friendly to your patients. When you have a good relationship with your patients and their family, your whole day is much better. Your job becomes more manageable because they'll tell you what you need to know because they trust you."
You can start making lifelong memories like Wilson too!