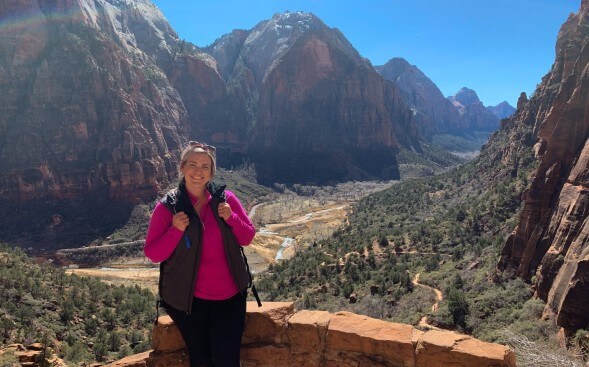 DAISY Award Winner: 'Traveling Made Me the Nurse I Am'
After finishing nursing school in 2012, Taylor Cooper, RN, started working full-time in pediatric oncology. She spent two years in an Iowa hospital and then three-and-a-half years in a hospital in Kansas City, Missouri—all while keeping a long-distance relationship with her then boyfriend, now husband, Dalton.
After Kansas City, the plan was for either Dalton to move to Kansas City or for her to head home to him. But nothing was working out.
"We both applied for a final job that would bring us together, and we said that if it didn't work out, we'd start traveling," Taylor said.
Travel nursing had been on the couple's radar for a while. Taylor had met travelers earlier in her career who had shared their adventures, and remembered one telling her that she would never regret working as a travel nurse. This reinforcement kept traveling top-of-mind for Taylor.
Coincidently, Dalton had a co-worker who traveled with his wife, who shared that it had been a very positive experience. So in 2018, when that last attempt at a job didn't work out, Taylor started researching travel nursing companies and found American Mobile, and recruiter Carrie Gilette.
Taylor said Carrie asked the right questions, wanting to know what motivated her to be a travel nurse.
"I had interviewed five travel companies, and when I found Carrie, I was like, 'Okay, I know that she's my girl. I know this is going to be great.'"
And Carrie delivered, getting Taylor a job she wanted in Seattle at a hospital that didn't have any job postings. Carrie messaged the hospital, presented Taylor's qualifications, and got her a job offer. She and Dalton made the move.
DAISY Award-Winning Care
This year, Taylor's work as a travel nurse received a DAISY Award for impressing one of her assignment managers with her professionalism and dedication.
"I would like to nominate Taylor for being most intelligent, experienced, loving, and knowing what she is doing at her work," said the nomination. "She is a very kind, patient, extraordinary person. Always on time for medication, etc. I really want her to feel special. She knows what she is doing, and her love for her job is inexpressible. She is amazing, and I want her to know it."
Taylor keeps a binder of patients' notes, letters, and cards she has received and looks at them when she is having a bad day.
"I like to look back and remind myself why I do what I do," Taylor said. "This quote will go in the binder as well."
Although Taylor has since taken a full-time job in Des Moines, Iowa, she said traveling is the best thing a nurse could do.
"You'll never look back," she said. "Traveling will change you in ways you never thought it would. You'll be blown away by the amount you learn not only in the workplace but about yourself and what you are capable of. Traveling challenges you and exposes you to so many things. And you get to see how beautiful our country is and gain so many life experiences."
Taylor was traveling with a group of six nurses who have stayed close. Due to COVID, only one of the six is traveling right now. But Taylor said they miss it and would go back in a heartbeat. Overall, they are thankful for the experiences that traveling had brought them.
Taylor's advice for prospective travel nurses? Walk into every assignment, every city, up to every person you meet with an open mind.
"I had no expectations for the jobs I walked into, and I prepared for the worst and hoped for the best," she said. "I felt like that attitude and mindset set me up for the biggest success, not only in my work and for my patients, but also with the people around me, the friends I met, and the places I saw. I was able to appreciate things so much more because I had no expectation of what I was walking into."
Being open-minded also helped her learn and grow in nursing, she said.
"As much as you like to adapt, nurses do sometimes have a hard time with change," Taylor said. "And in every place I went, everyone does the same job differently. The goals are the same, but how they get there is different."
"I adapted, changed and picked up new habits that I never thought would have built me into the nurse I am now," she continued. "Had I never traveled, I would have never experienced that."
"Now my colleagues love sitting me down and picking my brain, whether that's a nurse, a tech or an oncologist. They enjoy talking about what other hospitals do, to make our hospital better. I love being a part of the overall change," Taylor concluded.
Ready to try travel nursing for yourself? AMERICAN MOBILE has thousands of opportunities across the country, and our recruitment team will help get you on your way.