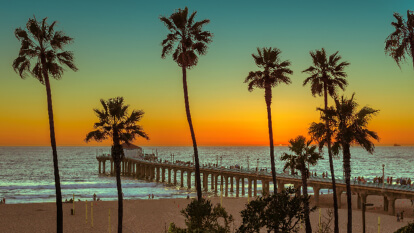 Canadian NICU Travel Nurse Finds Home in California
Kara Hunter, RN, is accustomed to fielding questions about her job from people back home.
Hunter is a NICU travel nurse currently working in Los Angeles. But she's originally from Edmonton, Alberta, in Canada, where travel nurses are not as common.
People don't always understand what she does, so she often has to explain what she does and how the process works.
"I'm beyond glad that I did this because it got me out of my comfort zone and allowed me to have opportunities that I never even thought possible," said Hunter.
California Dreamin'
Around the time she first got started as a travel nurse, Hunter's fiancé took a job in California. Hunter hoped to join him there. But first she had to navigate all the requirements to be able to work in the United States.
With the guidance of her travel nurse recruiter, Hunter was able to book a travel nursing job in the neonatal intensive care unit (NICU) at a children's hospital in Iowa City, Iowa.
She found herself in a large orientation group, where she wasn't the only traveler. Before she knew it, she'd even made friends. (In fact, one of them even recently visited her in California.)
Much to her delight, Hunter eventually received a travel assignment to work at Kaiser Permanente's Los Angeles Medical Center. She was scheduled to join the nursing staff in the NICU, which has about 33 beds and a very diverse patient base.
Kaiser Permanente's Los Angeles Medical Center was a good match for her, as she felt welcomed by the staff at the hospital. Sometimes, full-time staffers don't care much for travelers, she said. Travelers are transient. They're in and out, so the full-timers don't bother to get to know them too well. Not the people with whom Hunter has been working.
"They make you feel like you're part of their family," said Hunter.
Being an Advocate for NICU Patients and Their Parents
As a NICU nurse, Kara Hunter takes care of tiny, critically ill babies, many of whom are premature. But she never loses sight of the people who are the parents of those vulnerable infants.
"You also have to look out for the parents as well," she said. "You're obviously advocating for the babies because they can't advocate for themselves, but you also have to advocate for the parents and make sure their voices are heard."
Those parents are scared, uncertain, anxious. They may not have ever even set foot in a NICU before. The environment itself, with its beeping alarms and high-tech equipment, can be extremely daunting, and they don't understand how it all works.
They may never have anticipated their new baby needing to spend time in the neonatal intensive care unit, and they're grappling with shock, disbelief and, of course, fear. In other words, they're experiencing a roller coaster of emotions.
"They're super scared and concerned," said Hunter. "You have to remember to explain everything. You have to remember that they're essentially a patient, also."
It's easy to get attached to those families, too.
"You develop a rapport with parents, and it's a bittersweet moment when you discharge their baby because you've gotten close to them," she said. "You're happy for them, but you will miss them."
What's Next for This NICU Travel Nurse?
What does the future hold for Hunter? To be determined!
She and her fiancé are planning a destination wedding for next spring, but beyond that, Hunter hopes to continue working as a nurse in some capacity.