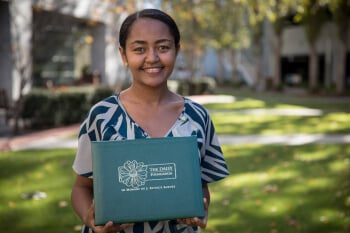 American Mobile Celebrates Daisy Award Winner Maedot Mersha
Maedot Mersha, RN, had no idea that she won a DAISY Award, an award that recognizes extraordinary nurses.
Maedot, who has been a travel nurse with AMN Healthcare's American Mobile for more than a year, received a phone call in early December from her recruiter.
She was invited to visit AMN's corporate headquarters near San Diego. Maedot was finishing up a travel assignment in Houston, Texas, and was preparing to start a new assignment in Sacramento, California.
"I said, 'Why not?' It's San Diego, and I've never been there before, and I have the time," she said.
So Maedot and her brother Biruk flew to San Diego. She was touring the AMN campus, when someone informed her that her presence on a panel discussion was needed.
She expected to talk a little about her experiences as a travel nurse. But she was unprepared for what happened when she walked into the meeting room.
"All of these people are standing there, and there's a camera pointed at me," Maedot said. "And I'm like, 'what just happened?' And then everyone said, 'Congratulations! And they all started clapping."
She added, "It was quite a surprise!"
She received a certificate congratulating her on winning AMN's Q3 DAISY Award for excellence and a list of heartfelt compliments from colleagues at various hospitals where she'd worked.
"I can't even remember how many people I shook hands with," Maedot said. "And I gave a lot of hugs."
It's recognition for all the hard work that Maedot, whose specialty is med-surg, has put in as a nurse. She started her nursing career after finishing nursing school in May 2016, but she knew long before then that she wanted to be a nurse. Growing up in Ethiopia, she experienced a childhood where there was a shortage of hospitals and quality healthcare for people in need.
She moved to the United States to go to school and eventually landed a job as a CNA. Turns out, that her job as a CNA was good preparation for becoming a nurse, since she got the opportunity to work with nurses and watch them in action.
"They were patient advocates, and everything went through them. I loved that," she remembered. "I thought, 'I can't just sit back and watch. I want to be on the front lines, too. I want to be a part of it.'"
After graduating from nursing school, Maedot completed a nursing residency and became a nurse on the liver transplant floor. But she knew she wanted to travel in the near future, so she started researching travel nursing companies.
Long story short, she found herself on the phone with AMN recruiter Ashley Matthews. Ashley guided her through the paperwork and found her a job offer, all in just a few short days. "It was super fast!" said Maedot. "Here I was, with a job!"
Since then, she's traveled to assignments in places like Louisville, Kentucky, Little Rock Arkansas, Seattle, Washington, the Bay Area in California, and even a stint back home in Houston.
She's taken advantage of the opportunity to travel around and visit places like Vancouver and Victoria, British Columbia, Yellowstone National Park, Denver, Colorado, the Grand Tetons, and Coeur d'Alene, Idaho.
"I need to go to the East Coast now," she joked.
Maedot is currently working in med-surg/telemetry at Kaiser South Sacramento in California. After that, who knows? She is planning a trip to Israel this spring with her parents, and then she hopes to land another travel assignment.
While she was pleased to receive the DAISY award, that's not what really drives Maedot to work hard and be the best nurse she can be.
"Seeing the patients getting better," she said. "That is the best reward ever."
Know an extraordinary nurse who deserves recognition? Click here to learn more about the DAISY Awards and how to nominate your favorite nurse.