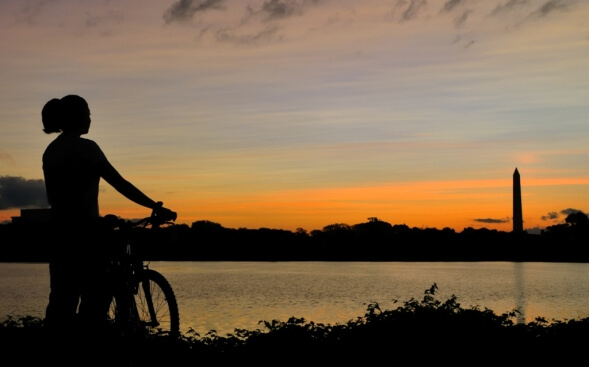 5 Reasons Washington D.C. Draws Travel Nurses
Travel nursing jobs offer a lot of variety for your time off--from sand and sun in Hawaii, Florida and California to music festivals in Oregon and Texas. But if you're ready to get those synapses crackling in a one-of-a-kind city, consider the intellectual and cultural mecca of the United States: Washington, D.C.
Fill your days off with exhibits from the world's top museums, 18th Century seaside architecture and cycling and running paths where soldiers once marched for our independence. While it may take several travel nursing jobs to see everything Washington D.C. offers, it only takes one to put you smack dab in the center of history, culture, architecture and science. Not sure where to start? Use this guide to prioritize which attractions you'll see first.
Destination #1: Join The Crowd at The National Mall
Snap your selfies at the sights you've seen repeatedly on the nightly news: the Lincoln Memorial, the Washington Monument and the United States Capitol. With 24 million visitors walking the two miles of the mall every year, it's one of the country's most popular attractions. The National Mall also contains the reflecting pool, several war memorials and 12 of the 15 museums of the Smithsonian Institution.
Even if you've been to D.C. before, there is always something new to see. The Smithsonian Facebook page describes its latest video portraits of cultural icons, its live blogs from scientists now exploring ancient cultures in the Dominican Republic, and the question and answer live feed from their paleontologist credited with discovering their new "tiny tyrannosaur." If you enjoy digging up this kind of history, travel nursing jobs in Washington D.C. hospitals will leave you plenty of time for exploration.
Destination #2: Relax The Mind at Rock Creek Park
Refresh your perspective and relax your mind in the leaves of America's basswood, beech, oak and elm trees. Rock Creek Park, which features 1,754 acres of natural beauty, includes ample trails that are perfect for strolling, cycling and jogging. The park also boasts tennis courts, picnic areas, and even kayak, canoe and bike rentals at the Thompson Boat Center.
Destination #3: Head to Washington Harbor for a Seaside Side Trip
Satisfy your cravings for great food and scenery at one of the many eateries in the Washington Harbor, located on Georgetown's waterfront, overlooking the beautiful Potomac River. In addition to the riverwalk path, where you can watch the sunset as the boats pass by, you can get a great meal and a drink at one of the many patio-front restaurants. Or stop for a quick gelato, pizza, coffee or other treat during your seaside stroll.
Destination #4: Get Your Gifts at the Eastern Market
More than 100 vendors sell farm-fresh fruits, vegetables and more at this public market; you'll also find jewelry, pottery, photography, sculptures, flowers, baked goods, meats and cheese, and handmade local art. Open every day except Monday, The Eastern Market on 7th Street in Capitol Hill features the added bonus of live music on the weekends. If you arrive early in the morning, be sure to stop at Market Lunch for their famous "blue bucks" plate (a.k.a. blueberry buckwheat pancakes). The Eastern Market provides a slice of D.C. life you won't find anywhere else.
Destination #5: Even Politicians Need Their Nightlife
There is no shortage of happening nightlife throughout the whole D.C. area for traveling nurses. The Adam's Morgan neighborhood has a fun, eclectic mix of live music venues, dance clubs, ethnic restaurants and coffee houses. The Dupont Circle area also has a wide range of bohemian-yet-classy nightlife spots, from wine bars to Irish pubs, dance clubs, sports bars and live jazz spots. Just south of Dupont Circle is the Midtown section, which is jam-packed with stylish-cool clubs, lounges and eateries. For a more collegiate crowd, head over to Georgetown, where you can indulge in the upscale bar, restaurant, and dance club scene.
American Mobile makes getting your nursing license in the District of Columbia a snap. We'll even help you with the application fees!
Get your adventure started by exploring traveling nurse jobs in Washington, D.C.
© 2016. AMN Healthcare, Inc. All Rights Reserved.