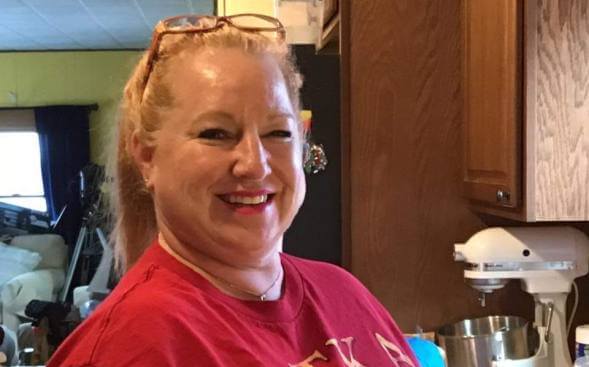 30 Travel Nurse Assignments and Counting
It's safe to call KellyAnn Dougherty, RN, a true pro.
For one thing, she's been a nurse since 1992. She's a CVICU nurse, but she also has trauma nursing, flight nursing, emergency nursing, and of course, intensive care unit nursing under her belt. She's pretty much seen it all during her nursing career.
For another, KellyAnn has logged more than 30 travel nursing assignments with various AMN Healthcare travel nursing companies over the years. That's right: 30! If anyone knows what it's like to be a travel nurse, it's KellyAnn.
She's mastered the perfect way to travel, too: in her 42-foot-long Fifth Wheel RV, her second home, as she calls it. Traveling in an RV means she can bring along her husband, a retired police officer, and her two beloved dogs, Bailey and Bear. She can cook, she can relax, and she never has to unpack.
"I go home at the end of the day, and it's literally my home," she said. "It's my house, my space, and I like that."
How to Get to 30 Assignments
To get a full sense of KellyAnn's travel nursing career, you have to travel back in time to when she was in nursing school at Indiana University. KellyAnn, a self-described "adrenaline junkie," was already planning a nursing career in a high-acuity area, but a chance encounter with two travel nurses gave her additional ideas for her future.
"I always loved to travel, from the time I was really young, so the seed was planted in my mind from very early on," she said.
Fast forward a few years to 1998. She'd gained a few years of valuable nursing experience, and she was eager to take her first travel nursing assignment. For the next four years or so, she regularly hit the road and took her nursing acumen to hospitals around the country.
Like some other travelers, KellyAnn decided she needed a break. She settled down and took a permanent job for about five years. During that time frame, she met her current husband Charlie. But her love of travel never waned, and she realized that she missed traveling. So, in 2008, she tracked down Robyn Rudge, her recruiter with AMN, who was delighted to hear from her. And the rest is history.
"She is one of my most valued clinicians," said Robyn. "Every hospital she goes to loves her, I mean, LOVES her. All of the facilities she works at ask her to extend. Families send her letters praising her care of their loved ones. She is extremely caring and empathetic."
Opportunities While Traveling
Traveling has opened up so many wonderful opportunities, KellyAnn said. For example, her husband teaches accident reconstruction and crash investigation workshops in various locales. KellyAnn is able to stack her days off and join him in places like St. Croix in the Virgin Islands and Hawaii. That gives them even more opportunities to explore.
"We have a bucket list of items we are checking off, and they range from famous hotels and restaurants to little-known places in history," she said.
Travel nursing has also introduced her to people she may never have imagined meeting--but now can't imagine living without.
During an assignment in New Haven, Connecticut, KellyAnn connected with a young mother whose husband was deployed with the Coast Guard. They developed a relationship with the woman and her little girls, a relationship that they nurtured even after the family moved away to Rhode Island.
The bond only grows stronger as time passes. The family now lives in Sitka, Alaska. KellyAnn considers the young woman, whose name is Heather, to be her daughter. They continue to talk regularly by phone, and even spend vacations together. The little girls refer to KellyAnn and her husband as their grandparents.
"They are now our family," she said.
She added, "It's funny how things work out. I always say God has a plan for your life, no matter what, and he obviously had a plan for me."
What's Next?
KellyAnn has visited 49 states. Only Idaho remains. Could a travel nursing assignment check that off her list, too? Maybe. She has a multistate license to practice nursing, which includes 29 states, including Idaho, as well as licenses to practice in Indiana, Michigan, Pennsylvania, Connecticut and Washington.
Right now, KellyAnn is working on assignment in the intensive care unit in a hospital in Little Rock, Arkansas. After that, who knows?
But one thing is for sure: she's not planning on settling down anytime soon.
"My husband I have both decided that we are going to travel as long as we can," she said.