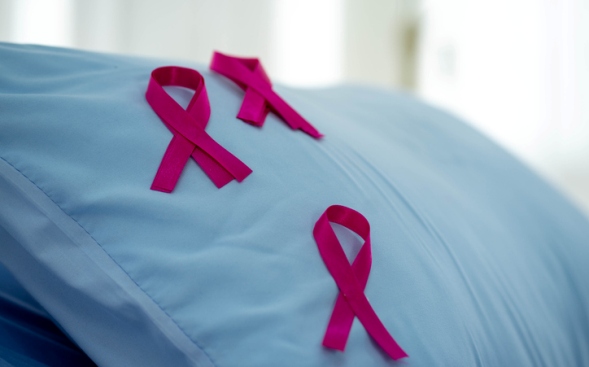 Top 5 Reasons Why You Shouldn't Skip Your Breast Exam
Nurses and patients alike find it's easy to get so busy that they put off routine or preventive care. Unfortunately, when you skip or delay certain kinds of care, you put your health at risk.
For example, take breast exams. According to the American College of Obstetricians and Gynecologists (ACOG), regular breast screenings are critical because they can detect cancer at an early stage, when it's more curable.
"Breast cancer, when identified early, is very treatable," says Angie Larsh, ARNP, a nurse practitioner who specializes in treating breast cancer for the Seattle Cancer Care Alliance.
Mammograms are the primary tool used for breast screenings. Women at average risk for developing breast cancer should begin getting mammograms at age 40 and continue to get one every one to two years, according to ACOG.
However, women also should get clinical breast exams from their provider during their routine checkups every year after age 40. Younger women only need one every one to three years. During this type of exam, your provider will examine each breast for any detectable changes.
Nurses have a tendency to put their own needs last. This is definitely not the time to do that, even with scheduling delays due to the COVID-19 pandemic. There are many reasons why you shouldn't skip your breast exam, including the following:
5 reasons to keep breast exams on schedule
1. A lump may be detected when it's in a very early stage. This is perhaps the biggest incentive to making sure you get a regular breast exam. "Catching it early really makes a difference," says Caroline Elistin, DNP, MSN-Ed, ARNP, FNP-BC, a family nurse practitioner who works in medical oncology and also serves as assistant dean of faculty at Chamberlain University. "It makes a difference in how you are treated, and it makes a difference in the prognosis, in how you will do."
2. You won't accidentally miss a screening. Planning in advance is always a good idea. If you schedule a check-up with a breast exam with your healthcare provider, it will already be on your calendar. You'll be less likely to miss an exam because you forgot to call and make an appointment. The same goes for mammograms. Ask if you can set up a standing appointment so you'll know that you've already got it on your calendar and don't have to worry about remembering to schedule it later.
3. Getting an exam can allay your anxiety. Are you the kind of person who frets anxiously before undergoing a test because you envision the worst possible outcome? If so, it's better to go ahead and get it over with. "There is just such a great peace of mind when you get that phone call or letter saying that everything is fine, that you have a clear mammogram," says Lori Hubbard, MSN, BSN, RN, a clinical instructor in the UNC Greensboro School of Nursing. You have likely told many of your patients to follow through with a test or exam so they can stop worrying about it; now you can take your own advice.
4. You can set a good example for your friends, family and patients. Nurses can set the example for their loved ones and the community at large by getting regular breast exams. They can field questions about their experiences as a patient, as well as answer questions from the perspective of a healthcare professional.
5. It doesn't take long to get screened. You don't have to give up a large amount of your time to get a mammogram. "It's super quick," says Hubbard. "You're in and out." If you're really strapped for time, though, you can always ask about getting an appointment first thing in the morning or during off-hours.
If you're at high risk for breast cancer, it's especially important not to skip a breast exam. Talk to your provider about how often you should be screened. And if you talk to patients or friends who are at high risk, encourage them to do the same.
AMERICAN MOBILE has thousands of opportunities for travel nurses across the U.S.
BROWSE TRAVEL RN JOBS or APPLY TODAY to connect with a recruiter.