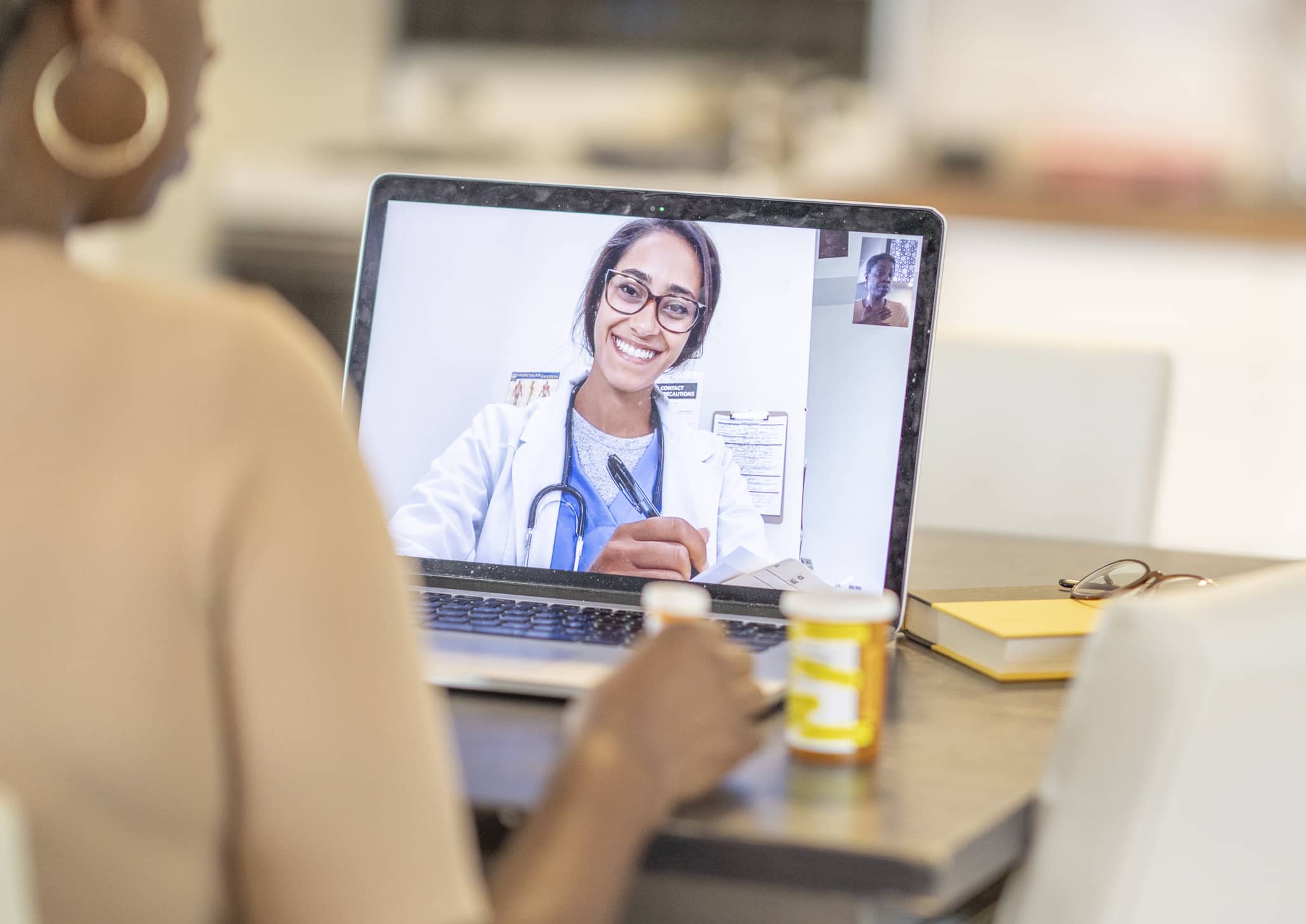 The Rise in Telemedicine
As defined by the American Telemedicine Association, telemedicine is "the use of medical information exchanged from one site to another via electronic communications to improve patients' health status…Videoconferencing, transmission of still images, e-health, including patient portals, remote monitoring of vital signs, continuing medical education and nursing call centers are all considered part of telemedicine and telehealth."
Although the term telemedicine has been around for years, the advancement of technology, the wide availability of home computers and cell phones and the general acceptance of these technologies by patients and providers have ignited the exploration as evidenced by the variety of ways telemedicine can improve patient care and access to providers.
Let's take a look at the role that has been emerging for nurses as telemedicine flourishes: the telemedicine nurse.
The Potential
Imagine a post-surgical patient recovering at home. The home care nurse arrives to change the dressing and deliver medications. Upon examining the wound, the nurse detects an infection. Does the condition require the patient to return to the hospital, or can the nurse treat the wound? What if the nurse could take a digital photo of the wound and securely e-mail it to the physician?
Imagine a rural hospital that's able to send its X-rays to a university setting for consult or middle-of-the night reading.
Imagine a teen in need of psychotherapy and no psychiatrist for miles and miles. Now imagine that same patient having a videoconference therapy session with a psychiatrist sitting in an office located hours away and a nurse in the room beside him.
Telemedicine enables the pairing of specialists with physicians caring for patients to improve access to diagnostic tools and specific knowledge by using image capture and data transfer.
In other instances of telemedicine, the patient plays an integral role in the data capture, while the health care provider interprets that data to provide results, therapies, support and guidance.
Telemedicine Nurse: An Interactive Visit
Over the years, there have been a number of demonstration projects in the area of telemedicine in which a nurse played the key health care provider role.
Today, Forrest General Hospital in Hattiesburg, Mississippi, a 429-bed hospital, has implemented a telemedicine program through Forrest General Home Care to improve patient care and patient quality of life. Not intended to replace a traditional nursing visit in the home, through the telemedicine equipment, a patient's condition and vital signs can be monitored, including blood pressure, weight, oxygen saturation, wound healing, heart and lungs.
At Forrest General, a home care nurse has regularly scheduled visits with her patient through a telemedicine unit, which combines elements of a computer, telephone and medical instruments. The system allows the nurse and patient to see each other and talk conversationally from remote distances, giving the patient the benefit of quality care along with the comforts of home.
Patient Monitors
Technology is being used by thousands of patients to help monitor and diagnose conditions from heart disease to diabetes to respiratory illness. Manufacturers like LifeWatch, a member of the Card Guard Group of Telemedicine Companies, located in Buffalo Grove, Illinois, produce telemedicine devices and, once they are provided to the patients, collect the data.
According to LifeWatch, they "have developed sophisticated ambulatory event monitoring devices that can detect patient arrhythmias while patients go about their daily activities. When clinically important events occur, our devices rapidly transmit the information to LifeWatch's patient- monitoring centers, which operate around-the-clock. Patient data transmitted by our devices is reviewed by our experienced cardiac technicians who prepare thorough diagnostic reports in hard copy or online format. If predetermined criteria are met, we notify the patient's physician."
LifeWatch's products and services include 30-Day Cardiac Event Monitoring, Atrial Fibrillation Monitoring, Clinical Research Monitoring, Holter Monitoring and Pacemaker Monitoring.
Web-based Medical Records
The IDEATel Web site described the following project: "Using a $28 million grant from the Health Care Financing Administration (HCFA), the IDEATel project will bring health care into the homes of underserved rural and inner-city residents with diabetes--the largest telemedicine effort ever funded by the federal government. The IDEATel project will establish Web-based computing and telecommunications networks in both urban and rural economically disadvantaged areas within New York State."
The project is a collaboration of some of the chronic disease's heavy hitters in the New York area, including Columbia University, including New York Presbyterian Hospital; the Joslin Diabetes Center of the State University of New York (SUNY) Upstate Medical University; the American Diabetes Association (ADA); Harlem Hospital Center; the Harlem Renaissance Network; Arnot Ogden Hospital in Elmira, New York; Olean General Hospital in Olean, New York; Samaritan Medical Center in Watertown, New York; the Hebrew Home for the Aged at Riverdale, New York and The Health Care Financing Administration.
In Telemedicine Nurse Case Manager Perspective, Lesley Field, RN, MSN, Suzanne Meyer, RN, and Jessica Rivera, RN, stated that, through the IDEATel project, "Telemedicine offers a potential for individualized, frequent contacts between nurse and patient in a novel setting that increases access to care, and may improve patient care in a manner that is cost-effective for the health care system."
Coming Soon
Although telemedicine has advanced in creative ways over the years, there remain some obstacles. While technology is becoming ubiquitous, there are still costs associated with the procurement, maintenance and training, which create a barrier to entry, as well as ongoing budget items. The availability of high-speed telecommunications lines, while being tackled, remains a barrier for some applications. The digital divide, as applied to economics and age, must be crossed. And we must also think about the very real business issues of reimbursement and "practicing" across state lines.
Originally published on NurseZone.com.
© 2016. AMN Healthcare, Inc. All Rights Reserved.