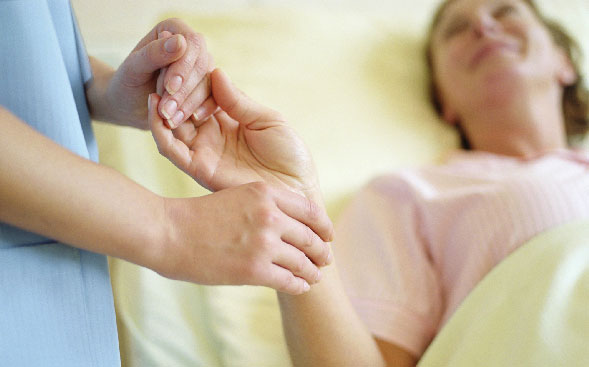 The Nurse's Role as Patient Advocate
Whether calling attention to a potential medication error, helping the rest of the health care team hear a patient's voice or shaping policy by speaking from first-hand experience, advocating for patients comes naturally to today's nurses.
"Advocacy is the heart and soul of nursing practice," said Cindy Zolnierek, RN, MSN, director of practice at the Texas Nurses Association in Austin. "Nurses believe they hold the patients' safety and care in their hands."
Many nurses give this advocate role little thought, considering looking out for their patients' well-being part of the job--for instance, reminding a surgeon that he needs to order a different pre-op antibiotic to avoid an allergic reaction or calling attention to the fact a patient lives alone and is not ready for discharge.
"Nurses are at the front lines of care, and they have a good handle on the issues and what the patients need," says Janice Phillips, PhD, FAAN, RN, manager of nursing research at the University of Chicago Medical Center. "There is a role for advocacy every day."
Not everyone appreciates the nurse who steps forward on patients' behalf, however. Nurses can lose their jobs or worse. A recent criminal case brought against two Texas nurses posed a threat to the critical role all nurses play as advocates.
"If nurses do not feel that they can bring up what they see as a safety concern so it can be fixed, that places the patient in danger," Zolnierek said. "Bad things, deadly things, can happen."
Two nurses identified practices by a physician that they felt put patients at risk. They brought up their concerns within the organization, Winkler County Memorial Hospital in Kermit, Texas, where they both had worked for more than 20 years. But when their concerns were not addressed and the situation remained unresolved, they reported the physician to the Texas Medical Board.
Both nurses lost their jobs' and they were charged with misuse of official information. The charges were dropped against Vicki Galle, RN, and a jury acquitted Anne Mitchell, RN, after deliberating for less than an hour. The Texas Nurses Association helped raise more than $50,000 for their defense.
"We want to make sure the nurses' right and responsibility to report is protected," Zolnierek said. "They need to report by their ethical and legal obligation, but if they do, they face 10 years in prison. That is not a predicament that is reasonable to put a nurse in."
Focusing fully on advocacy
Some nurses have parlayed their skills at advocating for patients into part- or full-time careers.
Ewa Buono, RN, works in the Bloodless Medicine and Surgery Program at Long Island College Hospital in Brooklyn, N.Y.  Patients' reasons for not receiving blood or blood products vary, but regardless of the origin, she supports their choices, educates them about their options and ensures they fully understand the consequences.
"Advocating is about standing up for the rights of your patients and firmly defending them even if you personally may not agree," Buono said. "Personal feelings of preferences are put aside, since health care is about the patient and his needs, not caregivers."
Tionna Wilson, RN, BSN, a OnePathSM case manager at Shire Human Genetic Therapies of Lexington, Mass., assists patients with progressive and debilitating illnesses and their families understand insurance coverage, arrange for care at an infusion center, and secure the therapy they need.
"There are so many roles nurses can play," Wilson said. "Nurses are able to advocate, and that's something nurses look for [in a job], even if we aren't the typical bedside nurse. If we don't advocate [for them] who will?"
Janet Wise, RN, MSN, president of CaringEdge, works as an educator at Brotman Medical Center in Culver City, Calif., a role in which she often solves patients' problems. But she also has formed a private advocacy business. She helps patients formulate their goals and then assists in achieving them. She may go with the patient to the doctor's office.
Former oncology nurse Maggie Radany, RN, recognized that many times patients and families feel overwhelmed, and she saw an opportunity to start Radany & Associates, a health advocacy firm. Patients privately hire her to explain treatment options and how to deal with insurance issues.
"This is an emerging profession," Radany said. "The system is difficult for patients, and people are lost much of the time."
Karen Mercereau, RN, executive director of RN Patient Advocates, not only started her own advocacy firm, she also has developed a curriculum to train nurses as advocates, which includes information about integrative as well as allopathic therapies. She also established the National RN Patient Advocate Network, which now has 22 independent practitioners in 15 states.
"This is a movement, nurses actively working together to turn health care around, patient by patient," Mercereau said.
Policymaking advocacy
From a broader perspective, nurses advocate for patients at state and federal legislative levels.
Margaret (Peg) O'Donnell, ANP-BC, MS, RN, of Bohemia, N.Y., received the 2010 American Academy of Nurse Practitioners: New York State Nurse Practitioner Award for Excellence in recognition of her advocacy for the profession. O'Donnell said she believes it's important to keep abreast of new situations and build bridges. She also advocates for her patients to ensure they receive the health education and medical services they require.
Phillips encourages nurses to share their patient-care experiences with policymakers. She talked to Illinois state legislators about her care of underserved women. That led to passage of the Reducing Breast Cancer Disparities Act, which aims to remove barriers that prevent low-income women from receiving breast cancer screening and treatment.
"Advocacy is a role nurses are well-suited for," Phillips said. "We never want to underestimate the value of our direct-care experience. We have something other people cannot speak to. We are on the front lines."
Want to be a nurse advocate at different hospitals around the United States. Consider becoming a travel nurse, and you can be a patient advocate at each of the hospitals you work for.