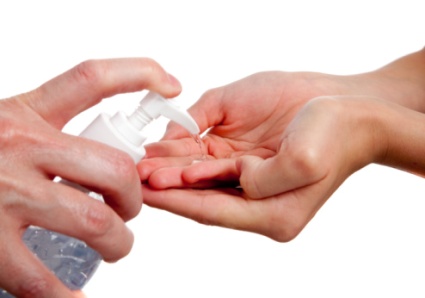 Sterilizing Gone Crazy: Does It Help or Hurt Kids?
Five Risks of Using Hand Sanitizers--and Some Alternatives
Travel nurses are well versed in hand hygiene protocols and sterilizing procedures at work, but how far should you take this anti-germ stance in your daily life?
Is your mommy bag full of hand sanitizer? Are you constantly waging war on germs with antibacterial products at home, at the supermarket and the playground? If so, you're not alone. For years, parents have been faithfully sterilizing their children, not knowing that too much of a good thing may actually be harmful to their kids' health.
Five risks associated with sanitizers
Alcohol rub sanitizers can be useful in killing bacteria and fungi and stopping some viruses, but they do have some limitations and risks. Here are five things that travel nurses and parents should know:
1. Hand sanitizers don't trump soap & water. Alcohol-based hand sanitizers should not be used as substitutes for washing with soap and water for children or adults. Proper hand washing is still the best option, according to the Centers for Disease Control and Prevention (CDC), and they report that hand sanitizer doesn't reduce the spread of some viruses such as the norovirus. 
2. Ingestion can result in alcohol poisoning & more. Young kids like to put things in their mouth, especially things that smell fruity like some liquid sanitizers. Ingesting even a small amount can cause alcohol poisoning in a small child, as many sanitizers contain 60 - 95% alcohol. Newsweek reports that some teens have been drinking sanitizers intentionally--sometimes mixing with alcohol-based mouthwash to create a "hygiene cocktail." This dangerous practice can result in intoxication, irrational behavior, gastrointestinal illness, organ damage and other life-threatening conditions.
3. Sanitizers can impact the immune system. Among other research, a 2009 study at Northwestern University discovered that sanitizers can lower a child's immunity and that more kids were getting sick from preventable diseases. 
Researchers felt that ultra-clean environments during the early stages of a child's life can lower their immunity so much that the body's defense mechanisms are in constant fighting mode; this may make them more vulnerable to inflammation and various diseases as adults. 
4. The jury is still out on triclosan & other active ingredients. Triclosan is an antibacterial, antifungal agent commonly found in sanitizers that is also used in pesticides, and some researchers believe that it can contribute to the formation of super bugs or antibiotic resistant bacteria. The CDC reports that its long-term health effects are unknown. The Federal Drug Administration recently ruled that antibacterial soaps with triclosan or 18 other active ingredients can no longer be marketed to consumers, because manufacturers failed to prove that the ingredients were safe and more effective than regular soap. The new rule does not apply to antibacterial hand sanitizers and wipes (or to antibacterial products used in health care settings), but the FDA has asked manufacturers for more data on these products.
5. Benzalkonium chloride can cause irritation or allergic reactions. Some sanitizers include this compound which dissolves and kills the outer covering of bacterial cells. It can irritate the mucosal lining and aggravate allergic reactions. The CDC says that a few reports have documented occupational asthma as a result of exposure to benzalkonium chloride, and some studies have found that it is toxic to fishes and birds. The FDA has deferred their ruling on this compound and two related ingredients (benzethonium chloride and chloroxylenol) in antibacterial soaps until 2017, when they expect to review more safety and effectiveness data.
Alternatives to sanitizers
If sterilizing products have risks, what's a worried parent to do? Here are three suggestions for keeping your kids germ-free and healthy without sanitizing rubs and wipes: 
Get close to nature and play in the dirt. Allergies and asthma can be another side effect of over-sterilizing. According to a 2012 study in the Journal of Allergy and Clinical Immunology, Amish children raised on farms were less likely to develop allergies and asthma than their peers. Researchers concluded that exposure to dirt and microbes may make kids less sensitive to pollen and other pathogens, allowing the immune system to fine-tune and differentiate between harmful and harmless irritants.
Teach kids proper hand washing. The CDC recommends frequent and proper handwashing to protect yourself and your family. All you need is 20 seconds plus soap and water. If your child has allergies, choose a fragrance-free soap.
    1.  Wet hands with clean running water (warm or cold) and apply soap.
    2.  Rub hands together, make a lather and scrub well. Teach kids to scrub the backs of their hands, between fingers and under nails.
    3.  Continue rubbing hands for at least 20 seconds. (Hum "Happy Birthday" from beginning to end twice.)
    4.  Rinse hands well under running water.
    5.  Dry hands using a clean towel or air dry.
Relax and use common sense. Try to relax about keeping your kids clean, but stay current with product safety reports and studies. Parents who want to avoid sanitizers for their kids can learn more about keeping kids and their environments safe in this EPA Guideline for Early Childhood.