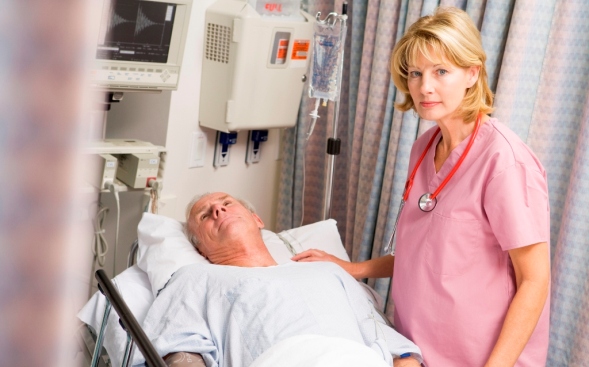 Post-op Pain Management Linked to Overall Patient Satisfaction
Patients' postoperative reports of pain during recovery strongly correlate with overall patient satisfaction during hospital stays, according to a recent study from Cedars Sinai Medical Center in Los Angeles.
"When we do [pain management] right, it makes a difference," said Nicole J. Hoke, MSN, RN, CCNS, CCRN, perioperative clinical nurse specialist at the Hospital of the University of Pennsylvania in Philadelphia, who was not involved with the study.
The Cedars Sinai team analyzed Hospital Consumer Assessment of Healthcare Providers and Systems (HCAHPS) answers about pain management and general satisfaction from 2,933 surgical patients at one academic medical center and retrospectively compared those to the post-anesthesia care unit (PACU) visual analog scale pain scores and found a statistically robust relationship.
"This study illustrates the crucial role that pain management in the acute postoperative setting can have, not only on a patient's perception of pain management, but also on the global perception of their hospitalization," said Dermot Maher, MD, one of the researchers who presented the findings at the American Academy of Pain Medicine.
Further analyses of the data showed patients who had surgery related to spine, non-spine orthopedics, and obstetrics and gynecology showed significantly larger correlations of PACU pain scores with HCAHPS responses than did patients who had other types of surgeries.
Munira Wells, PhD, RN, assistant professor in Seton Hall College of Nursing in South Orange, N.J., said some orthopedic surgeries, such as ankle or shoulder procedures, are extremely painful, and obstetrical and gynecology surgery may result in cramps.
The Affordable Care Act of 2010 made the 27-question HCAHPS a factor in value-based incentive payments. Therefore, the authors concluded that "preadmission, preoperative and intraoperative interventions, as well as changes in PACU patient care, all could strongly influence HCAHPS scores."
However, the Centers for Medicare and Medicaid Services (CMS) recently proposed removing questions about pain management from the HCAHPS survey. The American Hospital Association and other advocacy groups believe these questions set unrealistic expectations and may lead patients to falsely equate pain management with prescription medication; they could also incentivize providers to prescribe more pain medication than necessary.
Registered nurses play an integral role in preparing patients on their way into surgery and during their stays in the PACU, offering opportunities to better manage patients' expectations and post-op pain.
"Most important is to start at the beginning," Wells said. "We start the pain management process before patients go into the operating room."
Hoke added that the surgical team must collaborate with outpatient partners, evaluating the patient when the procedure is scheduled, such as assessing for chronic pain that must be addressed. Then the team and patient can come up with a management plan.
Amy Snow, MNA, CRNA, director of clinical services and associate program director of the nurse anesthesia department at the Ida V. Moffett School of Nursing at Samford University in Birmingham, Ala., agreed that pain management must begin with preoperative teaching to manage expectations, since sometimes it is impossible to eliminate all pain.
"Some people's perception of surgery may not be realistic," Snow said. "We, as nurses, have a great opportunity to help them with reality."
Post-op pain management begins with an assessment, using a validated pain scale, Hoke said. Then the nurse and patient can collaboratively set goals to keep the pain under control without compromising the patient's recovery. "Thoroughly assessing and setting realistic goals, the PACU nurse can make a real difference," she said. "It's treating the whole patient."
The assessment must include whether the patient also is suffering from muscle spasms or nausea and treat those things as well. Nurses can manage anxiety with medications or other interventions.
"Treating anxiety will help the pain medicine work better," Wells said. "Sometimes it's about hand-holding and really being there for the patient…reassuring that you will take care of them."
Additionally, Snow said changes to the PACU environment and how nurses interact with the patient make a difference. For instance, they can dim the lights, maintain a quiet space, not talk over the patient, and not introduce or suggest the idea of pain. Rather, the nurse could ask if the patient is comfortable.
"Keeping it calm and low stress is helpful," Snow said. "When patients tense up and get tighter, the more they will hurt."
Nurse anesthetists may have opportunities to improve intraoperative and immediate post-op care.
"My goal is to calm it with enough pain medication on board to keep them comfortable as they are waking up, on the way to and settled in the recovery room," Snow said.
Most PACU nurses are willing to give pain medication if the patient is hurting and respiratory status is stable, Snow explained. However, Wells cautioned the nurse must balance pain relief with enabling the patient to wake up. She suggests incorporating nonpharmacuetical interventions, such as a warm blanket or a cool compress.
"You cannot overlook the power of little things, reassuring patients and comfort measures," Wells said. "We need to position them, keep them warm, and keep them feeling good, with a sense of well-being."
Gain access to PACU nurse jobs and other nurse specialty jobs with one quick search. Explore American Mobile's extensive nursing jobs database today!
Originally published on NurseZone.com
© 2016. AMN Healthcare, Inc. All Rights Reserved.