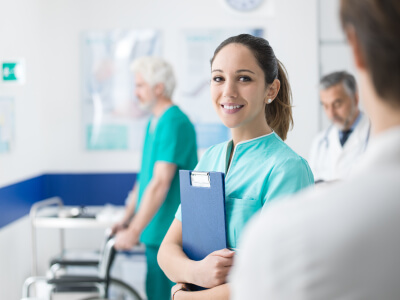 Nursing Student Loan Forgiveness: 5 Things to Keep in Mind
Nursing is an extremely rewarding and lucrative career, as well as an honorable profession that is highly regarded. It also takes a lot of hard work and dedication—not to mention expense.
In fact, becoming a nurse requires a higher education that can leave you with substantial student loan debt. So, you may find yourself wondering, "Do nurses qualify for student loan forgiveness?" Luckily, there are numerous resources and programs to help nursing graduates get most, if not all, of their loans forgiven.
Here are several key points to keep in mind when exploring the options for student loan forgiveness for nurses.
5 Options for Nursing Student Loan Forgiveness

According to the latest statistics from the American Association of Colleges of Nursing (AACN), the median debt amount from nursing student loans is between $40,000 and $55,000. The AACN also reports that 69 percent of students attending a graduate-level nursing program took out federal student loans.
When exploring nursing student loan forgiveness and repayment assistance programs, nurses should note that each program has specific eligibility requirements and limitations. There is also no guarantee that your nursing school loans will be forgiven, even if you qualify, because many programs have limited funds.
Thus, it's best to explore every possibility, including these popular programs.
1. Federal repayment plans for nursing student loans
The federal government offers several forgiveness and repayment options for nursing student loans, including assistance programs through the Health Resources and Services Administration.
The most well-known program is The Nurse Corps Loan Repayment Program which pays up to 85 percent of unpaid nursing education debt for registered nurses (RNs); advanced practice registered nurses (APRNs); and nurse faculty (NF). Awards are taxable and the program requires a two-year commitment at either a Critical Shortage Facility (CSF) or an eligible nursing school for faculty members.
The National Health Service Corps (NHSC) Loan Repayment Program (LRP) is the other major federal repayment program and it limits awards to $50,000 for full-time employment and $25,000 for part-time workers. This program is only available to advanced practice nurses, leaving RNs ineligible, but awards aren't taxed.
2. Military options for nursing student loan forgiveness
Several branches of the U.S. military offer student loan repayment to nurses through Active Duty Health Professions Loan Repayment Programs. The Army, Navy and Air Force pay up to $40,000 in qualified loan repayment assistance per year (for up to three years) of active-duty service with a minimum commitment required. You pay a federal tax liability on this amount with the remaining disbursement sent directly to the original lending institution. The Army Reserve also offers up to $50,000 with a three-year commitment, and family nurse practitioners may be eligible for repayment of up to $250,000 in nursing student loans through the National Guard with a seven-year service commitment.
3. Federal public service loan forgiveness
Working as a public servant in the healthcare sector can be a fulfilling and rewarding way for nurses to advance their careers while receiving valuable assistance toward their nursing school debt. The Federal Public Service Loan Forgiveness program only covers William D. Ford Federal Direct Loans that were never in default. However, nurses can consolidate non-qualifying loans into a new Direct Loan. To be eligible for loan forgiveness you must work full-time for a government agency or certain types of nonprofit organizations or serve full-time as a volunteer in the AmeriCorps or Peace Corps.
You must also make 120 qualifying payments under an income-driven repayment plan. Once you meet all eligibility requirements, the balance of your student loan is forgiven.
4. State nursing student loan forgiveness and repayment programs
Many states also offer nursing student loan forgiveness or repayment programs as an incentive to lure nurses to work in federally identified Health Professional Shortage Areas or state-designated facilities. These programs vary greatly by state, and only certain loans qualify, such as federal loans you've never defaulted on. In several states, only advanced practice nurses will qualify. All of these state-based programs are subject to change based on the availability of funds each year. Check with your home state for more information on loan repayment and forgiveness programs.
In California, for example, nurses have the opportunity to apply for several assistance programs including The Bachelor of Science in Nursing Loan Repayment Program (BSNLRP) which aims to increase the number of appropriately trained registered nurses providing direct patient care in a qualified facility in California.
5. Another option for paying back student loans
Another way to pay off your nursing school loans is to maximize your earning potential as a travel nurse. Travel nurses receive highly competitive salaries, free housing, and a host of other benefits, allowing them to put more money toward their nursing student loans or other debts.
Many changes have taken place in the industry, and nurses can start applying for travel nurse positions with just a few months of clinical nursing experience. In addition to the lucrative perks, travel nursing is also a great way for RNs to advance their careers, explore the country and make new connections.
Explore Your Nursing Career Options
American Mobile has thousands of high-paying travel nurse positions across the country to help you pay off your student loans or save for the future.
FIND TRAVEL RN JOBS that match your criteria, or APPLY ONLINE to get connected with a travel nurse recruiter who can help you get started.