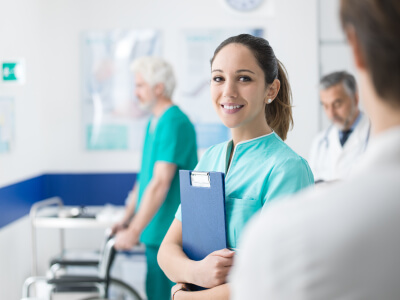 Nursing Student Loan Forgiveness: 5 Things to Keep in Mind
Nursing can be a rewarding and lucrative career, but getting there requires higher education that can leave you with substantial student loan debt. Luckily, there are numerous nursing student loan forgiveness resources to help you get most, if not all, your loans forgiven.
However, there are at least five things to keep in mind when exploring your options.
5 things to know about nursing student loans forgiveness
According to the American Association of Colleges of Nursing, the median debt amount from nursing student loans is between $40,000 and $54,999. It's important you explore nursing student loan forgiveness and repayment assistance programs, but keep in mind, each program has specific eligibility requirements and limitations. Here are some things to consider about popular programs.
1. Federal repayment plans for nursing student loans
The federal government offers several forgiveness and repayment options for nursing student loans, including two popular assistance programs through the Health Resources and Services Administration. The National Health Service Corps Loan Repayment Program limits awards to $50,000, and that's only if you work full-time. This program is also only available to advanced practice nurses, leaving RNs ineligible, but awards aren't taxed. While the Nurse Corps Loan Repayment Program doesn't place a dollar limit on the award, it only covers a percentage of your outstanding balance. This program is available to any licensed nurse, but awards are taxable. Both programs require a two-year commitment at a facility with a critical shortage of nurses.
2. Military options for nursing student loan forgiveness
Most branches of the military offer student loan repayment to nurses through Active Duty Health Professions Loan Repayment Programs. The Army, Navy and Air Force pay up to $40,000 in qualified loan repayment assistance per year of active-duty service with a minimum commitment required. You pay a federal tax liability on this amount with the remaining disbursement sent directly to your lending institution. The Army Reserve also offers up to $50,000 with a three-year commitment, and family nurse practitioners may be eligible for repayment of up to $250,000 in nursing student loans through the National Guard with a seven-year service commitment.
3. Public service loan forgiveness
The Federal Public Service Loan Forgiveness program only covers William D. Ford Federal Direct Loans that were never in default. However, you can consolidate non-qualifying loans into a new Direct Loan. To be eligible for forgiveness you must work full-time for a government agency or certain types of nonprofit organizations or serve full-time as volunteer in the AmeriCorps or Peace Corps. You must also make 120 qualifying payments under an income-driven repayment plan. Once you meet all eligibility requirements, the balance of your student loan is forgiven.
4. Limitations of state nursing student loan forgiveness
Many states also offer nursing student loan forgiveness or repayment programs as an incentive to lure nurses to work in federally identified Health Professional Shortage Areas or state-designated facilities. These programs greatly vary by state, but only certain loans qualify, such as federal loans you've never defaulted on. In several states, only advanced practice nurses qualify, which makes RNs ineligible. All programs, no matter the state, are subject to change based on the availability of funds each year.
5. There's no guarantee
No matter what type of program you pursue, there's never a guarantee of nursing student loan forgiveness. Many programs have limited funds, so even if you qualify, you might be too late to receive assistance. Always explore every possible option to avoid taking out loans. Otherwise, you might risk struggling to repay debt while also trying to start your nursing career.
If you already have nursing student loans, fully investigate the restrictions and requirements, so you know exactly what you're getting into. While nursing student loan forgiveness programs have drawbacks, they can still be great way to help wipe out your debt.