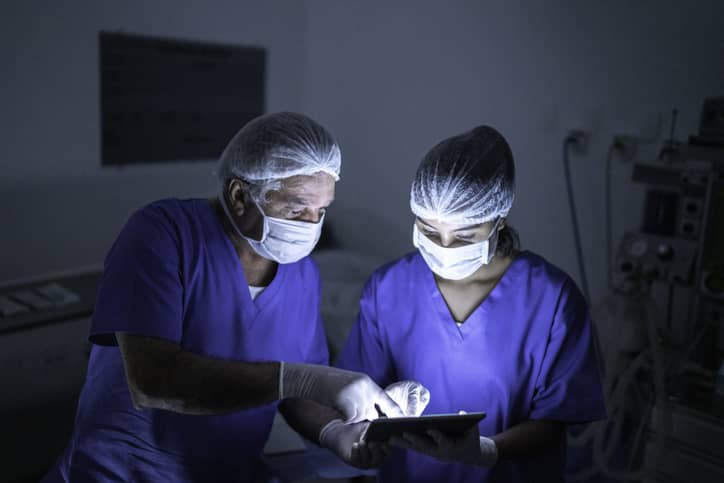 Nurses Learning to Embrace Their Role in Health Technology
Technology innovations have been behind some major changes in nursing practice over the years. Whether they liked it or not, nurses have had to change the way they share and use information, safeguard care processes and monitor and educate patients. Are they finally starting to embrace technology as a key part of patient care?
The increasing focus on health IT
Since its inclusion as a fundamental aspect of Pres. Obama's American Recovery and Reinvestment Act of 2009, healthcare information technology, known as health IT or HIT, has become more pervasive in political conversations and in everyday patient care.
Electronic health record (EHR) implementation is in full swing at hospitals throughout the nation, and there is a lot that nurses can do to increase the adoption and optimization of EHRs to improve operability, safety and the secure exchange of information, according to Commander Alicia A. Morton, DNP, RN-BC, deputy director of the Office of the Chief Medical Officer at the Office of the National Coordinator for Health IT, U.S. Department Health and Human Services (HHS).
"Nurses are the largest group of health professionals in the U.S., and we are in home health care settings, technical settings, policy roles and also working for vendors and hospitals to implement the technology," Morton said. "When you consider how varied nursing practice is and how many of us there are, the implementation of health IT will not happen without nurses being on board. We have to be engaged, involved, and advocating for health IT."
"The inpatient environment for nurses today is very complex, and most organizations across the U.S. are currently in the stages of implementing electronic health records," explained Ann O'Brien, RN, senior director of clinical informatics for Kaiser Permanente and 2011 Executive Nurse Fellow for the Robert Wood Johnson Foundation.
According to data from HIMSS Analytics, which tracks electronic health record/electronic medical record (EHR/EMR) adoption trends, most health systems in the United States are in Stage 4 or Stage 5 of the adoption process. There are a total of seven stages in the EMR Adoption ModelSM.
"At Kaiser, we implemented between 2006 and 2009, so we are in Stage 7 of the EMR Adoption Model and we have almost three years now of electronic health record data and the ability to actually optimize data and technology to improve care," O'Brien said.
Carol J. Bickford, PhD, RN-BC, CPHIMS, senior policy fellow, department of nursing practice and policy for the American Nurses Association (ANA), agrees that health IT has become integral in nurses' practice space, including acute care hospitals, long-term care facilities and in the home health environment.
The current environment for health IT is in flux right now, O'Brien explained. "The current state is one in which everyone is implementing and wants to learn from one another to turn data into information and knowledge for our frontline nursing staff. We are just at the tipping point in this country of being able to have data that actually supports care delivery."
Beyond EHRs: Smartphones and other tools
"I think there is going to be a revolution in technology in the next three years, and what's driving that is the smartphone," O'Brien said. "The smartphone is truly gong to transform care because now we have the ability to move from this plethora of different systems--like pagers, badges and alerts systems--to one platform, which is the smartphone."
The advent of smartphones and technology like middleware that can link hospital systems to personal electronic devices will allow secure clinician-to-clinician texting, instant messaging and other cutting-edge communication strategies that can improve care and the transfer of important patient information to all members of the care team.
"In health care there is a demand to have the same smart tools that are available on the consumer market, and these tools are finally coming into health care in a big way. Texting, EHR usage on smartphones, and real-time access to information and references are just a few of the biggest changes we will see in the next few years," O'Brien said.
Smartphones have had a large impact on health IT as they allow nurses instant access to information, Bickford said.
Videos and other interactive patient care tools will also be adopted into care plans as they help patients understand recovery, medication management, and other components of their care plans or discharge instructions, O'Brien said. "These types of tools help patients and their families be more engaged in the health care process."
"Technology in health care isn't just limited to EHRs," Morton added. "Health care professionals use all kinds of technology as they care for patients."
The three "Es" to leverage technology and increase adoption rates  
In an environment of constant change and fluctuation, nurses can play an important role in helping patients adopt technology into their care plans. According to Morton, nurses are oftentimes the "quarterback" of the care plan--relaying information, ensuring records are complete, and educating patients on their care plans.
Nurses need to engage, embrace and educate, Morton said. "Don't just be a consumer of health IT, but be an active participant in this new wave of technology that is changing the landscape of health and wellness. Nurses have the opportunity to really be engaged in implementation and ensure technology is meeting the needs of clinicians and patients."
Safety and security are a crucial part of technology implementation, and nurses need to ask how their facilities are protecting the privacy and confidentiality of patient information transmitted and collected on the system.
"There's a lot of concern on the lack of encryption on the communications and record keeping, and nurses should be raising questions to the organizations who are providing the technology," Bickford said. "It protects the clinicians, patients and the health care organization. Our responsibility as nurses is patient advocacy and it's important to raise these questions."
Partnership is among the most important pillars of health IT. Kaiser is currently working with the ANA and with nurses and nursing organizations across the country to look at how knowledge and information can be implemented at the point of care.
"Nurses need to be partners on moving forward with technology initiatives," Bickford said. "If something doesn't seem quite right, they need to raise the question and get an answer for it. A lot of things are pushed down on nurses, and asking questions about how technology is improving our workflow will help everyone embrace technology and embrace the information technology as a tool rather than an obstacle."
One thing nurses need to keep in mind is that information technology is only a tool and that they have to be cognizant of the safety and quality of care associated with their processes, Bickford said. "Just because you have IT doesn't mean you have a better product or quality improves. There has to be the thoughtful thinking about how it all fits together. "
"The true goal of HIT is to move beyond evidence-based care to patient-centered care and provide a complete picture of each patient story," O'Brien concluded.
Originally published on NurseZone.com.
© 2016. AMN Healthcare, Inc. All Rights Reserved.