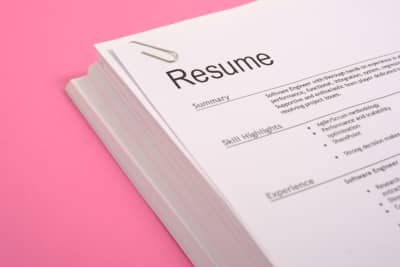 Nurse Resume: 5 Things Hiring Managers Always Look For
Although job opportunities for nurses are expected to rise with faster-than-average employment growth, the number of new nurses entering the field has increased.
The result is heightened competition for the best nursing jobs, so it's vital you and your nurse resume stand out from the rest.
A nursing resume with vague details and poorly highlighted skills and experience, coupled with an uninspiring cover letter, won't get you noticed by hiring managers.
Make sure your nurse resume grabs their attention by including these five things hiring managers always want to see.
5 Things Hiring Managers Look for on a Nurse Resume
Hiring managers skim numerous nursing resumes every day from nurses with varying backgrounds, education and experience.
If you want to score a coveted job in today's competitive job market, your nurse resume needs the right ingredients.
Hiring managers look for a variety of things on nursing resumes, including these five elements.
1. Highlight relevant experience
Kirk Wilson, Director of Operations at Arizona IV Medics, hires nurses with emergency or SWAT experience on a regular basis for his Phoenix-based mobile IV therapy company. He says the key to cutting through the hundreds of nursing resumes he receives each week is to put your relevant experience front and center.
"I love resumes that highlight experience directly related to the position, preferably with bullet points, right at the top," says Wilson. "Not only does it help me quickly filter through the pile, but it also shows me that you've read and understood what I'm looking for, and you're willing to go the extra mile to tailor your resume to my specific position by highlighting those attributes."
Wilson emphasizes that even nurses without the exact qualifications he's asked for in the job description can still use this technique to their advantage.
"If a nurse doesn't meet my criteria for number of years in critical or emergency care, for example, they can use those bullet points to pull out relevant experience from previous positions that shows me they're qualified to take on the challenge."
"Years of experience are a filtering tool, but for most nursing roles, they don't have to be the deciding factor. A professional nurse resume tailored to the position highlighting relevant experience will get you to the top of the resume stack."
2. Clearly identify your qualifications
Dr. Kate Tulenko, MD, MPH, MPhil, FAAP and CEO of Corvus Health in Alexandria, VA, says employers often look for relevance based on whether your experience and/or skills are suitable to the position, but they also want clarity.
She explains that they want to be able to "clearly identify your qualifications and quantify your experience."
3. Leadership and proactivity
Even if the position you seek doesn't involve a leadership role, hiring managers are always looking for nurses who can lead in other ways.
Ensure you demonstrate your leadership abilities on your nurse resume by mentioning whether you've helped train other nurses in previous positions or how you've taken time to help your peers improve performance.
Dr Tulenko wants to know, "Do you do the minimum for your job or do you go above and beyond? Have you won awards? Have you led quality initiatives?"
4. Communication skills
Verbal and written communication skills are indispensable in a medical career, and a cover letter and resume for nurses should clearly communicate you have them.
"I think the cover letter is just as important as the nurse resume," says Dr. Tulenko. "Can you convey your thoughts and ideas briefly through your cover letter?"
5. Attention to detail
"Are there glaring errors in your resume?" asks Dr. Tulenko. There's no room for mistakes when it comes to submitting a strong nurse resume. Avoid spelling, grammar, formatting and typographical errors that make you look sloppy or unconcerned about little details.
Many hiring managers immediately dismiss error-ridden resumes, without ever knowing how strong a job candidate you might have been.
Avoid this costly mistake by proofreading your resume carefully, having someone else help with editing, utilizing online tools to ensure it's error-free or working with a staffing agency that helps you polish it to perfection.
Many medical facilities also value flexibility in their nursing staff, so it's often another trait hiring managers look for.
Because travel nursing jobs clearly demonstrate this flexibility, be sure your nurse resume highlights the skills and experience you've gained while working in differing healthcare facilities. Now, polish up your interview skills.