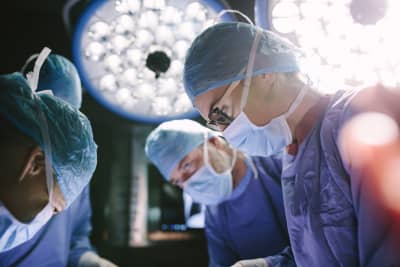 Nurse Certification: 5 Most Valuable Nursing Certifications for OR Nurses
What nurse certifications are most valuable for operating room nurses? Operating room nurses specialize in the surgical department, acting as scrub nurses or circulating nurses.  
They have the same training, skills and nurse certification as any registered nurse (RN) but can pursue certifications specific to their medical field that can provide new opportunities for career advancement.  
The most valuable nursing certifications for OR nurses provide numerous benefits and are an essential step in your professional development, especially if you want to transition into a managerial role. 
5 Valuable Operating Room Nurse Certifications 
As part of a surgical team, operating room nurses must be able to work competently and efficiently with numerous medical professionals while ensuring quality patient outcomes.  
Pursuing nurse certifications specific to perioperative nursing helps you achieve these goals while gaining new knowledge and increasing your credibility.  
The following certifications are some of the most valuable to OR nurses.
1. Life support certification 
"Every OR nurse should be Advanced Cardiac Life Support (ACLS) and Pediatric Advanced Life Support (PALS) certified," says Shanna Shafer, BSN, who has over 10 years of experience as an RN.  
"It's rare that an OR nurse wouldn't be required to maintain ACLS and PALS credentials, but if your employer doesn't already require you to be certified, do so immediately. Not only is this essential to your career, but it would be negligent to work in any perioperative setting without this training and continued certification." 
Life support certification actually includes four separate certification programs provided through the American Heart Association's healthcare professional training and includes:
2. CNOR nurse certification
"As you move to advance and expand your career in the OR, it makes sense to look at Certified Nurse Operating Room (CNOR) certification," advises Shafer. "Certification requires that you already have experience in the OR, so it's a good step forward if you've been in this practice area for a while." 
CNOR certification is for perioperative nurses interested in improving and validating their knowledge and skills, which allows them to provide the highest quality care to patients, gain credibility and recognition among peers and patients, enhance career development and achieve personal and professional goals.  
RNs in good standing must have a minimum of two years and 2,400 hours of experience in perioperative nursing with at least half this time carried out during surgical procedures before pursuing this certification. 
3. CNRFA nurse certification 
Shaffer adds that perioperative nurses with experience directly assisting surgeons during surgical operations should pursue Certified Registered Nurse First Assistant (CRNFA) certification.  
CRNFA certification demonstrates your professional achievement and validates your knowledge and skill in providing competent patient care before, during and after surgery. 
Applicants must currently hold a CNOR certification and have a minimum of 2,000 documented hours of practice as an RNFA.  
Thus, Shaffer says this certification isn't the best route for a circulating nurse because they may not have the experience to meet certification requirements.
4. CSSM nurse certification
"If you're an OR nurse who wants to expand your managerial skillset and prepare to move into an administrative role, the Certified Surgical Services Manager (CSSM) certification may help propel your career to the next step," suggests Shaffer.  
"Be sure you have the educational background, perioperative experience and administrative skills needed to pursue this certification." 
CSSM certification is for bachelor's-educated operating room managers wanting to improve and validate their managerial knowledge and skills.  
You don't need to be CNOR certified or even have a manager title to pursue CSSM certification, but you must be in a management or leadership role in the surgical department with two to four years of experience in this role and have the appropriate continuing education coursework completed.  
Earning CSSM credentials puts you in a position for career advancement in perioperative management and administration. 
5. CNS-CP nurse certification 
Clinical Nurse Specialist Perioperative Certification (CNS-CP) is for master's-educated clinical nurse specialists. CNS-CP certification validates perioperative competency at an advance practice level and positions you for career advancement. This credential recognizes the important role CNSs play in promoting optimal perioperative patient outcomes. 
"Expanding your education to become a CNS may be a great route if you want to remain in the clinical setting but still want to expand your career to include more leadership opportunities," explains Shafer.  
"As a CNS, you can earn the CNS-CP, which recognizes your specialty skills and experiences in the perioperative environment. You can find an administrative role with this certification, but this certification might not be right for you if you prefer to remain closer to direct patient care than administrators do." 
Applicants must have an unrestricted advanced practice registered nurse (APRN) license or RN license with recognition as a CNS. They must also either be enrolled in a CNS program with current accreditation standards or have 2,400 hours and two years of experience as a practicing CNS.  
Applicants must also be currently employed as a perioperative nurse and have 2,400 hours and two years of experience in perioperative nursing with at least half this time carried out during surgical procedures.