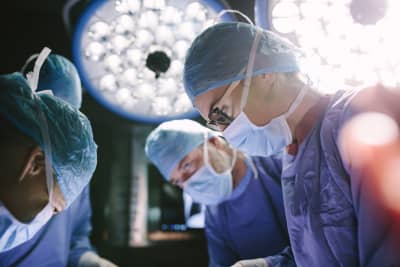 Nurse Certification: 5 Most Valuable Nursing Certifications for OR Nurses
On the front lines of patient care, nurses are in the unique position of identifying opportunities to improve outcomes and are using technology to make those enhancements happen.
"As the healthcare provider closest to the patient and family, nurses have a unique perspective to understanding the need and opportunity of innovation," said Marian Altman, PhD, RN, CNS-BC, CCRN-K, a clinical practice specialist with the American Association of Critical-Care Nurses (AACN).
"AACN empowers nurses to think outside the box in order to tackle the challenges of our work environments and improve patient outcomes. Doing so touches on the heart of why nurses exist – caring for patients and families to ensure the best outcomes possible."
Caryl Goodyear, PhD, RN, NEA-BC,CCRN-K, a clinical practice specialist at AACN, added that patients must be kept front and center while nurses reflect on the challenge at hand and consider solutions.
"Nurses typically have inquiring minds, always thinking beyond the 'usual way we've always done things' and encouraging the essence of creativity," Goodyear said. "Using the concepts of social entrepreneurship, AACN encourages nurses to be creative with the limited resources that exist in healthcare."
Throughout the years, nurses have often come up with "workarounds," the seeds to creative innovation.
"Nurses are natural innovators who, in caring for their patients, encounter circumstances every day that require problem solving," Altman added. "Examples include deciding the best way to safely move a patient or how to prioritize 20 orders for five different patients."
Improving Patient Outcomes Through Nurse Technology
Principal investigator Jenny Alderden, PhD, APRN, CCRN, CCNS, an assistant professor in the School of Nursing, Boise State University, Idaho, and an adjunct assistant professor in the College of Nursing, University of Utah, Salt Lake City, led a study reported in the American Journal of Critical Care about using big data and machine learning to develop a model for predicating pressure injuries in critically ill patients.
"Eventually, our model may offer additional insight to clinicians as they develop a plan of care for patients at highest risk and identify those who would benefit most from interventions that are not financially feasible for every patient," Alderden said in a release.
Creating Mobile Apps to Assist Patients
Nearly everyone owns a smartphone these days and apps for those phones can improve patients' health. Nurses have stepped up to develop apps that are making a difference in people's lives.
Rebecca S. Koszalinski, PhD, RN, CRRN, CMSRN, an assistant professor of nursing at the University of Tennessee Knoxville, created the Speak for Myself app and was recognize by Johnson and Johnson for her innovation.
The app helps people with disabilities or chronic illnesses to communicate with nurses when they are in pain, lonely or need toileting.
"Nurses are at the bedside working with patients and understand what does and does not work," Koszalinski said. "That's why we're poised to be able to help design and implement equipment and technology – and that's why nurses need to be at the table for the design and implementation stages."
Healthcare Companies and Facilities Supporting Nurse Innovators
Several entities offer prizes for nurse-developed innovations.
The Johnson & Johnson Nurses Innovate QuickFire Challenge offers nursing innovators up to $100,000 in grants and coaching from the company to help bring their ideas to life. Applications must be received by February 2, 2019.
The American Nurses Association's ANA Innovation Awards, powered by BD, highlight nurse-led innovation that improves patient safety or outcomes. Individual nurse innovators can receive $25,000 and nurse-led teams $50,000. Applications must be received by December 31, 2018.
AACN awards research grants to support clinical inquiry that "drives change in high-acuity and critical care nursing practice." That includes technology innovation.
Additionally, AACN has a Clinical Scene Investigator (CSI) Academy, a hospital-based nurse leadership and innovation training program designed to empower direct-care nurses as clinician leaders and change agents whose initiatives measurably improve patient and fiscal outcomes, said Altman.
The American Nurses Credentialing Center awards nurses at Magnet-designated hospitals for innovation. Christi DeLemos, MSN, NP, at the University of California, Davis Department of Neurological Surgery, received an award for developing the Neuroscience Nurse Mobile Application, which offers instant access to neuroscience nursing information.
Hospitals also may reward their nurse employees who innovate. For instance, Massachusetts General Hospital in Boston, encourages creativity and innovation through its Innovation Design Excellence Awards grant program. Boston Children's Hospital also offers support.
Eva Gómez, RN-BC, MSN, CPN, and Tami Chase, RN, both at Boston Children's Hospital received the recognition from their hospital for creating the decision-making tool WhatVax to help with vaccine compliance.
Rose Chumita, RN, at Ohio State's Richard M. Ross Heart Hospital in Columbus, developed an app, MyHealthTrack, to help patients with heart conditions monitor their health habits, and lower their blood pressure, cholesterol levels and weight. She received the college's Elizabeth M. Ross Nursing Fellowship.
Nurse innovators also can receive foundation grants to support their creative technology. Shelby Garner, PhD, RN, an assistant professor in Baylor University's Louise Herrington School of Nursing, leads a team developing a diabetes mobile health app to be used to increase awareness of people in India at risk of diabetes. The team received a grant from the U.S. India Education Foundation, after early studies showed a hypertension app's effectiveness.
"Nurses are in position to be innovators because nurses can easily identify what the patient needs; therefore, nurses are the perfect liaison between the patient and healing," said Roxana Reyna, MSN, RNC-NIC, WCC, CWOCN, FNP-C, at Driscoll Children's Hospital in Corpus Christi, Texas.
She worked with colleagues to manage omphaloceles prior to surgery, by using a silver-impregnated, hydrofiber dressing.