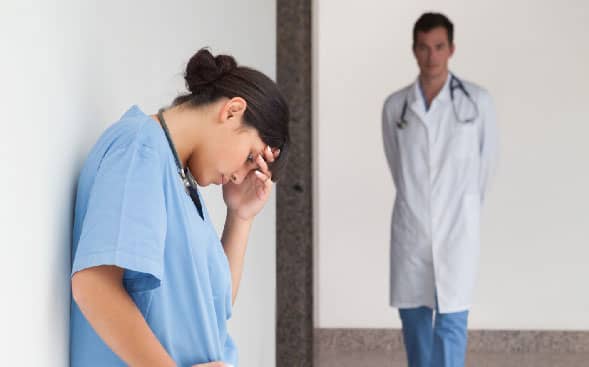 New Nursing Grads Worry About Workplace Bullying
Nurse bullying in the workplace is still a problem, despite all the attention it's received in recent years. 
Somewhere between 18 and 31 percent of nurses report they've been bullied on the job, according to a 2012 report from the American Nurses Association. It's even come to the point where nursing students and new nursing grads are already worried they'll experience nurse bullying.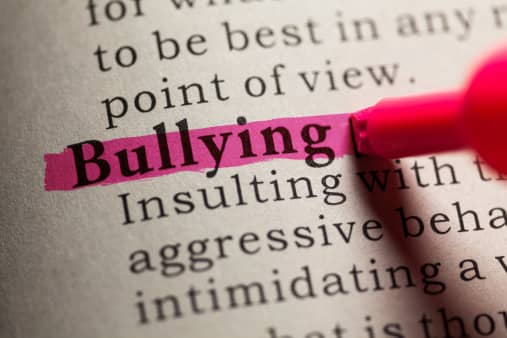 The results of a survey of 2,000 recent nursing school graduates from Kaplan found that the nursing grads are keenly aware of the problem. Kaplan found that 48 percent are concerned about either working in a "hostile work environment" or becoming the victim of a bully at work. 
Susan Sanders, DNP, RN, vice president of nursing for Kaplan Test Prep, was expecting nursing students and recent graduates to have some level of concern about the issue. But she was very surprised that so many of them cited concern about nurse bullying.
"When the number came out, that was nearly half the students, and that really shocked us, I think," she said.
Sanders said that Kaplan plans to follow up this survey by speaking to nursing school and medical school administrators later this year. They hope to learn what schools are doing to address the issue of nurse bullying and how they approach the matter with their students. Giving students the tools to recognize and handle bullying could be one of the best ways to prevent or stop it from occurring in the future.
That would be welcome news to the 79 percent of the nursing grads surveyed by Kaplan who reported they believe that schools should provide workshops and training to help them identify and learn to handle a hostile co-worker or work environment.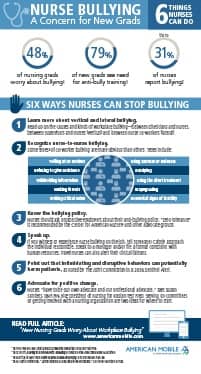 What can an individual nurse do?
New nursing grads (and not-so-new nurses) take note: if you're worried about bullying, you can do something about it. Even one nurse--whether permanent staff or on temporary assignment--can effect change.  Here's how:
Learn more about nurse bullying. Read about the prevalence of bullying in the workplace and the myriad ways that it can manifest itself so you can recognize it when it occurs. Whether it happens between physician and nurse or just between nurses, some aspects of bullying are more apparent than others.
Recognize nurse-to-nurse bullying.
In a 2008 article titled "Addressing Nurse-to-Nurse Bullying to Promote Nurse Retention" that appeared in The Online Journal of Issues in Nursing, Carol Rocker, PhD, RN, listed some common examples of nurse-to-nurse, or lateral, bullying:
• Yelling at co-workers
• Refusing to give assistance
• Withholding information
• Making threats
• Writing critical notes
• Using sarcasm or rudeness
• Gossiping
• Using the silent treatment
• Scapegoating
 
There are also numerous nonverbal behaviors that can convey hostility, such as eye-rolling, using hand gestures to tell a co-worker to back off, and folding arms in front of the body and staring "through" a person.
Ask about the bullying policy. Sanders recommends that nurses ask prospective employers about their anti-bullying policy during their interviews. "If the interviewer doesn't come forth with great information, then that would be a red flag for the applicant," she said. 
You want to hear that an employer doesn't tolerate bullying. The Center for American Nurses' 2008 policy statement on bullying  emphasizes that organizations should implement zero-tolerance policies toward bullying and disruptive behavior because they have no place in the work environment.
Speak up. If you witness bullying or experience it while on the job, be sure to tell someone! You can calmly approach the individual yourself and ask to speak to him or her, or you can speak to a manager.
"It's not easy to do," Sanders noted. "But it's an important part of it."
If travel nurses follow the proper on-site reporting protocols and don't get the expected response, they may want to contact their travel nurse agency's clinical liaison.
Point out the potential for patient harm. A 2008 Sentinel Alert issued by The Joint Commission noted that "intimidating and disruptive behaviors can foster medical errors and (lead) to preventable adverse outcomes." If nurses show how a behavior could impact patients, the issue will likely garner more attention.
Advocate for positive change."Nurses are taught to be patient advocates and to help our patients," she continued, "but I think we as nurses also have to be our own advocate and our professional advocate. So in order to do that, they have to be able to start talking about it and start speaking up."
Serving on committees and joining a nursing organization can allow nurses to actively advocate for change in policies and practices.
Most hospitals recognize the problems that can develop for staff and patients if nurse bullying is allowed in the workplace.  They also have a financial stake in providing a practice environment that does not drive away employees--turnover is costly. In fact, the average cost of replacing a registered nurse ranges between $22,000 and $64,000. (The American Nurses Association notes that it can cost 1.1 to 1.6 times the cost of an RN's annual salary to recruit and replace him or her.) "That's a real financial loss for the facility," said Sanders, adding that the costs could add up if a unit or organization develops a reputation for disruptive behavior because it will be even harder to recruit replacements.
Looking for a new workplace to experience as a travel nurse? Browse American Mobile's extensive nursing jobs database or apply today, and get ready to start your next great adventure