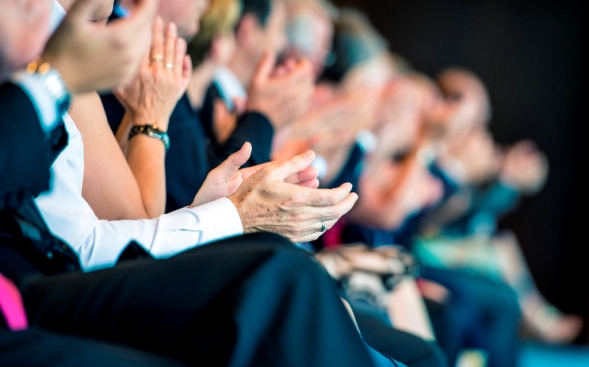 Magnet Hospital Program Weathers the Storm
Even Hurricane Matthew couldn't put a damper on the 2016 ANCC Magnet conference
Nearly 10,000 nurses gathered in Orlando in early October to celebrate nursing excellence at the 2016 ANCC National Magnet Conference: Empowering Nurses to Transform Health Care. The attendees shared experiences, celebrated achievements, and learned new techniques for advancing Magnet qualities in their hospitals--despite their meetings being cut short by Hurricane Matthew.
"Magnet is definitely a growing trend," said Jan Moran, MPA, BSN, RN, director of the Magnet Recognition Program at the American Nurses Credentialing Center (ANCC), a subsidiary of the American Nurses Association (ANA).
22 years promoting nursing excellence
Since the program began in 1994, about 444 hospitals have achieved ANCC Magnet status, as of mid-October 2016. Moran said that the Commission on Magnet reviews reports from hospital appraisers every month, resulting in more Magnet-designated hospitals.
"Magnet is a great roadmap for nursing to follow," Moran said. "Each piece of the model is an opportunity to set the groundwork and a framework for organizations to move nursing forward."
Hospitals often use the Magnet model as part of their strategic planning. Moran said the Magnet model is a good one for hospitals to adopt when they are trying to re-energize their nursing workforce or restructure. Magnet is a voluntary designation. Some hospitals choose to follow the model without seeking official designation, said Moran.
"It gets you to follow a path that leads you to that venue of excellence," she explained.
Multiple studies have found evidence of better patient outcomes in Magnet hospitals. Matthew D. McHugh, Ph.D., JD, MPH, RN, at the University of Pennsylvania reported in 2013 that Magnet hospitals have lower mortality rates than other hospitals. Christopher R. Friese, Ph.D., RN, an assistant professor at the University of Michigan School of Nursing, confirmed the lower mortality rate and reported in 2015 that "patient outcomes were significantly better in Magnet hospitals than in non-Magnet hospitals"
"It's proof nurses working collaboratively with other disciplines, with the point of focus being the patient and making sure their care is better based on evidence, based on research," Moran said. "It clearly shows those [Magnet] hospitals have better outcomes in their clinical indicators and outcomes for their patients."
Honoring Magnet nurses and hospitals
Hurricane Matthew forced the AACN to close conference activities early on Thursday, October 6, 2016, but not before everyone in attendance celebrated the Magnet nurses of the year and their work. The 2016 National Magnet Nurse of the Year award winners include:
• Anne C. Boatright, MSN, RN, SANE, at Nebraska Methodist Hospital in Omaha for Transformational Leadership;
• Barbara M. Richardson, MSN, RN-BC, CCRN, at Southwestern Vermont Medical Center in Bennington for Structural Empowerment;
• Sharon A. Vanairsdale, MS, APRN, ACNS-BC, NP-C, CEN, at Emory University Hospital in Atlanta for Exemplary Professional Practice;
• Christi D. DeLemos, MSN, CNRN, ACNP-BC, at the University of California Davis Medical Center in Sacramento for New Knowledge, Innovations and Improvement; and
• Colleen K. McIlvennan, DNP, RN, ANP-BC, at the University of Colorado Hospital in Aurora for Empirical Outcomes.
As part of the Magnet conference, attendees also congratulated all of the new and redesignated facilities.
"Representatives from each of the hospitals march up on the stage," Moran said. "They have their banners and wear blinking lights and props to hoop and holler and celebrate."
Additionally, the attendees--including nurses from Magnet hospitals and those seeking additional information about the program--heard from keynote speakers: television personality Montel Williams, author Simon Bailey and Australian humorist Amanda Gore. More than 150 concurrent sessions took place in four educational tracks:
• Evidence-based practice/research
• Innovation
• Leadership
• Practice
For some in attendance, "It's the first view into the benefits of being able to network with nurses from across the country and across the world," Moran said.
Magnet officials met with attendees from other countries about challenges and questions they may have about Magnet.
While the networking and education was cut short, Moran and the AACN staff consider it a successful event. She praised the planning and production teams with making every aspect of the event perform at a high standard.
"I just wish we had another day and a half to continue the great celebration and recognition of nursing," Moran concluded. "It was cut short, but we packed a lot in."
Looking for travel nursing jobs at Magnet hospitals and other top facilities? Contact the recruiters at American Mobile or apply now to get started!
© 2016. AMN Healthcare, Inc. All Rights Reserved.