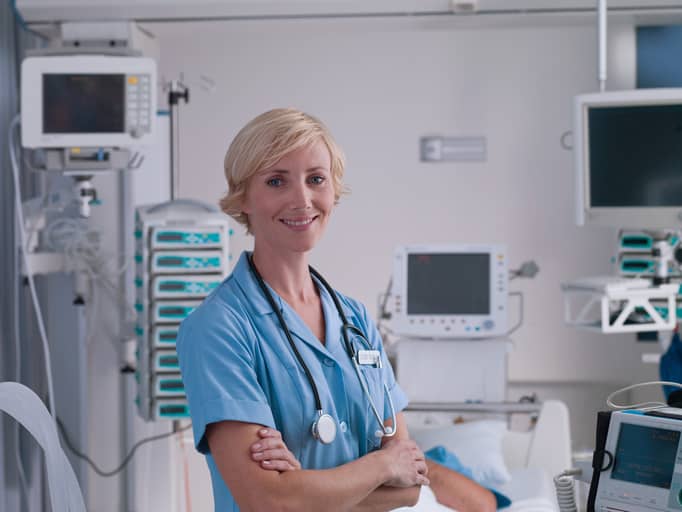 ICU Nurse Salary By State
The intensive care unit houses patients with severe or life-threatening complications. ICU nurses assist in their diagnosis, charting, and their overall well-being. Working in intensive care is a stressful and demanding job. Some of the challenges of critical care nursing are long work hours and tough conditions both physically and mentally. When dealing with critical-care disease or physical injury, situations are bound to become intense. This is what makes nursing such a rewarding career.
ICU nurses save lives on a regular basis. For this reason, ICU nurses are paid on average more than regular nurses. Plus, there are many ways to increase your salary as an ICU nurse and these differ state by state. In this article, we'll break down how to best position yourself in the ICU nursing job field and the many ways to increase your pay-scale.
How to Become an ICU Nurse
Working in critical care conditions requires a vast amount of skill and knowledge. Becoming an ICU nurse is a mixture of education and on-the-job training. This is why they're highly sought after; they bring the best of both worlds. Whether you're taking the first steps to become a nurse practitioner or you're currently on the path, it's important to note what steps are necessary to become an ICU nurse.
Schooling – The first step is to earn a nursing degree. This can come in the form of a BSN (a Bachelor of Science in Nursing) or an ADN (an Associate's Degree in Nursing). Either of these two will put you in the classes necessary to learn about patient care and the various aspects of being a nurse. Here you will get to taste the variety of careers available to nurses—one of which being an ICU nurse.
Becoming a Registered Nurse – These programs are all preparing you for the final exam, the NCLEX. The National Council License Examination is a test to determine whether or not someone is fit to be a registered nurse (an RN). These exams can be taken in any state and are accepted nationwide. However, there are a few states that require additional licensing.
Work Experience – Most hospitals will not allow registered nurses access to the ICU until they have a few years under their belt. This often includes a year of working in a high-trauma environment like surgery.
ICU Certified – Once a registered nurse has worked for a couple of years, they can take what's known as the ICU certification exam. This is an exam offered by the AACN (the American Association of Critical-Care Nurses). Having this under your belt, while not mandated by all hospitals, will allow you to prove you are ready for any condition.
Further Schooling – Although it's not required to further your education, more graduate level programs are available to learn about nursing. These graduate programs help to deepen your understanding of medicine.
Salary and Benefits
Nursing is also rewarding financially. Depending on the specialty, nursing makes different average salaries. These salaries vary based on what state you're in and what level of experience you bring to the hospital. So, what are these nursing salaries?
State by State Salary
The rate of ICU nurse salary by state varies on several factors. For example, the more expensive the state is to live in, the higher the pay. The average hourly wage varies between $33.40 and $46.50 per hour.
Top 10 Paid States
New York salary = $96,725
Massachusetts salary = $96,247
Maryland salary = $90,806
California salary = $89,144
Nebraska salary = $88,505
Connecticut salary = $88,501
North Dakota salary = $88,500
Idaho salary = $88,500
Alaska salary = $88,500
Nevada salary = $88,500
Bottom 10 Paid States
North Carolina salary = $69,465
Florida salary = $73,734
Michigan salary = $76,710
Missouri salary = $76,981
Illinois salary = $77,565
Mississippi salary = $77,735
Maine salary = $78,070
New Mexico salary = $79,198
Texas salary = $79,444
Georgia salary = $79,628
Benefits
Working in a hospital generally comes with great medical benefits. This includes health and dental at a minimum, sometimes as day-one benefits. Hospitals will also often grant retirement funds and have competitive wages.
Ways to Increase Salary
But what if you want to raise your salary? Luckily, the salary range for nurses is incredibly diverse. Starting salaries right out of school are considered higher than the median out-of-school pay and the room to grow is enormous. Three of the most common ways to increase your nursing salary are:
Become ICU certified
Travel nursing
Increased experienced
Become ICU Certified
As an extension of nursing school, there are additional ways to increase knowledge and grow as a nurse. The AACN has 4 different examinations that can get you certified as a critical-care nurse in various fields. Those fields include:
CCRN (Adult) – Common care ICU nursing.
CCRN (Neonatal) – For critical care condition neonatal patients.
CCRN (Pediatric) – For youth and infant care in critical condition.
CMC (Adult) – Nurses who work with cardiac conditions in critical care.
This ICU nurse certification has an average increase in pay of about 16% according to National's review of nursing salaries. These certifications are usually gained while working. In fact, there is a minimum number of hours worked in order to take the exam. Hospitals acknowledge this additional understanding gained from studying after-hours and reward it appropriately when you're a certified nurse.
Travel Nursing
Another way to increase your pay is to consider being a travel ICU nurse. This is a nurse whose assignments take them to new places in the U.S. for less than a year at a time. (The assignments are generally somewhere between 8-26 weeks.)

Travel Nurse Payment Breakdown
A travel nurse's pay is done in 3 separate categories.
Taxable hourly base rate – This varies state by state. However, it will be more than a regular ICU nurse. Traveling nurses essentially fill in gaps wherever they're needed in the country. They don't have a stable site to which they know they will be year to year, so the demand for them is going to be higher.
Non-taxable housing stipend – This helps travel nurses find housing while they're on-location. Finding short-term living expenses like a 3-month lease can be expensive. Year-long leases are traditionally cheaper (because of the long-term payment promise). Nurses won't always find great housing situations right away, which means some time spent in hotels, motels, or Airbnb. These are generally more expensive, and the stipend helps with this cost.
Non-taxable Meals – This includes a daily stipend that helps nurses with their day-to-day expenses. Meals and other miscellaneous items that are needed are covered under this stipend that can range from $40-$50 each day.
Note: For the non-taxable meals and housing stipend to apply, the nurse must travel outside the geographic location of their current living situation. Otherwise, these will not be included, as it will not be considered traveling.
The other requirement is for assignments to last less than a year. Although this is usually automatic, be sure to change locations at least once a year to be considered a travel nurse.
Payment Determination Factors
The primary six factors that determine how much a traveling nurse will receive on assignment depends on:
Location – Certain locations will be more desired than others. In contrast, some places will receive heavy pushback such as high crime areas or remote regions. This will affect the demand for the job.
Demand – As basic economics go—increased demand, decreased salary. If location isn't a high priority for you, then getting jobs with low demand can help improve your salary.
Cost of Living – Affecting the daily and housing stipends is the cost of living per region. This will generally also be included with the taxable base salary as well.
Facility – Newer facilities will generally have more money coming in and are able to pay higher wages and stipends. Older facilities, while still necessary, generally have less funds to dole out.
Specialty – Depending on which critical-care sector you want to work in, the pay depends on the specialty. Common specialties are labor and delivery, pediatric, telemetry, and adult primary care nursing.
Requirements for Travel Nursing
Traveling nurses have a lot of benefits from increased pay to flexibility to touring the U.S. throughout the year. These benefits, however, have their downsides.
Traveling nurses must be stable and efficient in their jobs and able to handle everything that comes with traveling and nursing multiple times a year. This places hard requirements on travel nurses from:
One year minimum of RN experience on the job.
Travel nurses must have a nursing license within their state.
ICU certified in their chosen specialty.
Some hospitals require additional schooling for their travel nurses.
Travel Nurse Benefits
Travel nurses have the option of joining a travel nurse company. This will help them both find jobs more easily and have general employee benefits as well. When starting with a company, the benefits can include:
Incentive bonuses – Referral and incentive bonuses up to $1,000. This includes geographic incentives and overtime bonuses.
Retirement and Medical benefits – 401k benefits, life insurance, dental, medical, vision, and other employee assistance programs are all to be expected.
Ability to travel the U.S. – Travel nursing is a high-paid opportunity that affords traveling at a discounted rate. For those who enjoy helping people and traveling, this job is perfect.
Time Flexibility – The amount of time between assignments depends entirely on the person. You could line up jobs so that you get them back to back. Or you could take a few months off to enjoy a vacation before jumping back into a job.
Travel Nurse Pay
In addition to all these great benefits and incentives, what about the base pay? Does it increase? The answer is yes. Traveling nurses can make up to 15% more on their base pay as a travel nurse. Not to mention, there are sign-on bonuses, incidentals, and housing stipends that increase the net take-home.
Increased Experience
Lastly, there is one other way to increase your pay. Like any job, the more you work, the more responsibilities you hold. Nursing is very similar. While the bulk of the job is learned in school and with on-the-job training, there are going to be a vast number of situations that the nurse has to know how to deal with. This means that time offers a breadth of experience and experience provides wage increases.
While the annual ICU nurse wage is around $85,000, some of the top earners make over $133,000. This is due to the increased experience they bring to the job.
Responsibilities of an ICU Nurse
As one further progresses in their nursing career, they are expected to shoulder more responsibilities. These can be in any of the following categories:
Assessing patient condition
Assist in diagnosing
Helping extended patient care
Assessing patient condition
ICU nurses are expected to keep regular tabs on patients' diagnostics and record them on the appropriate chart. They create the data stream that allows doctors to have a wide scope on the patients' health trajectory.
Nurses are generally the first responder in a room when an alert goes off. They assess the situation of vitals and condition and report to the on-call doctor when needed.
Assist in diagnosing
Nurses pursue a great deal of education in medicine and will begin to understand it on a deeper level when working for an extended career. This creates a breadth of common knowledge that doctors can tap into when diagnosing a patient.
Nurses are also better suited to catch minor symptoms that might not occur when a doctor is with the patient. These additional symptoms can be the difference for a correct diagnosis.
Helping extended patient care
Families will often feel left in the dark. This is because there's just not enough time to sit every member down and explain to them what is happening. In an intensive care unit, this is especially true. Critical-care conditions have very negative consequences, and ICU nurses are expected to be able to maintain emotions and explain to families what is necessary.
Conclusion
ICU nurse salary by state heavily depends on several logistical factors. That being said, there are plenty of ways to increase your salary. By educating yourself and passing certification exams, you can position yourself for a better salary.
Also, by becoming a travel nurse, you can tremendously increase your net take-home pay. You also get to enjoy the freedom of travel and the flexibility of work hours.
Sources:
Elite Learning: 2018 Nursing Salary Guide
American Association of Critical-Care Nurses: Initial Certifications
Zip Recruiter: What Is the Average ICU Registered Nurse Salary by State