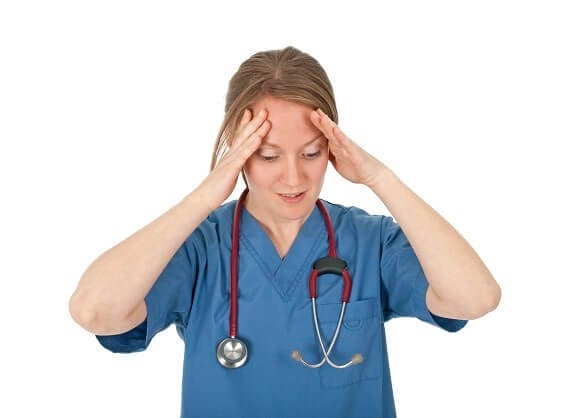 Under Pressure: How to Deal with Stressful Nurse Work Environments
Stressful nurse work environments are unavoidable at times, and learning to recognize and deal head-on with stress is key to keeping a balanced work-life.
Elizabeth Scala, nurse, author, and keynote speaker says, "It is up to the nurse to partner with the organization to find meaningful and sustainable strategies that relieve stress. And, since no two people are exactly the same, it is up to that unique nurse to figure out what works for them."
STRESS NO MORE. Search through thousands of travel nursing job nationwide.
Tips for Nurse Stress Management
Below are 5 tips for nurse stress management that may be right for you.
1. Practice Purposeful Communication
The American Nurses Association, says a culture of purposeful communication can help with nurse stress management. When staff are able to share emotions openly, stress levels can decrease. This type of cultural change in the nurse environment is effective for nurse-to-nurse communication as well as nurse-to-patient communication. Anytime all parties are given the ability to communicate openly, there will be fewer misunderstandings and clearer overall communication.
2. Find a Mentor
The benefit of having a mentor has long been established for new grads. Why stop there? Mentors are beneficial regardless of how long you have been a nurse.
Mentors are not only good for clinical advice. They can offer advice about interpersonal relationships, nurse-to-nurse communication, and other common stressors in the nurse-work environment. Mentors can ease the sense of loneliness felt during stress and teach you ways to cope with a stressful nurse-work environment.
3. Remember, It's Not Personal
Patients and their families are under stress. They view you as an extension of the hospital, not as an individual. If you find yourself in a tense situation, try to stay calm and keep your body language relaxed. Excuse yourself at the first opportunity to ensure everyone has enough space to process the situation. Also, consider seeking the advice of the charge nurse when in a very stressful nurse environment.
"It takes a village," Scala adds, "yet when the individual nurse works hand-in-hand with their organization to solve problems proactively, then magic happens."
4. Self-Care
After working long hours and squeezing in family time, it can be difficult to recognize the emotional cost of nursing.
You don't have to run a marathon or change your diet to be healthy! By scheduling in short blocks of time for yourself, you can place self-care at the top of your agenda. Here are a few quick tips:
Take a 10-minute break at work. Find a quiet spot, practice deep breathing techniques, and just clear your mind.
Exercise for 30 minutes each day.
Eat a healthy, balanced diet.
Pack healthy snacks for busy days at work.
Sleep at the same time each day, regardless of your schedule.
By implementing these simple tips, you will be better prepared to deal with stressful nurse environments.
5. Take Time Away
Sometimes the best nurse stress management technique is to simply get away for a few days. Taking vacation allows downtime to invest in your health and well-being.
Practice these nurse stress management tips the next time you are feeling stressed in your nurse environment.
ADVANCE your nursing career with travel nursing jobs at top facilities across the U.S. APPLY with American Mobile to get started!