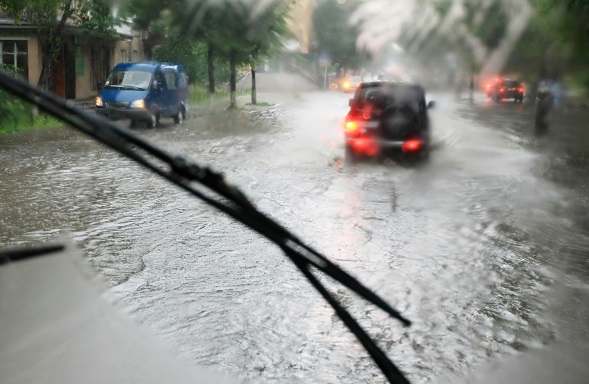 How Hospitals & Healthcare Personnel Are Coping with Hurricane Harvey
The latest on how catastrophic flooding is affecting hospitals in Texas
As of Tuesday, August 29, 2017
Hurricane Harvey has disrupted life and health care throughout southern Texas. Unrelenting rain has flooded roads, homes, hospitals, nursing homes and other health care facilities, as nurses and other health care staff strive to continue to provide care.
"Our concern is FEMA [the Federal Emergency Management Administration] projects there will be 450,000 flood claims to come out of this," said Bryan McLeod, spokesperson for Ben Taub, a safety net hospital.
"We will have a significant amount of staff affected by this. … They are under their own distress."
Yet for now, many of those nurses are caring for their patients at health care facilities throughout the region.
The hospitals and other facilities affected by Hurricane Harvey
Ben Taub General Hospital, part of the Harris Health System in Houston, has experienced flooding in the basement, affecting some critical support services, including food, pharmacy and central supply operations. The hospital announced the need for food and on Monday night; it received a food delivery and fresh linens. Power has remained on.
The hospital tried moving some patients on Sunday, August 27, but flooding was too severe. Ambulances could not get to the facility. The water has receded enough immediately around the hospital so that ambulances can get through.
We are methodically working through a transfer for up to 60 patients," McLeod said. "It started last night with six critical care patients moved to a variety of health care facilities in Southeast and East Texas."
McLeod explained that hospital officials wanted to free up beds.
"Being a Level 1 trauma center, what we expect is we will have an influx of trauma patients," McLeod said. "We are trying to move our med-surg patients that we can to other locations so we can prepare for that inevitability."
Ben Taub and Lyndon B. Johnson Hospital remain open but have restricted access, with no visitation. Harris Health has closed the Ambulatory Surgical Center at LBJ, all 46 ambulatory clinics and administrative offices through Wednesday, August 30.
Floodwater filled the lobby of the University of Texas MD Anderson Cancer Center, also at Texas Medical Center, which now is closed, as are its Woodlands, Sugar Land, West Houston and other locations in the Houston area. MD Anderson locations near Austin, Texas, are open.
With the exception of Ben Taub and MD Anderson, hospitals at Texas Medical Center continue to accept emergency patients, but most elective and nonemergency procedures have been deferred. Several of the hospitals installed flood gates after Tropical Storm Allison in 2001.
The hospitals sheltered-in-place. Most of the hospitals' nurses and other staff are staying at the facilities, resting and then working in rotating shifts.
Texas Children's Hospital at the Texas Medical Center brought in women with high-risk pregnancies who could deliver during the storm and housed them at a hotel on the campus.
Bayshore Medical Center in Pasadena, Texas, an HCA hospital, moved its 196 patients to other hospitals and suspended services. Another HCA hospital, East Houston Regional Medical Center, also evacuated all patients and has suspended all operations.
HCA has donated $2 million to hurricane relief, $1 million to the American Red Cross and a match of employees' donations to the HCA Hope Fund, the company's employee assistance nonprofit organization, up to $1 million.
"HCA's culture of caring is never more evident than when adversity strikes, and I'm proud to say that over the last few days countless members of the HCA family have pulled together to support the needs of our facilities in Houston and Corpus Christi," said Milton Johnson, chairman and chief executive officer of HCA.
CHI St. Luke's Health — the Vintage Hospital in northwest Houston transferred patients by airboat to waiting ambulances.
Memorial Hermann Sugar Land has moved its patients to Memorial Hermann Southwest Hospital. Memorial Hermann First Colony Hospital, also in Sugar Land, also remains closed, as do three Memorial Hermann Convenient Care centers, including their 24-hour emergency rooms. Memorial Hermann Orthopedic & Spine Hospital in Bellaire, was closed through Tuesday, August 29. Hospital officials will decide later in the day when it will reopened.
Citizens Medical Center in Victoria, southwest of Houston conducted a mass evacuation over the weekend.
Inpatients at DeTar Hospital North, also in Victoria, were discharged or transferred. The emergency department and all other services are closed. The emergency department at DeTar Hospital Navarro, in Victoria, is open but patients are not being admitted and will not be until a permanent water supply is re-established. Navarro is operating on generator power.
Driscoll Children's Hospital in Corpus Christi, Texas, transferred some NICU patients to Cook Children's Hospital in Fort Worth prior to the storm. The hospital, including the emergency department, remains open.
University of Texas Medical Branch in Galveston closed its clinics but the hospital and emergency department remained open as the storm approached.
La Vita Bella Nursing Home in Dickinson, Texas, flooded. Residents sat in the filthy water. Eighteen people were evacuated from the facility. The American Red Cross reported other nursing homes also evacuated.
Government response to Hurricane Harvey
Harvey, a category 4 hurricane, made its first landfall on Friday, August 25, 2017, between Port Aransas and Port O'Connor, Texas. The storm circled around and was expected to make landfall again, as a tropical storm, on August 30, according to the National Hurricane Center.
National Weather Service Director Louis Uccellini warned during a press conference that five to six inches of rain per hour were falling on Monday, August 28, 2017. More than 48 inches of rain have fallen.
"We are seeing catastrophic flooding and this will likely expand and persist as it is slow to recede," Uccellini said.
Governor Greg Abbott activated the entire Texas National Guard in response to the hurricane, deployed guardsman total about 12,000 guardsmen, who are working with Federal Emergency Management personnel and troops.
"We are prepared to continue responding around the clock," Abbott said.
Major Gen James Witham, director of domestic operations for the National Guard, called this a long-term effort and different than usual. He anticipates deploying thousands more guardsmen as the response drags on.
"Our response is nothing like we have responded to before; our response is different because of the nature of [this storm]," Witham said.
Health and Human Services Secretary Tom Price, MD, declared a public health emergency in Texas. That action gives the Centers for Medicare & Medicaid Services flexibility in meeting emergency health needs, including waiving certain documentation requirements.
A note of thanks to the nurses and staff
The staff at American Mobile Healthcare would like to thank all of our travel nurses—along with all of the nurses and healthcare personnel in the region—who are working so diligently during this disaster to continue caring for patients. Our hearts are with you.
Nurses helping nurses affected by Hurricane Harvey
The Texas Nurses Foundation is accepting contributions to help nurses affected by Hurricane Harvey. Visit the Donation page here.