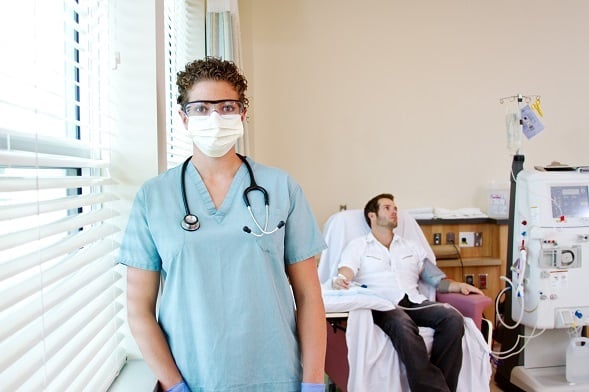 How Dialysis Nurses Can Reduce the High Rate of Hospital Readmissions
Nearly 1 in 4 dialysis patients readmitted within 30 days, study finds
Nearly one-quarter of renal dialysis patients admitted to the hospital return to the acute-care facility soon after discharge, according to a new study in the Clinical Journal of the American Society of Nephrology.
Dialysis nurses can help stop the revolving door of hospital admissions.
"Many of our patients have multiple comorbidities and become somewhat fragile, especially if they have been in the hospital," said Maribeth Sommer, RN, MBA, vice president of clinical services at Davita Kidney Care in Denver, which operates or provides administrative services at 2,445 outpatient dialysis centers across the United States.
"It's really important to address their issues," she said.
FIND dozens of travel dialysis nurse jobs across the U.S.
The data on kidney dialysis
More than half a million people in the United States depend on hemodialysis to remove waste products from their systems. They, typically, require hospital care about twice a year. Dialysis patients return to the hospital within 30 days at a rate double that of patients with normal kidney function.
Girish Nadkarni, MD, MPH, and Lili Chan, MD, MS, at the Icahn School of Medicine at Mount Sinai in New York, analyzed data from the Nationwide Readmission Database and found 390,627 initial hospitalizations of dialysis patients.
Twenty-two percent of these hospitalizations were followed by an unplanned readmission within 30 days.
Renal readmissions often for different diagnoses
Unlike many who return to the hospital too soon, only 20 percent of the dialysis patient readmissions were for the same diagnosis as the initial admission. Chan indicated that means the focus needs to be "on the patient as a whole rather than the admission diagnoses."
One quarter of dialysis patients were readmitted for a myocardial infarction, and 20 percent for hypertension. Patients who were of a female gender, younger age, had depression, liver disease, congestive heart failure, and drug abuse were more likely to be readmitted than other patients.
Two percent of the patients accounted for 20 percent of the readmissions. Nadkarni suggested renal dialysis providers focus interventions on high utilizers to reduce readmissions.
A holistic approach
Sommer reported that Davita takes an integrated and holistic approach to patient care, aiming to reduce hospital admissions and readmissions.
Nurse care managers meet with the patient within 24 to 48 hours to assess what each patient leaving the hospital might need to avoid going back to the acute-care facility, and the in-center dialysis RNs follow up with teaching and self-management skills.
Monitoring a patient's fluid status, their target and dry weight, diet and fluid intake are important for stability and part of the dialysis RN's job.
Medications are another area of focus; dialysis nurses must reconcile home medications with any changes from the hospital and address adherence issues.
"We make sure they are taking the right medications at the right dosage and right time," Sommer said. "We also look at what other care [the patient needs], other than great dialysis in our clinics."
That additional care might entail setting a follow-up appointment with a cardiologist or vascular surgeon, and arranging for durable medical equipment, support at home or physical therapy, if the patient has lost strength while hospitalized.
Davita nurses also assess fall risk and nutritional status and work to engage patients in self-management.
"We encourage patients to be part of their care," Sommer said.
Patients typically show up for their dialysis appointments three times a week for several hours. That gives the dialysis nurses opportunities to educate patients and coordinate care, which are key functions of a dialysis nurse's job.
"We make sure we address the issues and the resources they need," Sommer said. "Overall, it's a unified effort between the care managers and in-center teammates to make sure we have the right plan of care and have the patient engaged. … That focus will keep them out of the hospital."
SIGN UP for nursing job alerts in your favorite locations, or APPLY today to start working with a recruiter.