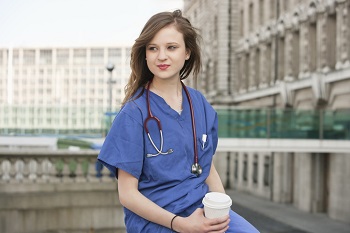 Healthy Nurse Work Environments Boost Outcomes
Hundreds of studies have demonstrated the importance of healthy nurse work environments, and a new meta-analysis, from researchers from the University of Pennsylvania School of Nursing, clearly demonstrates nurse work environments' influence on health care quality, safety, and patient and clinician well-being.
"What makes this [study] important is that it quantitatively synthesizes a large number of earlier evidence and studies," said Eileen T. Lake, PhD, MSN, FAAN, the Jessie M. Scott endowed term chair in nursing and health policy at Penn in Philadelphia. "It takes what we have seen before and gives us the size of these associations between the nurse work environment and a set of outcomes we all care about, patient outcomes like survival and provider burnout."
The researchers at Penn Nursing's Center for Health Outcomes & Policy Research reviewed 309 studies and analyzed results from 17 studies, which reported data from more than 2,600 hospitals, 165,000 nurses, and 1.4 million patients in 22 countries, looking at the practice environment, nurse job outcomes, safety and quality ratings, patient outcomes and patient satisfaction.
"All of the relationships are statistically significant, and we believe they reflect real world associations," Lake said.
Providing Healthy Work Environments for Nurses
In the Penn study, the healthy work environment measurement included collegial relationships between nurses and physicians, nurse manager support of professional practice, nurses' voice in decision making, and adequate nurse staffing and resources.
"The biggest effect of the work environment on outcomes were on nurses job outcomes," Lake said. "We think of work environment as a principal factor influencing burnout and other job outcomes. On the opposite extreme when we look at other outcomes, like whether a patient survives or not, the main thing that influences mortality is the patient's risk characteristics."
However, work environment significantly influenced patient satisfaction, a metric associated with reimbursement and patient outcomes.
"Patient satisfaction reflects the care experience and will influence patient behavior, recover and follow discharge instructions," Lake said. For administrators, "investing in your work environment pays dividends across a variety of outcomes hospitals care about."
Critical-care work environments improving
The Penn report cites the American Association of Critical-Care Nurses (AACN) efforts to improve nurse work environments.
AACN's 2018 Critical Care Nurse Work Environment Survey of 8,080 critical care nurses demonstrated a positive correlation between the implementation of healthy work environments standards and nurses' ability to influence decisions affecting patient care, intent to stay in their current nursing position, appropriate staffing, decreased levels of moral distress and reduced incidence of verbal and physical abuse
"Compared to the previous Healthy Work Environment study in 2013, the work environment for nurses caring for acutely and critically ill patients has improved," said Lisa Riggs, MSN, APRN-BC, CCRN-K, system director regulatory readiness at Saint Luke's Health System, Kansas City, Missouri, and the 2018-2019 president AACN board of directors.
"However, areas of concern and opportunities for improvement still remain, especially in the area of appropriate staffing and negative incidents," Riggs said. "Only 39% of respondents said they have the right number of nurses with the right knowledge and skills more than 75% of the time."
Additionally, 86% of respondents to the AACN survey reported experiencing at least one negative incident of verbal abuse, physical abuse, sexual harassment or discrimination in the past year, something Riggs called "unacceptable."
The next steps for nurses to take
Riggs encourages nurse leaders to take AACN's free work environment assessment to solicit team members' thoughts and then helps them work together to improve the work environment. She emphasized a need for policies regarding verbal and physical abuse.
"Ensuring a safe, respectful, and healthy work environment is the responsibility of all leaders," Riggs said. "The first step is to commit to starting the journey."
When asked what she would like to see happen with the Penn results, Lake said widespread measurement of nurses work environment, with hospitals routinely surveying their nurses and then start to address what domains need attention.
"Next would be for managers to begin to focus on work environment [using] this foundation that supports [its relationship] with safety and provider outcomes they care about," Lake said.