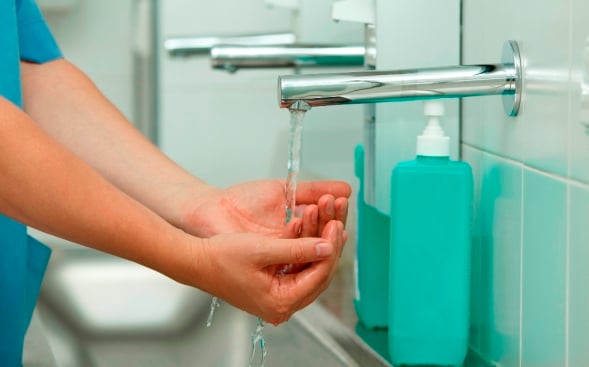 Hand Hygiene Compliance Drops as Nursing Shifts Stretch On
By the end of a long, harrowing shift, you're spent. Your body is tired and your brain is tired.
Unfortunately, that fatigue means you're much less likely to comply with hand hygiene guidelines. A recent study in the Journal of Applied Psychology found that hospital workers who care directly for patients tend to wash their hands less frequently as their shifts progress.
The researchers, led by Hengchen Dai, a PhD candidate at the University of Pennsylvania, noted that the demands of the job seem to take a toll, resulting in "a gradual reduction in compliance with professional standards over the course of the day." Additionally, the more intense the workload, the greater the decline in compliance with hand hygiene standards.
The study analyzed three years' worth of handwashing data from more than 4,100 caregivers in 35 hospitals in the United States. Handwashing compliance rates dropped by an average of 8.7 percentage points over the course of a 12-hour shift, they found.
Why this seems to happen: nurses and other health care workers are using up all of their executive resources to care for patients. While they know that handwashing is paramount to halting the spread of infection, their self-regulatory capacity diminishes while they are working hard and getting tired.
"Managers should be aware that caregivers may attend to hand hygiene guidelines less as their work shifts wear on," said Dai. "In light of this, interventions designed to remind caregivers of hand hygiene compliance may be particularly effective--or need to be made particularly salient--as a work shift approaches its end."
The knowledge can also be helpful to individual nurses, who might not realize that their attention to hand hygiene is slipping. Dai noted that they could look for the most effective ways to utilize their breaks at work to recharge and improve their self-regulatory resources. The methods may vary from person to person.
"Also, caregivers may want to encourage their patients to remind them of hand hygiene compliance," she said. "Leveraging patient engagement may help caregivers remember hand hygiene compliance."
The study also found that more time off to rest and recharge between shifts can help rectify the problem.
"We found that more time off between shifts appears to serve a restorative purpose, as it is associated with greater hand hygiene compliance on a caregiver's subsequent shift," the researchers wrote. "In particular, more time off is associated with greater improvements in compliance rates when caregivers exhibited lower hygiene compliance rates at the end of their previous shift."
This type of research certainly underscores the importance for nurses to get enough rest, said Jamie Murphy-Dawson, senior policy analyst for occupational health and safety for the American Nurses Association's division of nursing practice and work environment.
"The research about even just a 15-minute, uninterrupted break is really powerful," she said.
The American Nurses Association recently released a position statement calling for improved collaboration between employers and registered nurses to reduce nurse fatigue; they emphasize the strengthening of the culture of safety in the workplace.
If you don't feel like your workplace supports you in your effort to get adequate breaks, it's time to speak up. Mary Jo Assi, director of the ANA's division of nursing practice and work environment, suggests working collaboratively with others to improve the work environment to prevent fatigue, including providing input to make sure that scheduling promotes optimal rest between shifts.
"Make sure your voice is heard," Assi said.
Your skills are in demand at top hospitals around the country. Find travel RN jobs in your nursing specialty with American Mobile Healthcare.
© 2016. AMN Healthcare, Inc. All Rights Reserved.