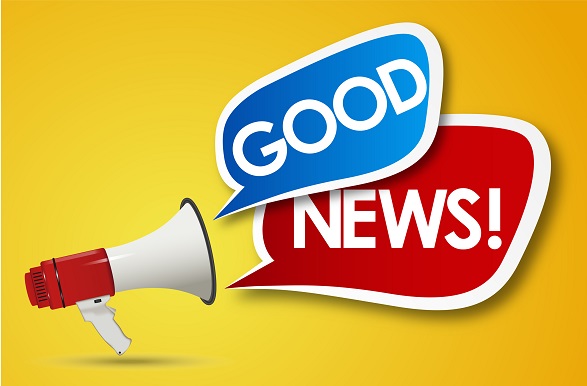 Good News and Positive Stories: April 24, 2020
Blue Angels to Fly Over Cities to Honor Essential Workers
The Navy's Blue Angels and the Air Force's Thunderbirds will jointly fly over Washington, Baltimore, New York, Newark, Trenton, Philadelphia, Atlanta, Dallas, Houston and Austin to honor essential workers responding to the COVID-19 situation. Both flights squadrons will separately fly over a list of other cities, too. The dates will be announced later this year. 
Source: WKRN.com, April 23, 2020. "Blue Angels to fly over Nashville as part of joint effort with Thunderbirds to honor essential workers across US"
Labor and Delivery Nurse Encourages New Moms-to-Be
Labor and delivery nurse Samantha Benson recently wrote a column designed to encourage pregnant women in the remaining days and weeks of their pregnancies. She told them that she knows the current coronavirus pandemic is unnerving but the nurse will be there 100 percent for them when it's time to deliver their babies. "So we do our best to offer extra support and care," wrote Benson. 
Source: TODAY.com, April 23, 2020. "Labor and delivery nurse shares a message to expectant mothers during pandemic"
Parks and Recreation Cast to Reunite for Episode to Benefit COVID-19 Efforts
The cast of the hit television show 'Parks and Recreation' will reunite for a special 30-minuted scripted episode that will feature the characters trying to stay connected while social distancing in the time of the coronavirus pandemic. The episode will benefit Feeding America's COVID-19 Response Fund, which supports food banks during the pandemic.
Source: TODAY.com, April 23, 2020. "'Parks and Recreation' cast to reunite for coronavirus charity episode"
Young COVID-19 Survivor Shares Story to Help Others
There's a lot of concern that young people aren't taking the coronavirus seriously enough. So a 23-year-old Utah man who recently recovered from COVID-19 is spreading the word about his experience to inspire other young people to be more careful about their actions during the coronavirus pandemic. He's also giving back to his community by running errands for people trying to limit their exposure to the virus and donating plasma for research purposes.
Source: ABC Action News, April 23, 2020. "23-year-old COVID-19 recovery patient shares story to inspire younger population to take precaution"
Murals Pop Up All Over Philadelphia
Thanks to the efforts of artists like Sean Lugo, murals are popping up all over the city of Philadelphia. But these aren't just any murals. Some are inspirational messages, like a painting of a teddy bear with a sign that says "We're in this together" on the window of a shop. Another teddy bear thanks doctors, nurses, and medical staff. Other murals feature detailed artwork of nurses tying on masks, preparing to go to work.
Source: 6ABC.com, April 21, 2020. "Murals salute health care workers, inspire residents in Philadelphia"