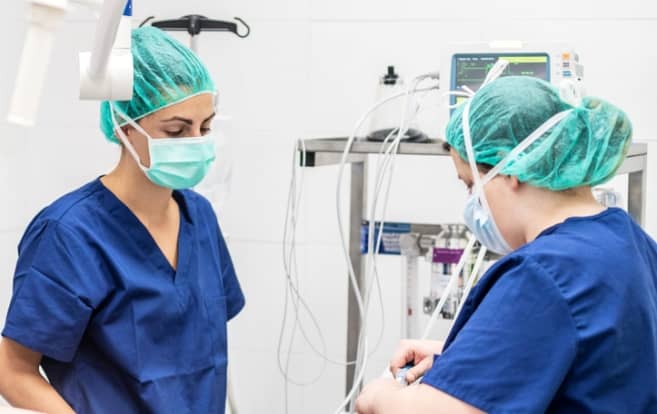 Emergency Nursing, Post-Pandemic: What Changes Can We Expect?
As the initial wave of COVID-19 continues raging out of control in many areas, lessons have been learned across clinical departments. Care in all settings, including the emergency department (ED), might see changes for clinicians, hospitals and patients.
"This is very much an unknown as we still navigate these unknown times," said Mike Hastings, MSN, RN, CEN, president of the Emergency Nurses Association. "What most likely will change is a continued focus on infection prevention strategies."
The Pandemic Marches On
Personal protective equipment (PPE) remains a key component of infection prevention, but it continues to be in short supply.
Although government shutdowns and safety guidelines helped to flatten the curve of initial cases, the COVID-19 pandemic remains far from over for most of the country. States are now opening back up in varying degrees and creating new hot spots. Yet many people remain largely at home, fearful to seek emergency department services.
A TransUnion report on July 15, 2020 indicated that ED visits are about 25 percent of what they were before the pandemic. And a report from the National Syndromic Surveillance Program, published on May 30, found ED visits had decreased by 42 percent during the early days of the pandemic. Patients with less serious diagnoses have not returned at the same pace as acute diagnoses.
The ENA, the American College of Emergency Physicians (ACEP) and the American Nurses Association (ANA) have just released a joint statement reminding people that if they're experiencing a medical emergency they should still go to the ED – even during the pandemic.
ENA continues to advocate for government action related to providing enough personal preventive equipment, calling it a matter of life and death for ED nurses.Additionally, the need for more COVID-19 tests exists, from Seattle to Key West.
In some areas of the country, emergency department nurses are caring for COVID-19 patients as they await beds in intensive care units, operating over capacity in some regions, such as Miami.
Infection Prevention & PPE
Personal protective equipment (PPE) remains a key component of infection prevention, but it continues to be in short supply.
"This will continue to be a focus to ensure we have the adequate supplies and resources and to adhere to the standards," Hastings said.
Among the lessons learned by hospitals is that just-in-time supply chains do not work and facilities cannot rely on the National Stockpile, said Randall Moore, DNP, MBA, CRNA, CEO of the American Association of Nurse Anesthetists.
"Six to seven weeks into this crisis, there are still serious issues with the supply chain," Moore said.
"There are still serious issues with the supply chain," Moore said.
Intake, Triage and Testing for Emergency Nurses
During the pandemic, many hospitals have shifted triage to outside the ED to reduce exposure to the novel coronavirus. Patients may need to wear masks for the foreseeable future.
"Hospitals will probably continue to be on somewhat of a restricted access with screenings at the door on who is entering their institution and limiting the number of visitors a patient might have," Hastings said.
When a patient arrives at the ED, emergency nurses do not know whether he or she has COVID-19. Ideally, every patient could be tested with a rapid test. Jackson Health System in Miami has noted 30 percent to 40 percent of patients seeking care for non-COVID symptoms are testing positive.
"Testing for COVID sounds like it could become very common," Hastings said. "There are still significant shortages of testing capabilities for this to be 'standard' for everyone; however we know that as more testing capabilities have become available that yes, more people are getting tested."
Some hospitals with adequate testing abilities plan to test all patients, such as AdventHealth in Orlando. The health system will cohort those who test positive in separate areas from patients who test negative, said Daryl Tol, president and CEO of AdventHealth Central Florida region.
Waiting room seating
While public health officials recommend physical distancing, keeping people at least six-feet apart from each other, some hospitals will have difficulty meeting that goal.
"This is always a tough one since most EDs do not have large waiting areas and you have to ensure adequate seating for those waiting," Hastings said. "We will probably see masking as a norm for those waiting in the waiting room no matter what their complaint is."
AdventHealth is removing or marking chairs as not to be sat on to abide by social distancing in its waiting rooms. Additionally, it is considering technological solutions, which could let a patient wait outside until the nurse is ready to call the patient into the ED.
Surge plan training
As the pandemic infected millions of people in the United States, some hospitals, particularly in hot zones, were forced to make more room in the ED.
"Anytime we have a disaster it seems like hospitals pull out their surge plans to look at them," Hastings said. "As more hospitals had to actually implement their surge plans this year with COVID-19, hopefully, this will translate into more training of these plans and a more detailed review of them."
Future Education for Emergency Nurses
"We know that a lot of schools have already used simulation training for students, and I would think that we may see an increase in this," Hastings said. "With the increase in remote learning opportunities, we will see how this translates moving forward. Will we keep with the remote style vs. hands-on learning that we have done in the past?"
Enhanced surge planning, infection control procedures and other lessons learned during the pandemic may also become a larger part of the curriculum for nursing classes and training sessions.
Trauma survival
Many emergency nurses working on the front lives of the coronavirus storm have experienced the stress of a constant flow of critically ill patients, without appropriate PPE. Many of these patients cannot be saved and will die alone. Some nurses will be affected by secondary traumatic stress and other conditions.
"Any time after a disaster, mental health is always a concern," Hastings said. "ENA has some great benefits for our members to help address this. ENA's COVID-19 resource page includes self-care information that can help today and as this situation continues."
Interest in emergency nursing specialty
Nurses from various units in some hospitals floated to the emergency department to help with the increased volume during the coronavirus outbreak. For some, that time in the fast-paced environment will lead to a new focus.
"I have had a couple ask how they can transition to the ED," Hastings said. "This has made me wonder, since the ED is an essential service for the hospital, whether we will see more people who actually want to work in the ED."
Updated July 23, 2020
SEARCH American Mobile's travel nursing jobs for emergency nurses
Sources:
Emergency Nurses Association – COVID-19 Resources