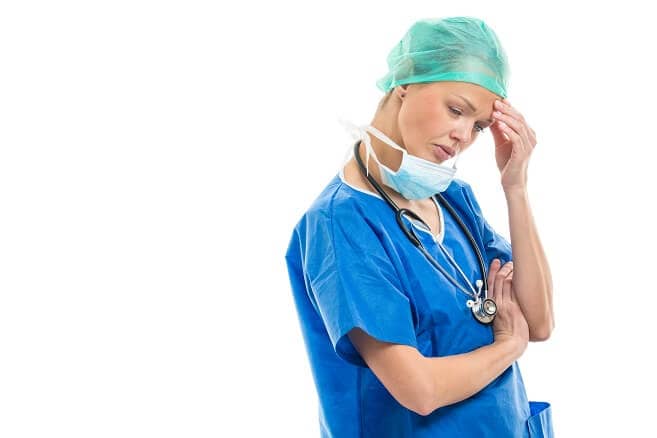 Depressed Nurses Likely to Make Medical Errors, Study Says
Nurses often work in high-stress environments, which may include life and death situations. According to Healthy Nurse Healthy Nation, this can make nurses twice as likely to experience depression compared to people in other professions. Depression impacts a nurse's well-being, but a new study published in the Journal of Occupational and Environmental Medicine also found a significant link between depression and increased nursing medical errors.
Nearly half of the nurses surveyed reported having medical errors in the previous five years and about a third of the nurses in the study said they had some degree of depression. To help minimize medical errors in nursing, it's vital you understand the signs of depression and find techniques to help combat it.
Depression and Medical Errors in Nursing
According to the JOEM study, nurses in comparatively poor health had a 26 to 71 percent higher likelihood of nursing medical errors. Dr. Adeline Peters, lead physician and head of the medical panel at DoctorOnCall, points out the Iatroref study that focused on ICU staff conducted from August 2009 to December 2011 also noted depression-related symptoms significantly increased the risk of medical errors.
"Nurses are a doctor's right hand," emphasizes Dr. Peters. "More than that, nurses usually know patients better as they're the ones who take care of the patients – day and night, 24 hours. Due to the burden of their jobs, nurses are one of the most depression-prone workers in the public sector. Given the nature of their jobs, depression affects nurses as an individual and could be a potential threat to their patients and co-workers."
Detect depression to avoid nursing medical errors
Despite extensive medical training, nurses sometimes don't recognize symptoms of depression in themselves. Symptoms might be subtle or even vague, and you may shrug them off as stress related. However, when symptoms are persistent, you shouldn't ignore signs you may be suffering from depression, especially if you've seen an uptick in medical errors. Signs of depression could include difficulty concentrating, remembering and/or making decisions and changes in your eating and/or sleeping habits.
You may also feel less engaged in activities you used to enjoy, including things you loved doing with family and friends. You might have less energy at work or less desire to do your job or deal with patients. You may find yourself drinking an excessive amount of alcohol to cope or even have thoughts of suicide. These are just some of the traits you should be aware of, but any unrelenting symptoms that aren't "normal" for you could be an indication of depression.
Techniques for preventing depression
"As caregivers, nurses are at risk for depression, anxiety and stress," states Catherine Burger, BSN, MSOL, RN, NEA-BC at RegisteredNursing.org. "It's not uncommon for nurses to put everyone else's needs above their own. Nurses must practice self-care, such as exercise, healthy eating and having a trusted confidant to prevent and treat depression. Nursing leaders should also ensure staff are aware of positive behavioral programs, such as Employee Assistance Programs, that offer short-term counseling. Also, leaders should always provide timely debriefing for staff during and after traumatic events to promote core healing."
"To combat nursing medical errors, it's very important for other nurses and colleagues in the hospital to recognize the symptoms of depression among their co-workers," advises Dr. Peters. "Nurses and other healthcare workers should be educated about and aware of depression that occurs among themselves. Confidential therapy sessions and treatments should be readily available for nurses and healthcare staff to ensure they get the proper help they need."
Nursing often comes with a high emotional cost that could lead to depression. Nurses working in healthcare facilities that support their health and well-being tend to have better physical and mental health outcomes. It's vital that facilities make physical and mental wellness a priority to provide much needed support to nurses and other medical staff to help improve patient outcomes and decrease the odds of costly medical errors in nursing.