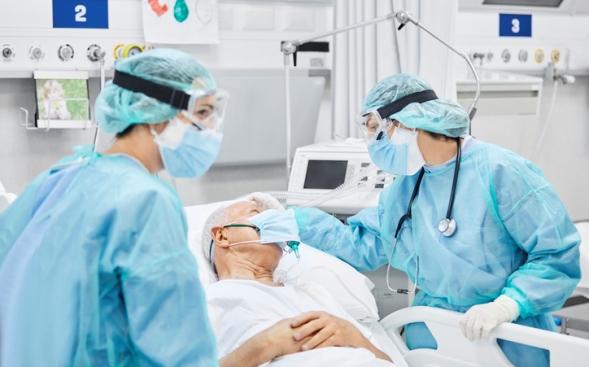 COVID Patients are the New Norm for Travel Nurses
Regardless of setting, nurses are likely to care for or interact with people infected with SARS-CoV-2. COVID-19 patients are the new norm for travel nurses and other healthcare providers. Now, and in the foreseeable future, people with the novel coronavirus will require health care services.
"COVID-19 is not going to go away," said Matthew J. Memoli, MD, MS, with the National Institute of Allergy and Infectious Diseases. He said that is possible, over time, that the SARS-CoV-2 could become another coronavirus that causes the common cold. Alternatively, the new coronavirus could stay like it is now.
Some COVID-19 patients will become severely ill and require hospitalization, while others may seek care at a clinic or medical office and require testing. Still other people remain asymptomatic and transmit the disease to others.
Care for patients in your choice of settings and locations as a travel nurse.
What about herd immunity?
Herd immunity refers to having enough people in a community immune to a disease in that it protects others, such as newborns and immune-compromised adults.
Without a safe and effective vaccine, achieving herd immunity in the United States would prove costly. Different sources estimate about 200 million cases and as many as 2.95 million deaths.
Mike Ryan, the executive director of the World Health Organization's Health Emergencies Program, said at an August 2020 press conference that the global population is nowhere close to having enough people immune from contracting the disease to end the transmission of COVID-19.
Not everyone who has survived the disease has lasting immunity, with antibodies lasting two to three months, according to one study of patients with mild symptoms in the New England Journal of Medicine.
"I think it's unlikely that all the antibodies against this virus would be gone in three months," Menoli said. "Most viruses' antibodies peak at two months."
Memoli said those study results might be due to the tests being done. He is leading a study investigating changes to antibody response over a one-year period, with a cohort of more than 10,000 people.
Other studies have indicated COVID-19 antibodies last longer. One from Iceland found they last at least four months. Infectious disease experts at the University of Rochester (NY) Medical Center suggested that immunity to COVID-19 could last a lifetime.
"Even if you have antibodies against the virus, it does not mean you cannot get infected again," Memoli said. "It seems to impact how you fare and what your disease looks like."
There have been reports of people becoming infected more than once, and confirmed by genome sequencing.
A report in The Lancet indicated that fewer than 10 percent of Americans have antibodies against the virus.
Once a safe and effective vaccine is available and accepted by people, the United States can start to build herd immunity.
Anthony Fauci, MD, director of the National Institute of Allergy and Infectious Diseases, said on a Facebook Live session that the vaccine will need to be 70 percent to 75 percent effective and he hopes 75 percent to 80 percent of the population will become vaccinated.
Until that happens, COVID patients are the new norm for travel nurses.
Where is COVID-19 heading?
The Institute for Health Metrics and Evaluation at the University of Washington's School of Medicine predicts between 288,381 to 620,029 COVID-19 deaths in the United States on January 1, 2021, depending on mask usage, social distancing and other mitigation measures. Worldwide, it estimates 2.8 million cumulative deaths by the end of the year.
Therefore, travel nurses are likely to continue seeing COVID patients, whether they choose a crisis response assignment in a known hot spot or work a traditional assignment.
Ryan has stated that he believes SARS-CoV-2, the virus that causes COVID-19, will become another endemic virus in communities and that it may never go away.
Fauci indicated the country remains in the first wave of COVID-19. He expressed concerns about what will happen this fall and winter when both COVID-19 and influenza are circulating.
Currently, rates of hospitalizations for elderly adults and people with underlying conditions are decreasing, Fauci said, while infection rates for people age 19 to 25 years of age are increasing.
The CDC reported on September 29, 2020, a 55.1 percent increase in COVID-19 cases among young adults from August 2 through September 5, 2020. Healthy people in this age group are less likely to experience severe disease, although it has happened.
As more people suffer with COVID-19 and vaccines become available, immunity will increase. People will be able to go back to aspects of their lives that they miss now.
"Eventually, the entire world will have immunity," Memoli said.
Related:
What's Changed in Travel Nursing in 2020
Caring for the Mental Health of Healthcare Workers
AMERICAN MOBILE has crisis response and traditional travel nursing jobs across the U.S.
BROWSE TRAVEL RN JOBS or APPLY TODAY to get connected with a recruiter.