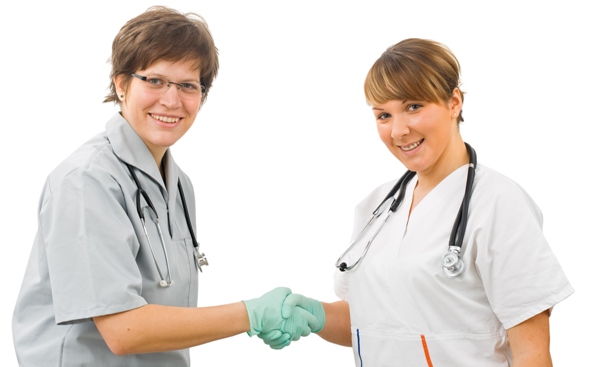 Can Games Make Nurses Healthier?
Recent studies have thrust a troubling issue into the spotlight: rates of obesity are higher among health care workers than in the population at large. Although the facts about obesity are clear, the solution to the problem remains muddy. Nurses know that healthy eating, exercise and sufficient sleep are essential to combating obesity and other wellness issues, but many find that making these healthy choices stick is the real issue.
Could some fun and games be the answer?
Many hospitals and other businesses in the health care field and beyond are taking action and bringing some amusement into the workplace through "gamification." By turning regular activities and situations into a game, employers are finding that employees are much more likely to participate in wellness activities and stick with the plans over time.
Try travel nursing for a healthy boost to your career.
Winning at weight loss
El Camino Hospital in Mountain View, Calif., made headlines in 2013 for its efforts using social media and technology to turn employee wellness into a game where the participants lost over 1,000 lbs.
And, health care giant Kaiser Permanente uses games to inspire employee wellness through its Go KP program, which provides healthy recipes and allows users to track personal wellness goals and join group fitness challenges. Kaiser Permanente was also named one of the 44 Healthiest Companies to Work for in America by Greatist.
Find your dream job at a Kaiser Permanente facility.
Holly Carpenter, RN, BSN, policy associate in the nursing practice and work environment department of at the American Nurses Association (ANA), provided some interesting facts about obesity and how nurses can infuse some fun into their quest for total body wellness.
"It almost seems like an oxymoron for a nurse working in a hospital to have a weight problem because generally they are on their feet so much, but they may not be able to get the proper nutrients because of shifts, and also at a lot of hospitals they have fast-food franchises on site," Carpenter said. "Hospital cafeterias really have to be careful to offer healthy food options, as well, that are comparatively priced."
In addition to nurses making smart choices like choosing water over a vending machine soda and getting the recommended 7-9 hours of sleep a night, incentivizing weight loss and fitness activities could be the key to success, Carpenter explained.
Adding fun and incentives to fitness
Even small incentives can add to the fun and get nurses and other workers more involved, Carpenter said, whether it is gift card or just a special recognition. "Also, pitting departments against one another in a fitness challenge or having everyone work towards a common goal, like a salad bar party, can make things fun."
Incorporating electronic fitness trackers can also be a great way to promote a challenge and bring a game-like atmosphere to the work setting.
In fact, nurses who work for a facility that has yet to jump on the gaming bandwagon can get things started themselves by launching a walking challenge with others on the unit. No fancy gadgets needed here; just encourage everyone to pick up a cheap, no-frills pedometer (or most smartphones have one built in nowadays) and get the challenge going. Set a time frame and see who can take the most steps in a day, week or longer period of time!
Using wellness resources
ANA offers a variety of wellness resources for nurses, including the HealthyNurse™ program that features a Health Risk Appraisal (HSA). This assessment tool was developed by ANA in collaboration with Pfizer, Inc., and is free for all registered nurses and nursing students; you don't have to be an ANA member.
ANA's recent HRA Executive Summary features preliminary findings of a poll from nurses and nursing students showing that almost 70 percent reported they had access to worksite wellness health promotion programs, but less than 60 percent indicated they had access to healthy foods such as fruits, vegetables or whole grains during their work hours. The findings provide an interesting glimpse into the disparity between workplace wellness teachings and actual food choices.
"We truly believe that if a nurse is healthy and he or she is operating at their peak wellness, they are going to be able to provide better care to patients and be a better role model, advocate and educator," Carpenter concluded.
Originally published on NurseZone.com.
© 2016. AMN Healthcare, Inc. All Rights Reserved.