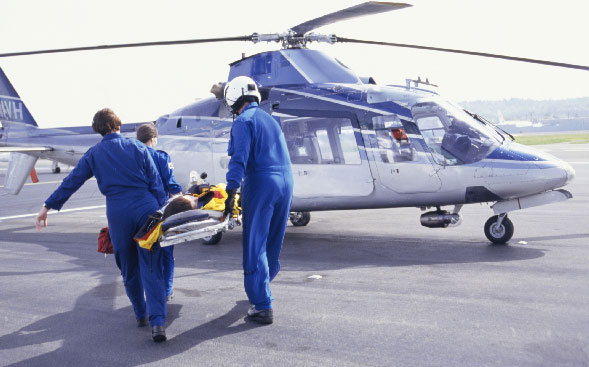 Beyond the Bedside: Five Unusual Careers for Nurses
Who says that being a nurse means working 12-hour shifts at the hospital bedside? More than half of today's nurses, in fact, have found careers doing something other than hospital staff nursing.
Want to combat crime, fly in a helicopter, edit a nursing journal, practice a complementary therapy or help women heal from sexual trauma? A nursing license is your ticket to more career options than you can imagine.
Combat violent crime  
A sexual assault occurs every two minutes in the United States, and 26 million American women have survived rape or attempted rape in their lifetimes. Nurses who want to do something about it might want to try forensic nursing.
Forensic nurses care and advocate for victims of sexual assault and other violent crimes, collecting evidence that can later be used in court. They may also work with police on investigations, attorneys on prosecutions or coroners on assessing causes of death.
Nursing schools across the country offer certificate programs and master's degrees in forensic nursing, and two professional credentials are available for the Sexual Assault Nurse Examiner. With these credentials, you can join the cadre of forensic nurses who care for the survivors of violence, bring perpetrators to justice and address violence in the public health arena.
Fly (while working) in a helicopter
Critical care flight nurses are responsible for transporting critical patients from accident scenes and hospitals to trauma centers and other facilities where they can get higher-level care. It's challenging work, caring for ill or injured patients on a helicopter while in flight.
"It's kind of like working at a firehouse," said Eric Leslie, RN, a flight nurse for Johns Hopkins Lifeline in Baltimore, Md. "We're responsible to be ready to go at any time."  The shifts are long--24 hours--and when you're in the air, there's nobody you can call for backup. It's just the nurse, a paramedic, a pilot and a patient.
"When you walk in [to work], you don't know where you are going to go that day," said Leslie. "For me, I enjoy that."
Flight nursing requires at least three to five years experience in critical care emergency nursing, plus an "alphabet soup" of advanced certifications, including Certified Flight Registered Nurse (CFRN) training.
Edit a nursing journal
Academic nursing journals are the vehicles for delivering cutting-edge research and vital information to nurses worldwide. The journal editors are the drivers, deciding which topics are covered and which articles are published, and their job is essential for advancing the science and practice of nursing.
Editors must first and foremost be experts in their field. Nurses who want to serve as an editor on a journal about prenatal care, for example, should have some solid experience in that area.  It also helps to have scientific research training and a focus on evidence-based care, as well as experience with the academic writing and publishing process. Editors must be prepared to make independent decisions that balance the needs of the journal's owners and its readers while managing day-to-day issues of finances, editorial processes and team leadership.
One place to learn more about the profession and find links to job opportunities is the International Academy of Nursing Editors site at nursingeditors.com. This group--which describes itself as a "non-organization" and "an international collaborative of nursing editors and publishers"--uses the acronym (INANE), indicating they like to have some fun with their work.
Treat the "whole person" as a holistic nurse
"Holistic nursing is not necessarily something that you do: it is an attitude, a philosophy, and a way of being," claims the American Holistic Nurses Association website. It's a specialty that recognizes the interconnectedness of a person's body, mind, emotion and spirit within the context of their social, cultural and relationship conditions.
Many holistic nurses integrate complementary and alternative modalities into clinical practice. This might involve dietary and nutritional counseling; mind-body therapies such as meditation, acupuncture, or hypnotherapy; or body manipulation therapies such as massage or Rolfing structural integration.
Because the goal of holistic nursing is to heal the whole person, being a holistic nurse requires you to set an example of self-care for your patients.
Use Mayan healing to restore natural balance
Teachers and practitioners of the Arvigo Techniques of Maya Abdominal Therapy use gentle, noninvasive massage techniques to reposition abdominal organs that have shifted out of alignment. Realignment improves the flow of blood, oxygen, lymph and nerve impulses with the goal of easing acidity, inflammation, hormonal reactions and painful menstrual cycles. It can even assist with deep emotional healing from old sexual trauma.
In 2009, Chaya Leia Aronson, RN, trained in the technique and opened her own business, Purple Rose Healing Arts, in Northampton, Mass. Aronson sees eight to 10 clients each week, giving abdominal massage, teaching a self-care massage technique and coaching clients in maintaining a healthy diet and lifestyle. She also teaches classes in the self-care technique and reproductive anatomy and physiology.
"I've had my own healing journey with it," said Aronson. For more than a year, she suffered from a bladder condition, interstitial cystitis, with no known medical treatment. "I tried Mayan abdominal massage, and it worked."
Think an out-of-the-ordinary nursing career path might be right for you? Flight nurse Eric Leslie offers these words of encouragement: "The fact is that I get to work with very good friends doing something I truly love. If you do get the chance to do work that you like, it's a phenomenal opportunity."
Originally published on NurseZone.com.
© 2016. AMN Healthcare, Inc. All Rights Reserved.