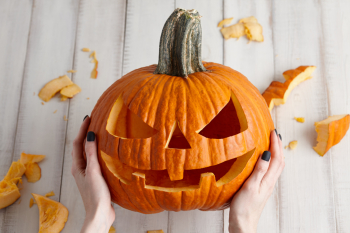 5 Best Group Halloween Costumes for Your Nursing Unit
by Sarah Stasik
As a nurse, you have to consider numerous factors when dressing up at work for Halloween.  
If your facility allows it and you can create a costume that doesn't impact patient care, group Halloween costumes for your nursing unit can be fun and exciting. 
If costumes won't work in the workplace, you can always rock a group getup at a party or local pub after hours. 
Check out some of the fun group nursing costume ideas below. 
5 GROUP HALLOWEEN COSTUMES NURSES CAN ROCK TOGETHER 
These DIY costumes are easy to make, and they all stay on the safe side of scary, so every type of nurse can give them a go.
1. A Banana Split
This costume is easy to make and works well for nurses that man the same nursing station. Each person dresses up as an ice cream scoop in the banana split.
Wear a white T-shirt or scrub top

Take a large piece of fabric for each person — one yellow, one pink and one brown — and cut a circle about two-feet in diameter.

Cut long, teardrop edges (so it looks like ice cream dripping at the edges), and then cut a hole in the center for your head.

Wear the ice cream scoop like a poncho over your scrubs. You can add extras like sprinkles with beads or fabric if you want.

You can cut a banana shape out of a long piece of cardboard and paint it yellow.
Place your banana at the nurses station, so when you all sit behind it, you complete the giant dessert.
2. Superhero Groups 
Superhero teams are always an easy costume for groups and there are a lot of options to choose from.  
For example, Incredibles, Justice League, Avengers or even Defenders would all be appropriate selections for all types of nurses.  
3. The Seven Dwarves 
For larger units, Snow White and the Seven Dwarves themed costumes offer an easy group to emulate on Halloween.  
Even if you have to keep the makeup and actual costuming to a minimum to ensure patient safety or professionalism, each person can sport a fun hat with their chosen Dwarf's name.  
Plus, you can easily expand this group Halloween costume by including Snow White, the Wicked Queen, Prince Charming and the Huntsman. 
4. A Cadre of Candy Bars 
Who doesn't like candy, especially during Halloween? Grab some poster board, rope and markers for this easy group Halloween costume.  
Each person picks his or her favorite candy bar and decorates their poster to match. Attach your candy bar poster board with rope and hang it around your neck.  
One benefit of this type of costume is that nurses can easily take it off to handle emergency or patient care. 
5. Harry Potter 
"Expecto Patronum!" To create this Harry Potter-themed costume, start with a solid white scrub top and a scarf or tie that matches  your appropriate house colors.  
Designate someone to play the Harry, and ensure he or she wear glasses and has a lightning bolt scar drawn on their forehead.  
That's all you need for a basic Harry Potter group nursing costume, but you can add robes and wands if you like. 
Working on Halloween doesn't have to be boring. Have fun and bond with your nursing unit with these 5 group Halloween costume ideas!