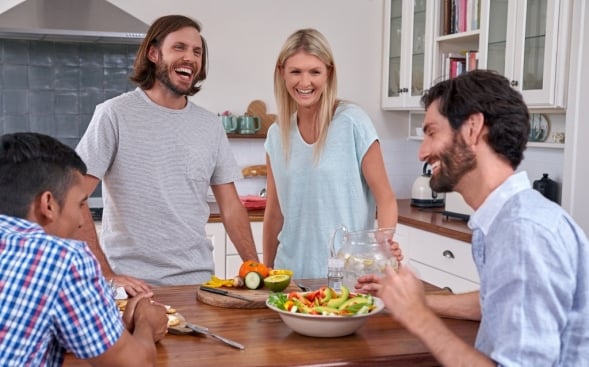 4 Ideas to Simplify and Slim Down Your Holiday Meals
Long hours in the kitchen combined with decadent seasonal cuisine can be a recipe for disaster for nurses and other shift workers. The holidays should be about family, friends and gratitude--not food comas and zombie-eyed bakers. Here at American Mobile's NurseZone, we're all about taking a healthy spin on the holidays and making things easier on you, without losing out on the fun and flavors of your favorite traditions. So we uncovered some clever ways to simplify and slim down your holiday meals and party dishes:
1. Prep in advance
Nurses know all about being prepared, and prepping meals ahead just takes a little planning. Let's take a look at a common holiday staple: mashed potatoes. You can make this dish (and many other common holiday foods) a lot easier by preparing everything in advance. In fact, there are countless recipes online for "make-ahead" mashed potatoes where you can make the dish several days in advance and then just throw it in the oven when it's time to get ready for your holiday dinner! Our favorite is from Allrecipes.com.
If you don't have time to make an entire dish in advance, just chopping and peeling vegetables or preparing other individual ingredients and then storing them in airtight containers can make your day-of duties much easier to accomplish on time.
And don't forget to incorporate this strategy into your daily life. Prepping ingredients for healthy and satisfying lunches can eliminate cafeteria trips and help you avoid fast food, getting a great start to the New Year.
2. Remember the freezer is your friend
Whether you are attending a potluck, hosting a party or planning an entire feast, strategically utilizing the freezer can make things a lot easier. Consider designating part of your next day off as your prep-and-freeze day. You can use this time to to prepare soups, desserts and easy-to-freeze side dishes or appetizers. Some dishes do better in the freezer than others, but bread and rolls, stuffing, gravy and cookies are all known to be excellent choices for this option. Having an arsenal of side dishes and sweets in the freezer can also make those last-minute holiday affairs that much more enjoyable.
3. Make healthy swaps
Slimming down recipes can also be simple: it's all about the swap. There are countless little swaps you can do to make your holiday meals a little bit healthier and more nutritious without sacrificing much in the way of flavors and taste.
Here are some common, "healthy" swaps to give any dish an instant slim-down:
● Spaghetti squash for white pasta
● Applesauce for oil in baked goods (check recipe for measurements)
● Sweet potato or yam for regular baking potato
● Spinach for iceberg lettuce
● Greek yogurt for sour cream
● Mashed cauliflower for mashed potatoes
● Kale chips for potato chips
Almost any holiday baked goods, including cakes, brownies, cookies, etc., can be made with less fat and calories by substituting applesauce for oil. Foodnetwork.com has an amazing recipe for slimmed-down gingerbread cookies that taste like there is nothing healthy about them!
4. Use that crockpot
Ah, the power of the slow cooker, a.k.a. crockpot! There's almost nothing this little guy can't do, and once you unleash the power of dumping ingredients into a pot and then walking away, you'll never look back. From making chili for those cool nights, to hearty steel-cut oatmeal for any time of day, there are so many easy dishes you can start prior to your shift. Just keep it on the low setting and check the recipe for cooking times, liquid requirements, etc. Then, before you know it, you'll be off work with a warm holiday meal waiting for you.
A slow cooker can also expand your cooking capacity for larger meals; stuffing for instance, turns out great while your turkey or ham cooks away in the oven. And to keep things healthy, both Eatingwell.com and Delish.com have an extensive recipe base dedicated to crockpot meals with less fat and calories.
SIMPLIFY your job hunt with travel nursing job alerts from American Mobile.
© 2016. AMN Healthcare, Inc. All Rights Reserved.