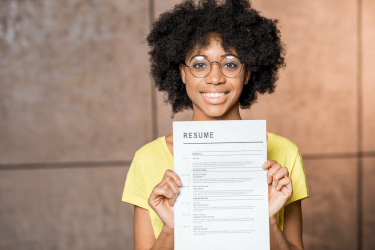 10 New Grad Nurse Resume Mistakes to Avoid
Congratulations! You have successfully made it through nursing school.
Now comes the hard part, nailing your first nursing job.
Before you start creating your new grad nurse resume, you need to know what not to include.
After all, a poorly written resume can cause your application to slip right into the discard pile.
To obtain your first nursing job, you need to put your best foot forward. You may have received all A's in nursing school, but with so many facilities dealing with nurse shortages, competition is fierce.
10 New Grad Nurse Resume Mistakes to Avoid
1.Not Enough Detail
Your resume is your first impression. As a new grad, you don't have the history of more seasoned nurses. So, you must make your new graduate nurse resume stand out in other ways.
One way to stand out is to include detail. Not mundane or expected detail, but important detail. Make sure you explain how you made the most of your nursing school experience.
Include information that highlights your strengths. Reading through common nurse interview questions can help determine what should take priority.
2. Lack of Explanation
Perhaps you took time off from having a job because you wanted to dedicate your time to school. Don't assume the person reading your new grad nurse resume will know that.
Explain any gaps of time that do not show you actively working. Avoid saying, "I couldn't handle school and work." Use words and phrases that don't cast a negative light on your abilities.
3. Incorrect Credentials
The field of medicine is filled with many abbreviations, credentials, and unusual terminology.
Make sure you use the correct and appropriate credentials on your new grad registered nurse resume. Overlooking a mistake like that could cost you an interview.
4. Be Specific
Don't focus your resume on obvious things like being BLS certified or that you are skilled at IV insertion. These types of certifications and skills are a given as a new grad.
List specifics such as the number of patients you tended to per shift or how many procedures you performed throughout your clinical.
This will provide the interviewer with a clearer picture as to both your time management and clinical skills.
5. Using Clichés as a New Grad
On a new grad nurse resume, everyone is a team-player. Don't fall into the trap of putting over-used words onto your resume.
Instead, describe how you initiated a study group or organized extra lab sessions. List the student of the month or patient appreciation awards you received.
6. Childish Style
Using childish fonts, colors, or distracting formats on your new graduate nurse resume will show a level of immaturity not conducive to a responsible nursing position.
Also, many resumes are scanned, so using a simple and uniform format is your best bet for making sure your resume gets past the first round of auditing.
7. Irrelevant Details
Try not to include information that has no relevance to the position you are applying for. Rather, discuss this information in your interview.
For example, you can discuss your nursing career goals and explain past achievements that may not be directly nursing related, but still act as examples of your work ethic and ability to learn.
8. Lack of Keywords
Remember that most resumes are scanned through a computer program.
Be sure to use words on your new grad nurse resume that connect with the position you are seeking.
9. Longer Than One Page
Even though you are proud of your past accomplishments and eager to share with recruiters just how motivated a new graduate nurse you are, resumes should be no longer than one page.
If asked, the interview is the place for you to highlight your dedication and past achievements you think are relevant to the position.
10. Failing to Check Grammar and Spelling
In your excitement, haste, nervousness, and rush to get a job, it is often the little things that get overlooked.
Make sure to have one or two people proofread your resume. Recruiters will view a sloppy resume as a sign you don't care about your work.
With 2018 expecting to see an even greater increase in the need to fill nursing jobs, a well-formed resume can be your first step in starting your career.