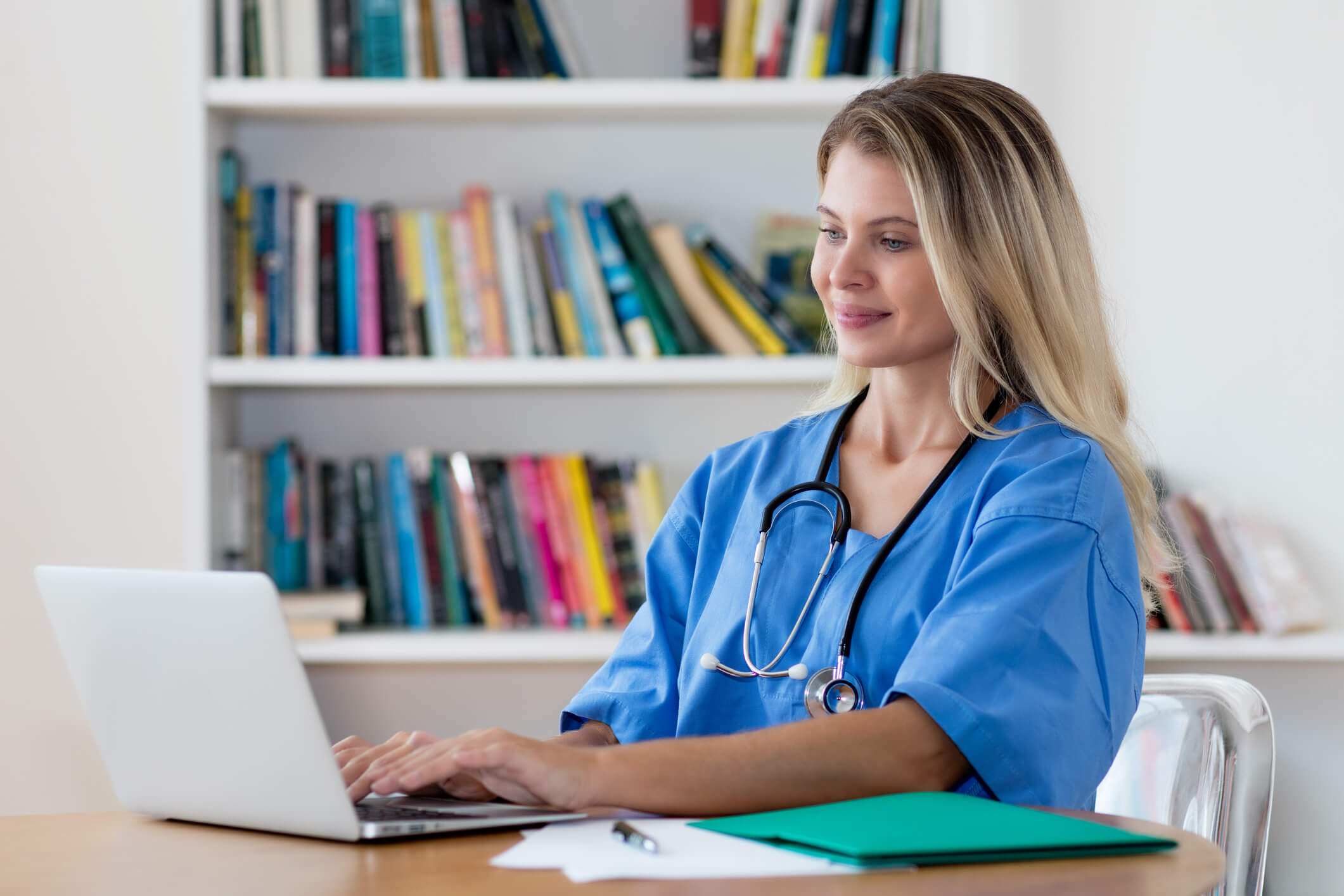 Nursing Schools Report: How the 2020-2021 Academic Year Is Shaping Up
Summer is in full swing, and nurse educators have been busy determining how the 2020-2021 nursing school academic year will look. As the coronavirus pandemic and the resulting restrictions continue to evolve, nursing school changes and COVID-19 are at the forefront as nursing students across the country get ready to start what promises to be an unusual school year.
Which classes will include in-person learning vs. virtual modules? What about clinicals and simulations? Nurse leaders, educators and students are working together to answer these questions and ensure the next generation of nurses have met the requirements for their clinical and didactic learning experiences.

In fact, the American Association of Colleges of Nursing (AACN) recently hosted a series of discussions on the current state of nursing schools with 377 participating schools, according to Susan Bakewell-Sachs, PhD, RN, FAAN, chair of the AACN Board of Directors and vice president of nursing affairs and dean of the School of Nursing, Oregon Health and Science University. These discussions revealed several trends and provided a forum to share solutions.
"Despite some initial concerns that a pandemic might negatively affect enrollments in our programs across the country, we are hearing that, in general, schools are meeting their enrollment targets for the fall and demand for nursing education remains strong," Bakewell-Sachs said. "Of course we are pleased about that because there remains a significant need for nurses in the health professions workforce."   
Find travel nursing jobs across the U.S.
Adaptability in the face of change
The AACN has a variety of resources to help nursing schools make decisions, adapt their programs and ensure quality standards are maintained in the face of the current pandemic. The AACN Coronavirus Resources page has news and announcements, webinar information, answers to frequently asked questions, and other tools to support nursing school deans, faculty, students and other stakeholders.

One of the most critical ways that students and faculty can navigate through this uncertain time is to remain flexible and adaptable, according to Bakewell-Sachs, noting that many nursing programs are doing this well.
"Schools are being very flexible," she said. For example, if nursing students face limitations on in-person clinical experiences, many schools are working with them to give them additional time to complete their requirements and stay on track to graduate. 
"Uncertainty is very, very challenging for all of us to deal with and there is not an end in sight for this," Bakewell-Sachs noted. "At the same time, for all of us, sometimes the only thing we can control is our own response. We all need to do whatever we can to remain flexible and nimble. I would ask that students be open to new and unexpected modalities for learning."
Clinicals, simulations, telehealth and virtual learning
The ability for nursing students to meet their clinical hours and requirements has been a hot topic since the COVID-19 outbreak, as many hospitals and other facilities have had to limit the number of non-essential staff and visitors. Concerns about sufficient personal protective equipment and student safety have also emerged.
"As is always the case, nursing programs work in very close partnership with our clinical partners," Bakewell-Sachs said, explaining that by working as partners, faculty and students "are able to integrate despite issues with regards to environmental density."

"Because nursing is a practice discipline, AACN very strongly believes that clinical learning experiences are essential and integral in our educational programs," she continued. "We're looking for ways to support our programs in being able to meet the knowledge, skills and competencies of students in different types of programs and at different levels across the entire continuum of care."
The goal for every baccalaureate and higher degree program is to ensure that every student can meet their learning outcomes and clinical competencies.

"We also are finding that programs are able to take advantage of telehealth and expanding other models of care that have emerged as a result of the pandemic," she said. "Many undergraduate and graduate nursing programs are expanding the use of simulation—and that is in-person simulation as well as virtual simulation—and they have rapidly done assessments of how those specific opportunities align with the learning needs of students."
In terms of virtual vs. in-person learning, many nursing programs have indicated they will be using a hybrid approach, which will include online didactic modules and clinical learning in person. A combination of face-to-face and remote learning will be implemented in the active learning curriculum of nursing programs throughout the United States, with most leveraging distance education learning platforms to ensure success.
Admissions move online
Nursing schools are also moving the admissions process online during the COVID-19 pandemic. AACN's NursingCAS is a centralized application service for AACN member schools that provides a cloud-based admissions software and student application. In 2019, over 40 schools of nursing joined NursingCAS with 275 programs now participating and 53,000 applicants in the last cycle. That number is expected to grow as nursing schools continue to move the admissions process completely to the cloud.
Nursing schools developing creative solutions during COVID-19
Bakewell-Sachs provided some key examples of how schools of nursing are leveraging their resources and expertise to continue educating nursing students and join the fight against COVID-19:
Related:
How COVID-19 Is Affecting Nursing Students
Coronavirus Resources for Nurse Educators - AACN
AMERICAN MOBILE has thousands of exciting travel nursing jobs across the country.
FIND YOUR IDEAL ASSIGNMENT or start your adventure with our QUICK APPLICATION.