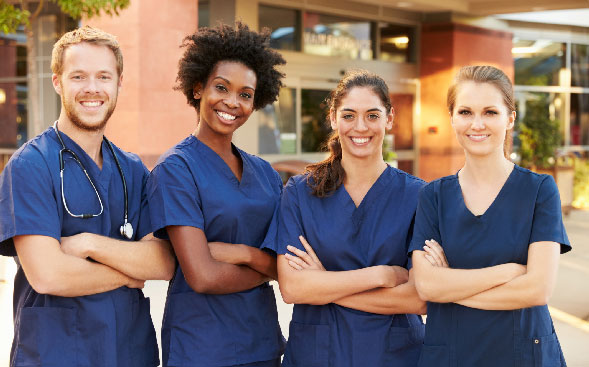 Nurse Licensure Compact Allows Nurses Greater Flexibility
The implementation and continued expansion of the Nurse Licensure Compact allows many nurses, especially travel nurses, to take advantage of a more streamlined and flexible licensure process.
Registered nurses and licensed practical nurses who reside in states that have implemented the Nurse Licensure Compact can practice under the same license in states that have adopted the mutual recognition model, according to the National Council of State Boards of Nursing. This eliminates the time, expense and "red tape" of obtaining a license in a new state, and has been a boon to travel nurses and others who want to work in other states.
Under the Nurse Licensure Compact, nurses must follow the practice laws and regulations of the state where they are practicing. Accountability is similar to having a driver's license for one particular state, but you're expected to follow the laws of whichever state you're driving in.
The National Council of State Boards of Nursing (NCSBN) created this mutual recognition plan in 1997. The 25 states that have implemented the compact as of February 2016 are Arizona, Arkansas, Colorado, Delaware, Idaho, Iowa, Kentucky, Maine, Maryland, Mississippi, Missouri, Montana, Nebraska, New Hampshire, New Mexico, North Carolina, North Dakota, Rhode Island, South Carolina, South Dakota, Tennessee, Texas, Utah, Virginia and Wisconsin.
"Nursing practices and technology have changed," said Connie Kalanek, RN, BSN, MSN, executive director of the North Dakota Board of Nursing, which joined the compact in 2004. "The Nurse Licensure Compact addresses the growing need for nursing across state lines and the variety of settings in which nurses work and the technologies they use in their practice."
The compact ensures that all pertinent information about a nurse's licensure and discipline, past and present, is integrated and readily accessible in one location. This shared information system makes it easier for party states to monitor nursing practice.
To learn more about the interstate compact, visit the NCSBN's Nurse Licensure Compact page.
If you want further details about licensing and travel nursing, please contact one of NurseZone's staffing partners, who will gladly answer your questions and offer advice.
Quick Facts on the Nurse Licensure Compact  
•    To work in other compact states, a nurse's primary state of residence must be one of the 25 compact states. Primary residence is determined by where the nurse declares residence on his/her tax return.   
•    A nurse whose primary state of residence is a compact state will be issued a license by that state. The nurse will no longer need additional licenses to practice in other states that are members of the compact.   
•    Nurses must still obtain licenses to work in non-compact states.   
•    Nurses who live in non-compact states, but practice in a compact state will be issued a nursing license valid only in that member state (single state license). The nurse will not be granted the "multi-state privilege to practice" in other compact states.   
•    Nurses are responsible for complying with the provisions of the Nurse Practice Act in all states where they practice.   
•    RNs, LPNs and LVNs are included in the compact. Advanced practice nurses are not.
Originally published on NurseZone.com.
© 2016. AMN Healthcare, Inc. All Rights Reserved.