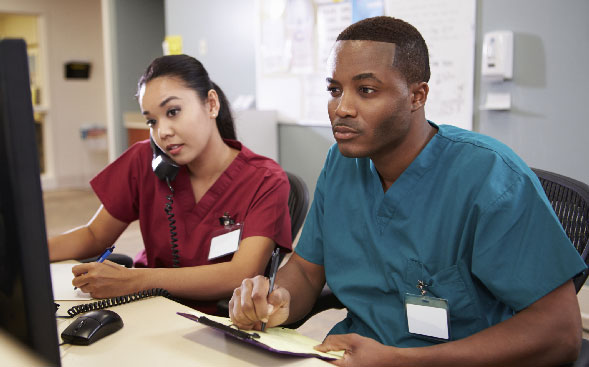 Getting a Grip on Time Management
Like medical students, nursing students are often taught more clinical than management skills during school, only to find that when they enter the "real world," they are required to know both.
"I was never taught anything about time management in nursing school, but wish I had been," said Honey Beddingfield, RN. "It's just as important as the medical knowledge, and can have the same repercussions on patient care and outcomes if you don't master it."
"During the first of my two years at work, time management and the art of prioritizing were by far the hardest things for me to get a handle on as a new nurse," continued Beddingfield. "I struggled with it for about 14 months; even though I've figured it out now, there are a few days where it still gets the best of me!"
Likewise, Jennifer Tucker, RN, found that she would get so stuck on doing things in a certain order, that she would lose sight of what was most important. "Learning to prioritize was critical," said Tucker. "Luckily, during my six-month orientation, I had a variety of good preceptors that helped me to do this. Since everybody did things differently, I was able to observe a wide range of work styles and to choose those best suited for me."
Additionally, I had worked for six years in a health care setting as a nursing assistant before graduating from nursing school," said Tucker. "That experience was extremely helpful to learn the basics of how things flow in a hospital, regardless of which unit you worked on."
Tucker recommends that you "try to avoid getting wrapped up in meeting everyone's demands of you. You want to be a team player and help out, but you also have to learn when to say 'no' or 'not right now, I will help you in a few minutes.' You must make sure that your patients are being cared for too."
Both women agree that writing things down helps them to manage their time. "When I first started, I naively thought that by the time I wrote out a list, I could have already completed half the items!" said Beddingfield. "Fortunately, my manager would not let me get CRRT oriented unless I worked on my time management skills, so I began to see what I could do differently to keep up."
"After interviewing my coworkers and discovering that they were writing lists, I gave up my resistance and tried it. I was amazed at what a difference it made in my day! I really was able to get more done and spend less time running in circles."
Instead of a list, Tucker uses a grid sheet for all of her patients to break down tasks hour-by-hour. "By looking at my grid sheet, I can see what jobs I need to accomplish, which part of my day will be the busiest, and therefore, plan accordingly."
Tucker said most units already use some type of sheet, or "brains" as they may be called, to keep track of the details, such as labs and medications that are specific for each unit. "At my hospital, even though we have electronic medical records (EMR) which have been great for my time efficiency, I still keep a grid sheet with me; but for nurses who are still doing paper charting, these sheets are essential."
"In nursing school, the instructors did not give us a sheet, but would 'hint' at the types of things we would need to know about each patient," continued Tucker. "That way, we learned what information was important to write down and the order in which it should go. If you establish this habit early and make an effort to learn what really works for you, it will help you manage your time."
The No. 1 Concern
Today's healthcare environment is very technical and complex, thus demanding that student and new nurses learn quickly how to work efficiently and accurately. A 2007 survey conducted by AMN Healthcare cites the No. 1 concern among 1,626 student nurses surveyed was the pressure not to make mistakes. The nursing shortage, increased malpractice risk and emphasis on patient safety may be some of the motivating factors behind this.
"Negatively impacting patient care and safety is a constant concern for anyone in health care," said Beddingfield. "Especially when you are busy, thinking fast or are short staffed."
"Although I don't live in fear of malpractice, it does motivate me to get my charting done," said Tucker. "If I've had a busy day and didn't complete my nursing DAR P notes, then I will stay late to finish them. I do not put them off until the next day, in case something should happen to me or I forget them. Our EMR system has five flow sheets that I have to chart on every single day for every patient. I keep them in a certain order on my main screen so it is easier to keep up with charting and at the end of the day, make sure that I have gotten all of the charting done. The bottom line is that I am the nurse providing care for a patient; my name is on their chart and I am responsible."
"The threat of malpractice also motivates me to chart more, but good patient care comes from the heart, not from threats," said Beddingfield. "It's all about the patient and the look in their eyes. Caring for someone, when they need it most, is a great privilege.
"Most days I go home and feel good about what I've accomplished," said Beddingfield. "But if the nurse that I'm reporting to is a little upset at something that I may have forgotten or didn't have time to do, then feelings of failure come over me, as if everything I did that day was a waste and somehow I should have done more."
"As my confidence in my time management skills increases through work experience, I've become much better at fighting those feelings," continued Beddingfield. "I know now that if I didn't get it done, then there simply wasn't enough time. I will always, however, wish I had just an extra 30 minutes to finish up, but I guess there is never an end is there?"
Originally published on NurseZone.com.
© 2016. AMN Healthcare, Inc. All Rights Reserved.