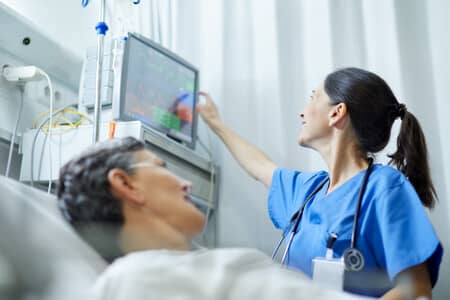 What Is a PACU Nurse?
The Truth Behind PACU Nursing
A PACU nurse is a nurse who assesses and cares for post-operative patients as they regain consciousness in the post-anesthesia care unit (PACU). It is a role that can be challenging yet incredibly rewarding.
In an interview with Terry Clifford, MSN, RN, CPAN, CAPA, FASPAN, a PACU nurse for 28 years and nurse liaison for special projects at the American Society of PeriAnesthesia Nurses (ASPAN), she expressed, "The thing that's most appealing to me is that it is a real privilege to take care of patients when they are really vulnerable." She continued, "This is the best job ever. You can really help comfort, teach and support someone through the process."
In this fast-paced environment, PACU nurses must always be prepared for an emergency.
While anesthesia has become safer, Clifford explains, "The risk of a serious complication remains ever present. The challenge is maintaining your skills in the event of emergencies, and most of the time our patients do really well."
What Does a PACU Nurse Do?
Nurses practicing in a post-anesthesia care unit oversee patients and assess their status to ensure they are safely regaining consciousness. They monitor and look for any signs of difficulty breathing, raising blood pressure, hypothermia or agitation.
PACU nurses work in both inpatient hospitals and ambulatory surgery centers and some specialty physician practices. In some facilities, PACU nurses also care for patients recovering from catheterization lab or interventional radiology procedures.
Phase I care, according to ASPAN, takes place in the immediate post-anesthesia period. And Phase II focuses on transitioning and preparing the patient to go home or to an extended care environment, such as an inpatient bed.
Learn more: PACU Nurse Job Detail
Key PACU Nurse Skills
PACU nurses must possess strong assessment, observational and organizational skills to successfully provide the highest quality care. In some facilities, PACU nurses may be responsible for measuring end-tidal CO2 or capnography. What does a PACU nurse do if the patient's condition does change? Notify the operative team.
In addition to monitoring, nurses working in a post-anesthesia care unit administer prescribed medications, often opioids to manage the patient's pain or antiemetics for nausea. They also can place warming blankets on patients to promote normothermia.
PACU nurses need to remain flexible and consistently demonstrate compassion to their recovering patients.
ASPAN's "2019-2020 Perianesthesia Nursing Standards, Practice Recommendations and Interpretative Statements" states when providing Phase I level of care for adults in the PACU, nurses should maintain current Advanced Cardiac Life Support (ACLS) provider status and when caring for children, nurses should maintain Pediatric Advanced Life Support (PALS) credentials. Those credentials are also strongly recommended for Phase II level of care in post-anesthesia care units.
The American Society of PeriAnesthesia Nurses offers opportunities to learn more about the specialty through webinars, conferences and the chance to network locally and on a national level.
Salary of a PACU Nurse
What is a PACU nurse's salary? Zip Recruiter reported a national average of $87,396, or about $42 per hour, with a range from $51,000 to $128,000, as of August 2022. Salary.com indicated a median of $91,800 for a full-time PACU nurse salary, or about $44, with a range from $73,651 to $113,388.
Pay for a PACU travel nurse varies, depending on demand, season, and the nurse's experience and certification. A travel PACU nurse can make from $2,055 to $3,754 a week, according to the recruiters at American Mobile. As part of their compensation, PACU travel nurses also receive paid company housing or a housing allowance, plus a stipend for meals and incidentals.
Nurses certified in their specialty often earn more money in recognition of their skills and knowledge. The American Board of Perianesthesia Nursing Certification offers certification in PACU nursing and for pre-operative nursing, which employers often desire. Institutions with ANCC Magnet designation or working toward Magnet prefer nurses with certification.
"It's recognition for advanced practice in a specialty area," Clifford said. "There are nurses who do it just because. It's a feel-good experience to confirm what you know."
Learn more: PACU Nurse Salary
Opportunities for PACU Nurses
The specialized field of post-anesthesia care is expected to demand more nurses in the coming years, as an aging population requires more surgeries and other procedures.
In addition to permanent positions, PACU travel nurses can choose short-term assignments from across the country. This career option gives nurses the chance to explore new regions, new facilities and new ways of experiencing life. It also offers the opportunity to make new friends and work with some of the most prestigious doctors.
How to Become a Travel PACU Nurse
Becoming a travel PACU nurse starts with contacting a recruiter at travel nursing agency, such as American Mobile. Travel nurses must have graduated from an accredited nursing school, and have on-the-job experience in the required specialty. Your recruitment team can help with arranging a new state license if that is required.
Hospitals and ambulatory care centers generally require travelers to have one to two years PACU experience, plus BLS, ACLS and PALS credentials. Some hospitals prefer nurses with travel nursing experience.
If you're looking for a rewarding job that allows you to care for recovering patients with skill and compassion—while having your days off to explore a new city—then PACU travel nursing is the job for you.